Rolling out the red carpet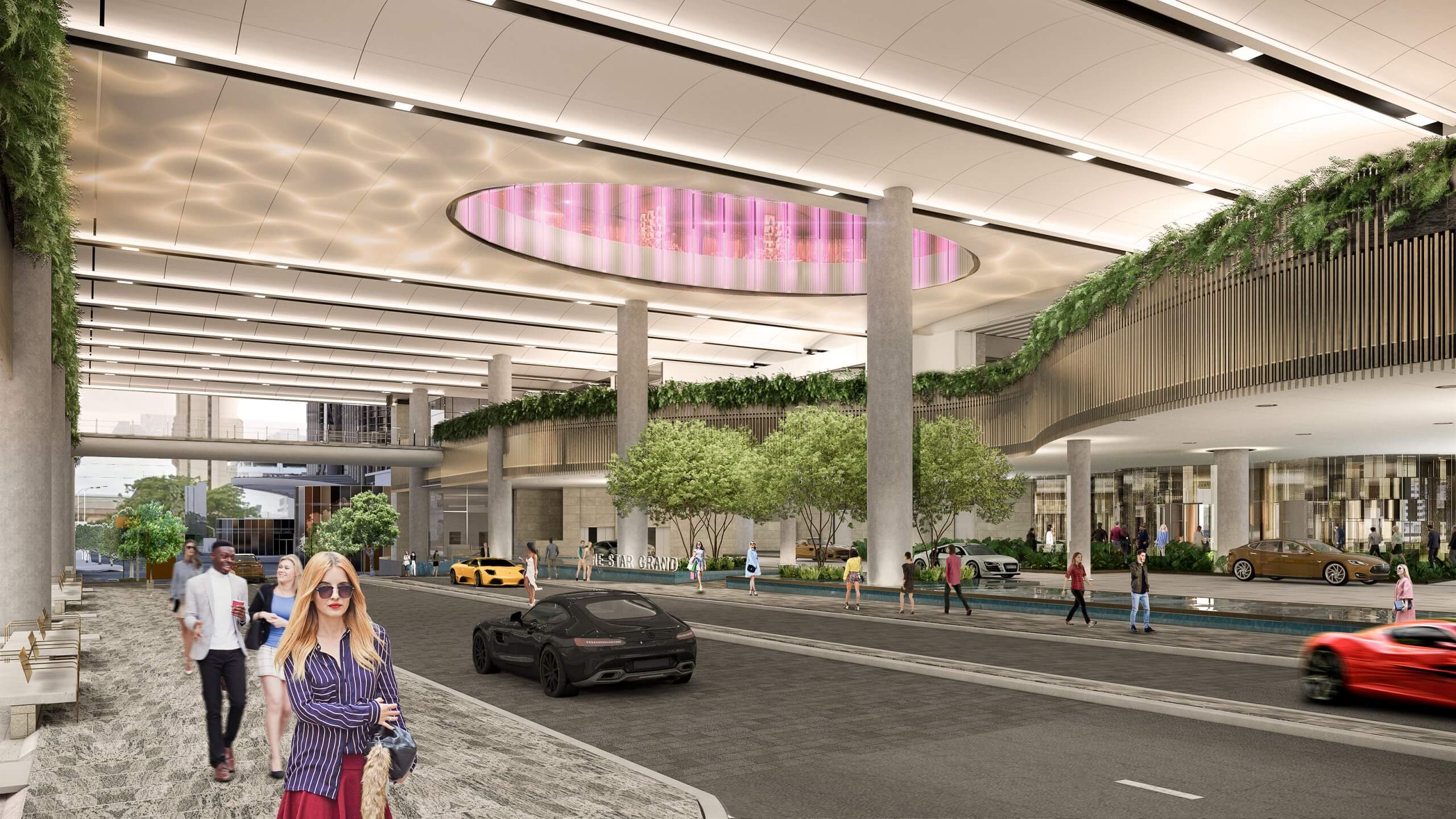 The future entertainment precincts' main entrance on William Street will set a new benchmark for luxury in Queensland.
The spectacular entrance cutting through the heart of the resort will feature guest check-in, exclusive concierge car lifts and direct access to luxury retail, and over 50 bars and restaurants.
Destination Brisbane Consortium Project Director Simon Crooks said the entrance has many features that are unique to Queen's Wharf.
"In a dazzling spectacle for visitors to the resort, the Porte Cochere will have a striking water feature set beneath a light-filled oculus spanning across four levels of retail, restaurant and gaming spaces," Mr Crooks said.
"Every detail has been considered, including an elegant white curved feature ceiling over William Street covering 3,500m2 – the equivalent size to 13 full-sized tennis courts.
"The ceiling compliments the other dazzling entry point design features, including artwork, which will grace the Porte Cochere area on William Street under the podium levels above."
Multiplex Senior Project Manager Rick Woodford said William Street has been closed since 2017 to allow construction to take place.
"Multiplex is coordinating their deliveries, lay down areas, and other works taking place on William Street during construction hours.
"The roofing sheets are up to 16 metres wide and made up of over 500 metres of aluminium troughs housing audiovisual, security, and lighting underneath the white curves.
"William Street is currently being used as a loading zone for materials and for vehicle access to site, so coordination has been essential for installing the curved ceiling."
Finishing trades are transforming the podium levels across the development now that structural and services trades have progressed through the basement and podium levels.
Each week the four towers are reaching skyward, with The Star Grand hotel at levels 16 and 15, the Dorsett and Rosewood hotels at level 23, and Queen's Wharf Residences at level 16.
To stay up-to-date on future work activities, please subscribe to construction updates at www.queenswharfbrisbane.com.au and click on stay informed at the top right corner.