Queen's Wharf workforce fly the flag for Brisbane Lions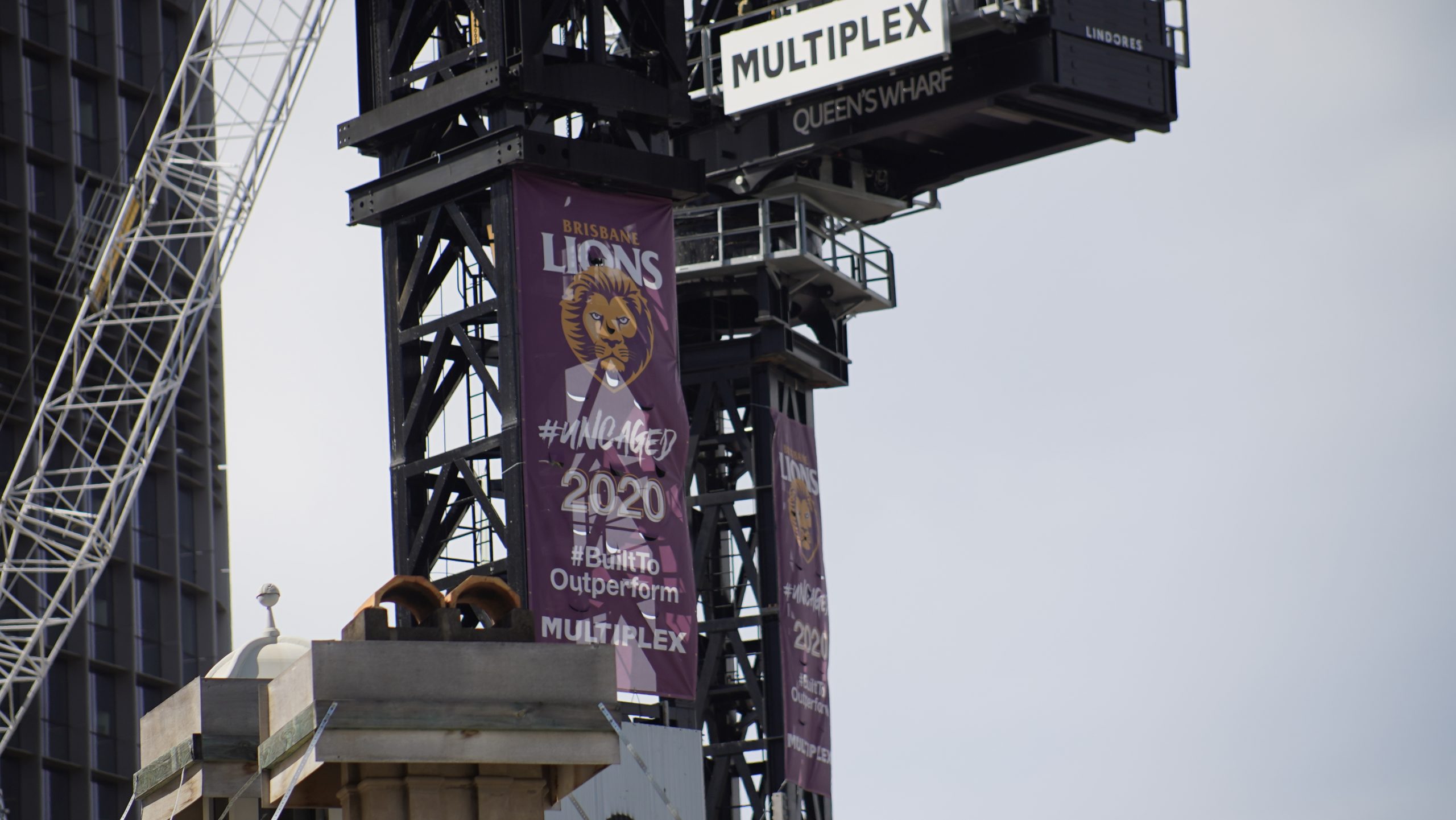 The Brisbane Lions team colours are flying high on our Queen's Wharf Brisbane construction site to celebrate the city's incredible first time hosting the highly anticipated AFL grand final.
Destination Brisbane Consortium's appointed contractor, Multiplex, has got behind the Lions in this history-making season by putting Lions' banners on five of the site's tower cranes.
Multiplex started construction on Queen's Wharf Brisbane in July 2019, with the first stage of the development to be completed in late 2022.
Multiplex Senior Project Manager Rick Woodford said the Queen's Wharf Brisbane workforce wanted to show their support to the local team by flying their flags high on site.
"It's an exciting time for footy fans and AFL in Queensland and we wanted to get behind the Lions in their 2020 finals campaign," Mr Woodford said.
"It's a great opportunity for Brisbane to cheer on our team, which is looking to make history by competing in the finals held in their home city and state for the first time."
Mr Woodford said the company is also working with the Lions to run a 'Name A Crane' competition for junior AFL clubs across the country.
"We are proud to be working on one of the largest building projects in Queensland and what better way to showcase what we are constructing here than by involving Lions fans from all over Australia," he said.
"The winning entries will see their crane names unveiled on the Queen's Wharf cranes during October."
About the competition
To enter, visit the Lions' website at https://tradablebits.com/tb_app/462109 and submit your most creative name for one of our tower cranes, including why it deserves to win in 25 words or less.
Entries close 11:59pm, Friday 2 October 2020.
For construction-related enquiries, contact Multiplex either via phone 1800 931 760 or email queenswharfbrisbane@multiplex.global.