Queen's Wharf Brisbane Plan of Development on Public Notification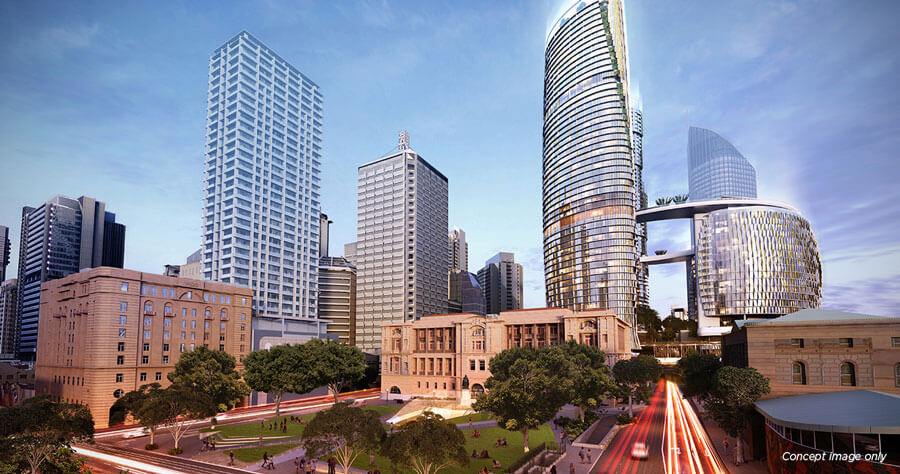 The masterplan that will steer the design of Queensland's largest development, the multi-billion-dollar Queen's Wharf Brisbane integrated resort development, is now on Public Notification.
After being lodged with Economic Development Queensland, Destination Brisbane Consortium's Plan of Development has now commenced a 30 business-day notification period.
Consortium Project Director, Simon Crooks, has welcomed this next step for the transformational development, and is encouraging Queenslanders to use this period to learn more about what Queen's Wharf Brisbane will include.
"Our Plan of Development provides a clear vision for the Queen's Wharf Brisbane development," Mr Crooks said.
"Our plan seeks to activate the waterfront opposite South Bank and help connect the city with the river.
"New features at the river's edge will include places for people to sit and enjoy this part of the city, which has been an underutilised area yet is historically very significant for Brisbane."
Destination Brisbane Consortium and a team of more than 100 expert consultants spent 12 months preparing the Plan of Development that will act as a framework for development of the Queen's Wharf Brisbane precinct.
The Plan of Development consists of almost 40 reports and thousands of pages of design, planning and vision for the precinct.
The Plan of Development application is now available to view on Economic Development Queensland's website- www.dilgp.qld.gov.au/pda-da-applications >search DEV2017/846. You can provide a comment to EDQ on the application via email or post (refer to EDQ's website for details https://www.dilgp.qld.gov.au/edq/development-assessment/how-to-make-a-submission.html).
A general project overview can also be found by visiting www.queenswharfbrisbane.com.au.