Next area of public realm underway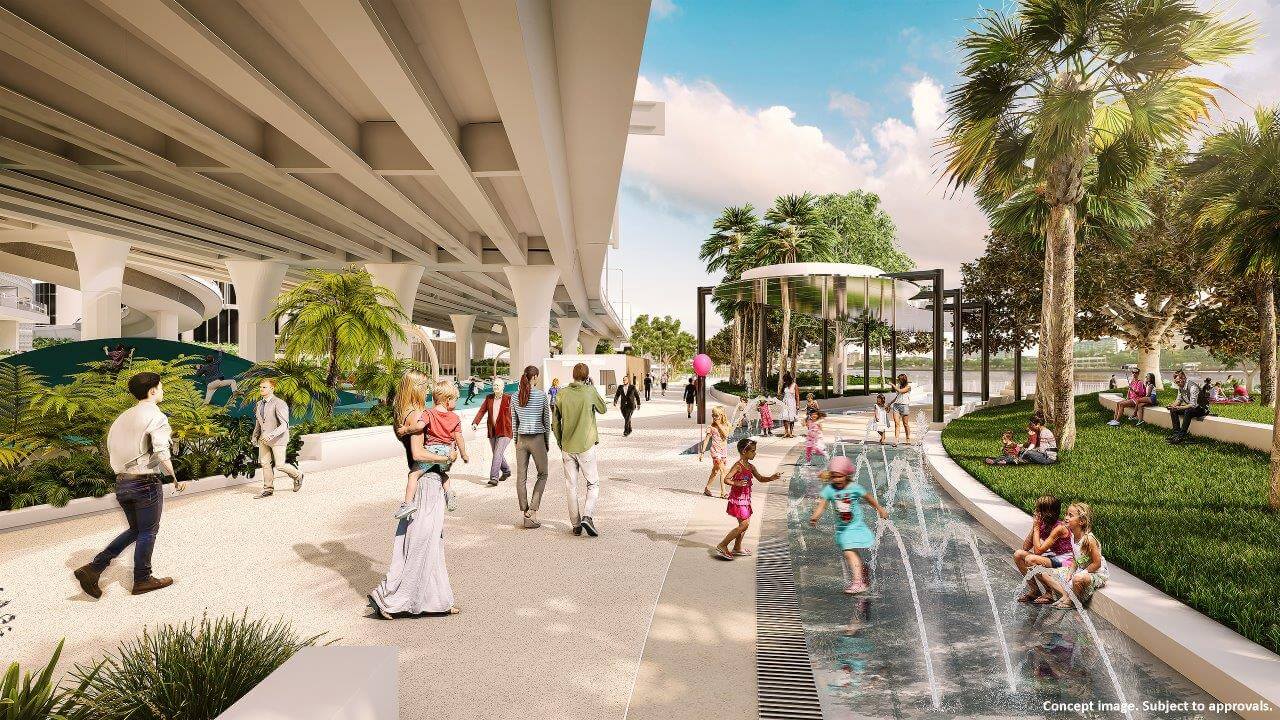 Work is beginning to take shape on the next new area of public realm to be created at Queen's Wharf Brisbane.
Precast concrete beams and panels have been installed to create a suspended slab out over the river, directly opposite South Bank.
When expected to be completed in 2022, the construction will create 6,500m2 of public space that will add more green space and park facilities to our inner-city footprint.
To construct this suspended slab, approximately 140 piles will be hammered into the Brisbane River and then concrete headstocks and beams will be fixed to the piles as the foundation for precast concrete planks to then be installed on top, making a continuous slab.
Project Director Simon Crooks said the design of the space had transformed in the final design phase to remove the small beach area that was once considered for non-motorised watercraft.
"The tidal movements and currents in this stretch of the river did not lend itself to a beach design in the end," Mr Crooks said.
"Instead we have elected for a much safer option and have redesigned the space to include more parkland and a set of concrete terraces that will allow for changing river levels while also providing seating that will enhance the river's edge0."
The Landing will be a significant recreational and event destination within the Queen's Wharf Brisbane precinct.
Located directly in front of the core development and across the river from South Bank, it will extend out into the river beyond the Riverside Expressway and provide a riverfront grass park for day-to-day enjoyment as well as significant green space for pop-up food & beverage offerings, markets, and festival offerings.
To stay informed about construction activities, subscribe for our construction notices via the stay informed button on our website www.queenswharfbrisbane.com.au or follow us on Facebook www.Facebook.com/queenswharfbrisbane.