Neville Bonner Bridge spanning the river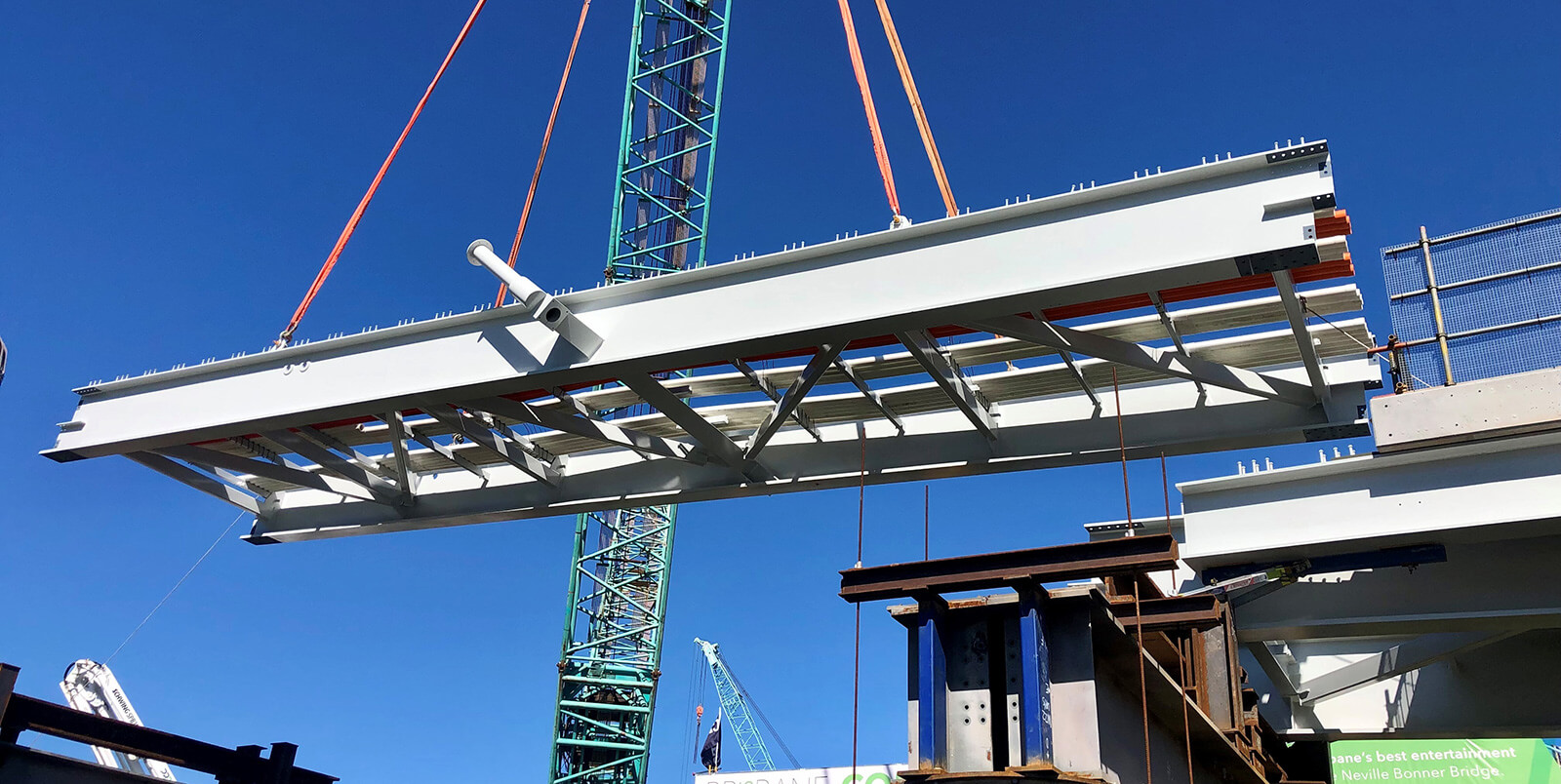 The third bridge deck section for the Neville Bonner Bridge was installed on 25 August, increasing prominence of the growing structure over our greatest natural asset – the Brisbane River.
The Neville Bonner Bridge is a cable stay and suspension bridge anchored with an abutment at South Bank, a mid-river pile cap and then column supported on piles on The Landing, before tying in with level 4 Riverview Terrace of the Integrated Resort Development.
Fitzgerald Project Director Peter Ward said for each new deck section that is installed, enormous work was done off site planning, testing, and fabricating.
"What a lot of people don't realise is that nearly as much temporary work goes into construction of a bridge as the permanent works," Mr Ward said.
"As each new bridge section is added, it needs to be supported, even if only on a temporary basis.
"Keen observers will notice the current deck span is sitting on two temporary piles with a horizontal I beam running between.
"These temporary works have an important role to play and will remain in position until the bridge structure is completed."
More than 1000 tonnes of structural steel is required for the 322 metre long pedestrian bridge, and an additional 800 tonnes is required for temporary works.
Destination Brisbane Consortium Project Director Simon Crooks said there were many factors that needed to be considered as part of the bridge design.
"Bridges are remarkably complicated structures that require consideration of structural weight, load capacity, movement, wind conditions, flood events and other unforeseen impact loads," Mr Crooks said.
"The Neville Bonner Bridge has been designed to withstand a one in 100-year event, and associated impacts, like the ones we have experienced over the past five decades," he said.
In the coming months residents will notice additional temporary piles making their way across the river from South Bank side towards the middle of the river.
These temporary works will support deck sections as they are installed, and some will be the foundations for a temporary tower that will support the bridge arch until the remaining deck sections and cable stays are installed.
Mr Ward said the bridge deck spans would reach the mid-river pile cap before the end of the year.