Inner-city residents hear news first-hand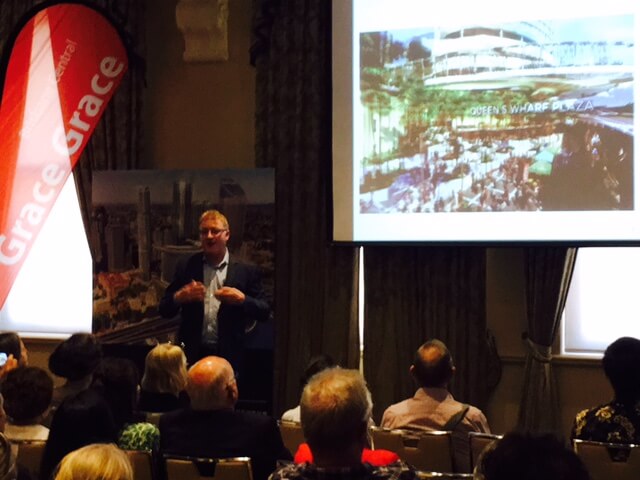 During February, as the demolition phase began, we met with inner city residents to talk them through the current project status, future activities and the construction methodology for key activities. We want our near neighbours and interested community members to understand how work will be undertaken so as to minimise potential impacts on inner-city residents, nearby businesses and commuters.
On Saturday 25 February 2017, Destination Brisbane Consortium's lead partner The Star Entertainment Group presented an update on Queen's Wharf Brisbane at a briefing organised by the Member for Brisbane Central, the Hon Grace Grace MP.
More than 800 inner city residents were invited to attend the briefing, held at the Treasury Hotel.
During the presentation, The Star Entertainment Group's Managing Director for Queensland Geoff Hogg, together with demolition and enabling works contractor Probuild's Project Director Greg Sneeden gave a look to the type of activity and truck movements people would notice over the coming months.
As part of the briefing Greg advised residents the Margaret Street off ramp between the Riverside Expressway and George Street would need to be closed at various stages safely prepare for and later remove the Margaret Street overpass linking 80A and 80B George Street.  The timing for these closures has not been confirmed, however will be communicated through construction notices, on our website, radio advertising and via a social media campaign.
At the briefing residents were encouraged to stay informed via the project website www.queenswharfbrisbane.com.au and to subscribe to our construction updates.
If you know someone who might be interested in project updates, please encourage them to sign-up to the regular notices.