Iconic shark structure takes shape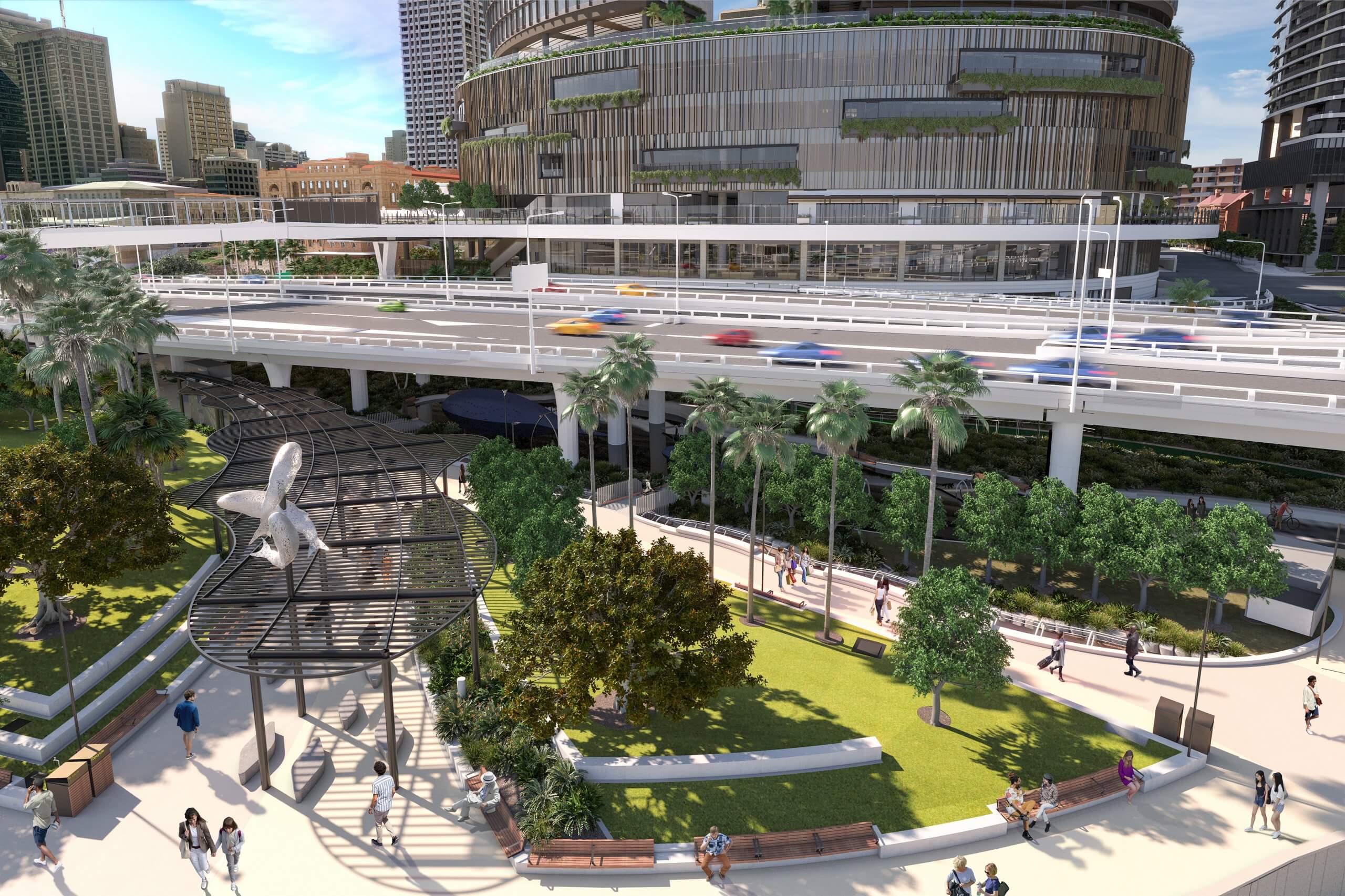 Iconic shark structure takes shape
Queen's Wharf riverline public space now features a new structure – paying homage to one shark species out of the 100 that live in our coastal waterways.
The public space along the Brisbane River extending from QUT Gardens Point to Victoria Bridge has been transformed into a tropical green area with an eye-catching, new structure recently installed below The Star Grand hotel towers.
A bull shark-shaped shelter with seating has been assembled along The Landing and is set to hold the sculptural totem of three large mullet fish created by late Indigenous artist Wukun Wanambi.
Project Director Simon Crooks said the shelter is a recognisable structure that will provide respite from the sun and views across the river while also offering a new landmark for the riverside green space.
"Seating, LED coloured lighting and abundant planting are being installed to make this bull-shark structure and surrounds an interactive and sub-tropical aspect of the area," Mr Crooks said.
"Located directly below The Star Grand hotel towers and set between the palm trees and lush green grass – the shelter will be a new meeting point for visitors to the precinct.
"The Consortium is proud to be creating public areas that connect back to the land and building green spaces for everyone to enjoy."
In addition to the new structure, the Brisbane Steps, located between the former DPI Building and the Integrated Resort, will connect The Landing to William Street.
It's progressing to create a wide pedestrian access way into the tourism development from the Bicentennial Bikeway. Lifts and escalators will complement the Brisbane Steps.
Active transport users and pedestrians will have also noticed the Velo Café's progress with the main structure complete and the fit-out and services now being installed.
Another public space and access way from the Bicentennial Bikeway into the city, Miller Park is approaching completion with the hardwood timber decking, stairs, landscaping, and lift all well underway.