Evolving skyline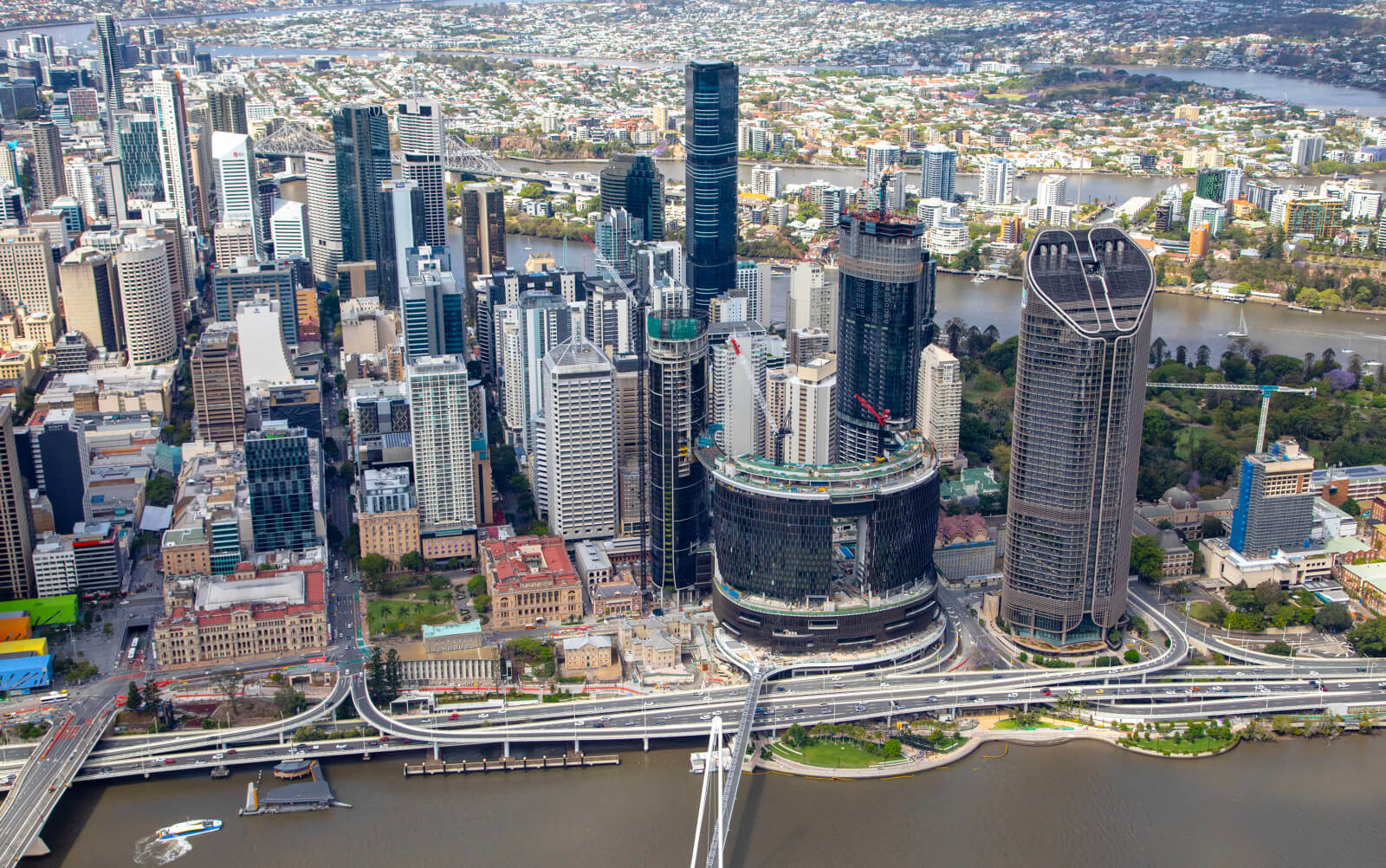 Brisbane's skyline is changing with the bulk of cranes at Queen's Wharf Brisbane being dismantled and removed from the riverside site.
Currently there are five cranes in operation and by December there will only be two cranes remaining in position: one on the Dorsett and Rosewood tower and one on Queen's Wharf Residences. Once the facade for each building is complete, the cranes will be removed in early 2024.
The cranes have sign-posted the evolving Queen's Wharf horizon over the past five years with just two tower cranes during early works and rapidly progressing to nine tower cranes to help bring construction out of the ground by the end of 2019.
At peak construction across 2020 and 2021, Multiplex had 10 tower cranes installed across the site lifting material from 10 loading zones during the complex podium structure build.
One of the cranes was installed through the centre of the podium's feature void, now called the Oculus, to help build the iconic Sky Deck. This crane helped construct and join over 400 tonnes of structural steel on top of the level seven podium, creating two sky bridges before they were safely lifted into their final position. An extraordinary engineering achievement.
Each crane has the capacity to lift up to 20 tonnes per load – the equivalent weight of 12 cars. Three of the cranes have worked internationally arriving at Queen's Wharf after being part of the construction of the world's tallest building, the iconic Burj Khalifa in Dubai.
Multiplex Construction Manager, Rick Woodford said with millions of hours worked on site since Multiplex commenced in July 2019, and the majority of the integrated resort development structures and facade complete, the final fit-out and finishes are well underway.
"With the structure and façade nearing completion on all four buildings the cranes can start to be dismantled onsite. Over the next few months, we will be removing four tower cranes, which is a significant milestone for the project – it means the structures, facade and loading will be complete allowing the fit-out and finishes trades to continue their run to completion".
The supply of the cranes is being managed by Lindores Construction Logistics, a Gold Coast family-owned and operated business spanning two generations.