Who is Destination Brisbane Consortium?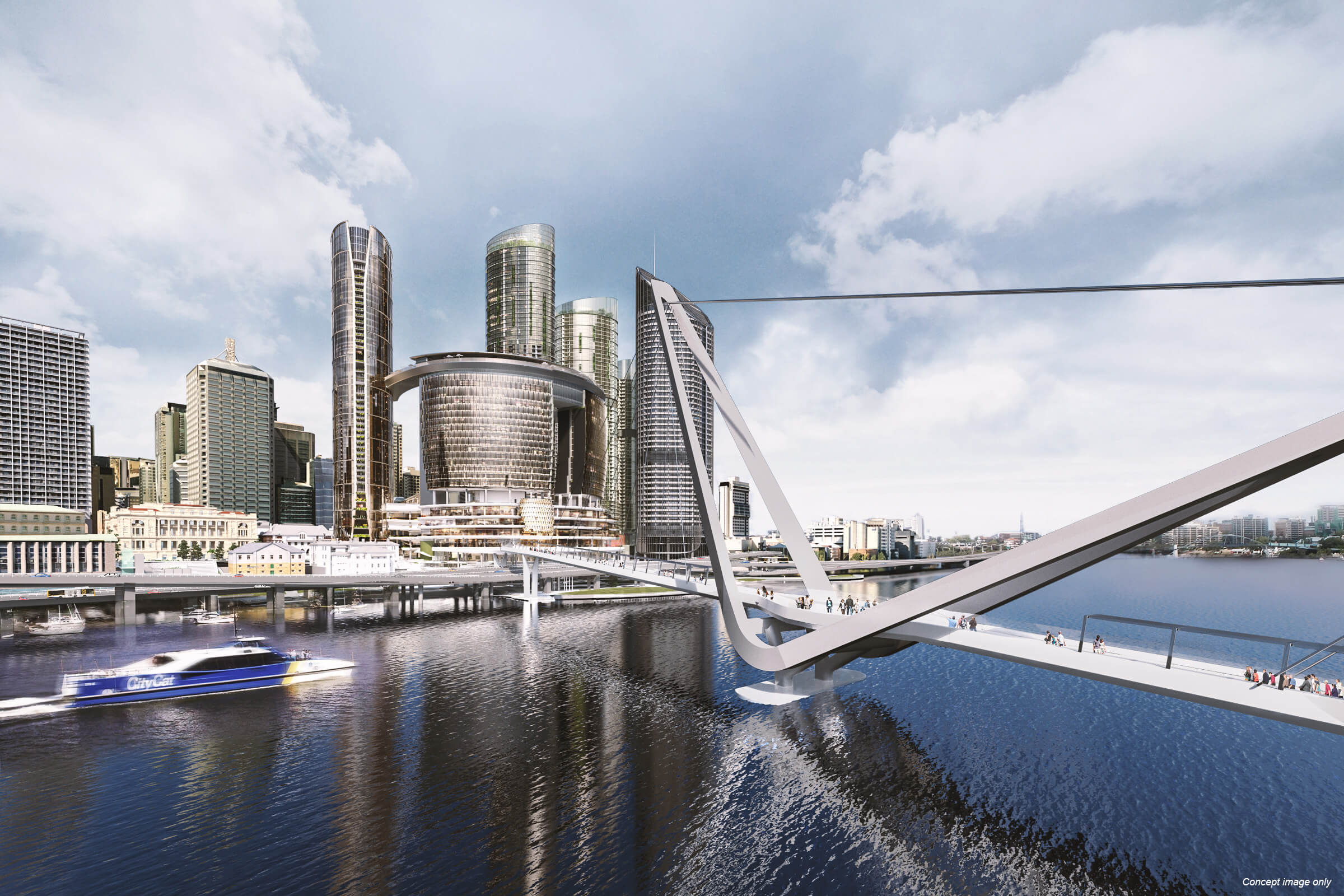 Our game-changing $3 billion world-class Queen's Wharf Brisbane integrated resort is being delivered by Destination Brisbane Consortium.
We are a privately-owned and operated joint venture between lead partner, The Star Entertainment Group, and two Hong-Kong based partners, Chow Tai Fook Enterprises and Far East Consortium.
Our consortium brings together a powerhouse of Australian and global experience in property and hotel development, consumer and retail markets, entertainment, and hospitality.
In 2015, we were successfully chosen by the Queensland Government to transform the historic yet underutilised Queen's Wharf Brisbane site following a competitive tender process, which came about after a state government announcement in 2012 to redevelop the precinct.
Economic benefits
Our successful proposal was designed to deliver a whole-of-precinct solution that would offer the best for Queenslanders and millions of visitors from across the world, as well as inject significant economic benefits into the local and state economy.
Our consortium is delivering $272 million to the state government before the development opens, and has guaranteed minimum state gaming tax payments of $880 million in total over the first 10 years of operation.
The development will also provide more than 2000 jobs at peak construction and 8000 jobs once fully operational.
When it opens, Queen's Wharf Brisbane is expected to attract an additional 1.39 million visitors to the city each year who are projected to provide a further $1.69 billion annual increase in Queensland tourism.
World-class design
Our extensive consultation with stakeholders and work with Brisbane's best-in-class has resulted in a design that features more public space for Brisbane; marks the site of European settlement of our city; makes the beautiful Brisbane River the heart of the development; and captures the city's features including sub-tropical outdoor weather, laidback lifestyle, and the thriving arts and cultural precinct at South Bank.
One casino for Brisbane
Queen's Wharf will mean only one casino in Brisbane. The current Treasury Casino will close, and that building will instead transform into a high-end boutique retail centre. A new casino, operated by The Star Entertainment Group, will open in the iconic arc-shaped building as part of the new and vibrant precinct. The physical footprint of the new casino will be less than five per cent of the footprint of Queen's Wharf Brisbane development, and will be located separately on a building level above the main entrances.
An exciting future for Brisbane
Through our future integrated resort, we hope to revitalise the city's forgotten heritage buildings and deliver striking landmark architecture; create a variety of recreational spaces including new green space and riverfront areas; drive greater connectivity between the CBD and South Bank; and create a world-class entertainment, tourism, and leisure destination that locals can be proud of and will embrace.
Our partners
The Star Entertainment Group (50% owner) – The Star Entertainment Group (formerly known as Echo Entertainment Group) is an ASX top-100 listed company that owns and operates Treasury Brisbane, The Star Gold Coast, and The Star Sydney. Along with its consortium partners, it is currently making significant investments to transform all three properties, and purchased the Sheraton Grand Mirage Resort Gold Coast in 2017. The Star Entertainment Group also manages the Gold Coast Convention and Exhibition Centre on behalf of the Queensland Government. Learn more, visit starentertainmentgroup.com.au.
Chow Tai Fook Enterprises (25% owner) – Chow Tai Fook Enterprises, a private Hong Kong investment company, is one of the largest diversified consumer and hospitality companies in Asia with a proven track record in long-term tourism and infrastructure investments. It has business portfolios in more than 50 cities spread across Greater China, Asia, Europe and the Americas. As well as being the largest jewellery retailer in the world by number of outlets, it operates one of the largest department store chains in China and has approximately 60 hotels worldwide through the Rosewood Group and third-party hotel brands such as Four Seasons, Hyatt, Marriott, and Renaissance. Learn more, visit http://corporate.chowtaifook.com/en/about/glance.php
Far East Consortium (25% owner) – Far East Consortium, one of Australasia's largest developers, has been operating in Australia for more than 20 years and has operations in property, hospitality and car parks. It has a strong property and hotel development track record and an experienced on-the-ground Australian development team. Among its significant works portfolio, it is involved in the development of hotels for The Ritz-Carlton in Australia, plus large residential developments in Melbourne and Perth. Learn more, visit fareast.net.au