Connectivity at Queen's Wharf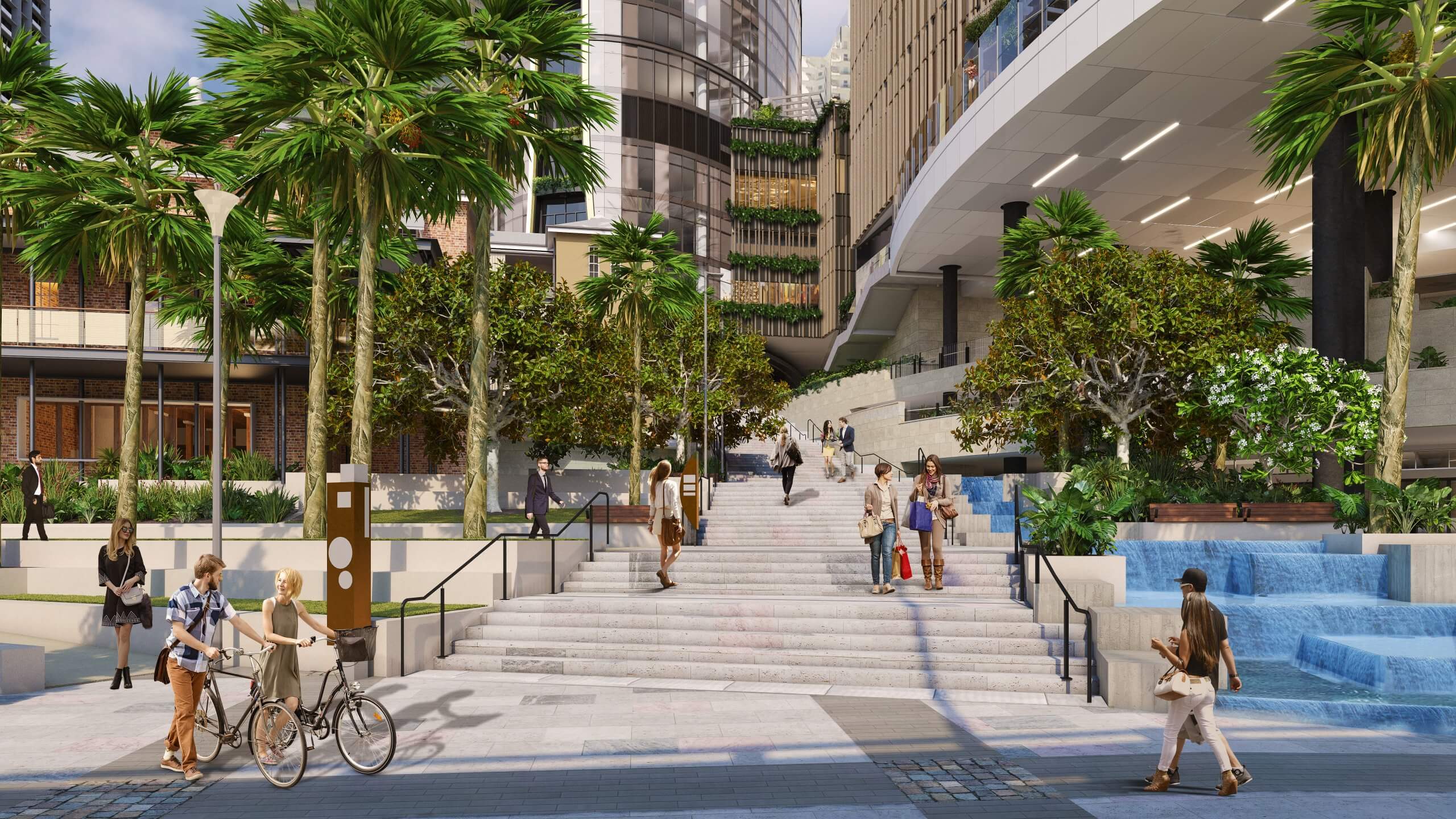 Connectivity at Queen's Wharf
Moving around Queen's Wharf will be a breeze with new access points connecting the city and beyond.
Connection to the resort development from the Bicentennial Bikeway, Neville Bonner Bridge, George and William Streets will create new ways to move around the city.
Access from North Quay Ferry Terminal and the Bicentennial Bikeway will connect into Miller Park between Queens Wharf Road and William Street creating new green spaces to be explored.
Miller Park nestled between the Commissariat Store Museum and Old State Library on William Street will feature a river viewing platform, an accessible lift and seating options all topped off with subtropical landscaping and a sprawling poinciana tree centrepiece.
Destination Brisbane Consortium Project Director Simon Crooks says accessibility for all people is a major consideration.
"Around 90 lifts and escalators service the integrated resort, heritage buildings and the surrounding 7.5 hectares of public space", Mr Crooks said.
"Connectivity is an important feature of Queen's Wharf as we link the CBD to the South Bank Cultural Forecourt and the city grid to the river's edge once again."
Below Miller Park, a Velo café between the Bicentennial Bikeway and Queens Wharf Road will tie into this new public space encouraging active transport users to make the most of the riverside bikeways on the weekend and on daily commutes.
Multiplex Project Manager Tyson Macdonald said the public realm along the river has been upgraded with extensive civil works and new landscaping to green the area.
"As we progress it's clear how the new public space will enhance the city – the lawn, native watergums, lilly pillys and palm trees planted along the river complementing the existing mangroves and further breathing life into this space," Mr Macdonald said.
"Works have also been focused on William Street where Miller Park, an existing heritage park, is being rejuvenated – structural steel for the viewing platform is scheduled to be installed in the coming weeks.
"Stephens Lane upon completion will be ready for laneway activation and will include new granite paver finishes and lift access to the former services club courtyard.
Once neighbouring projects like Cross River Rail and Brisbane Metro are online, Queen's Wharf will be one of the most accessible developments in the city with over 50 bars, restaurants, and cafes all within proximity to major transport hubs.
Stopping for a coffee while admiring the views will be part of new ways to discover the future Olympic city currently going through the largest transformation since World Expo 88 and the iconic Southbank redevelopment.
The $3.6 billion Queen's Wharf Brisbane development is being delivered by Destination Brisbane Consortium – a joint venture led by The Star Entertainment Group alongside its Hong Kong-based partners, Chow Tai Fook Enterprises and Far East Consortium.