Brisbane's heritage green heart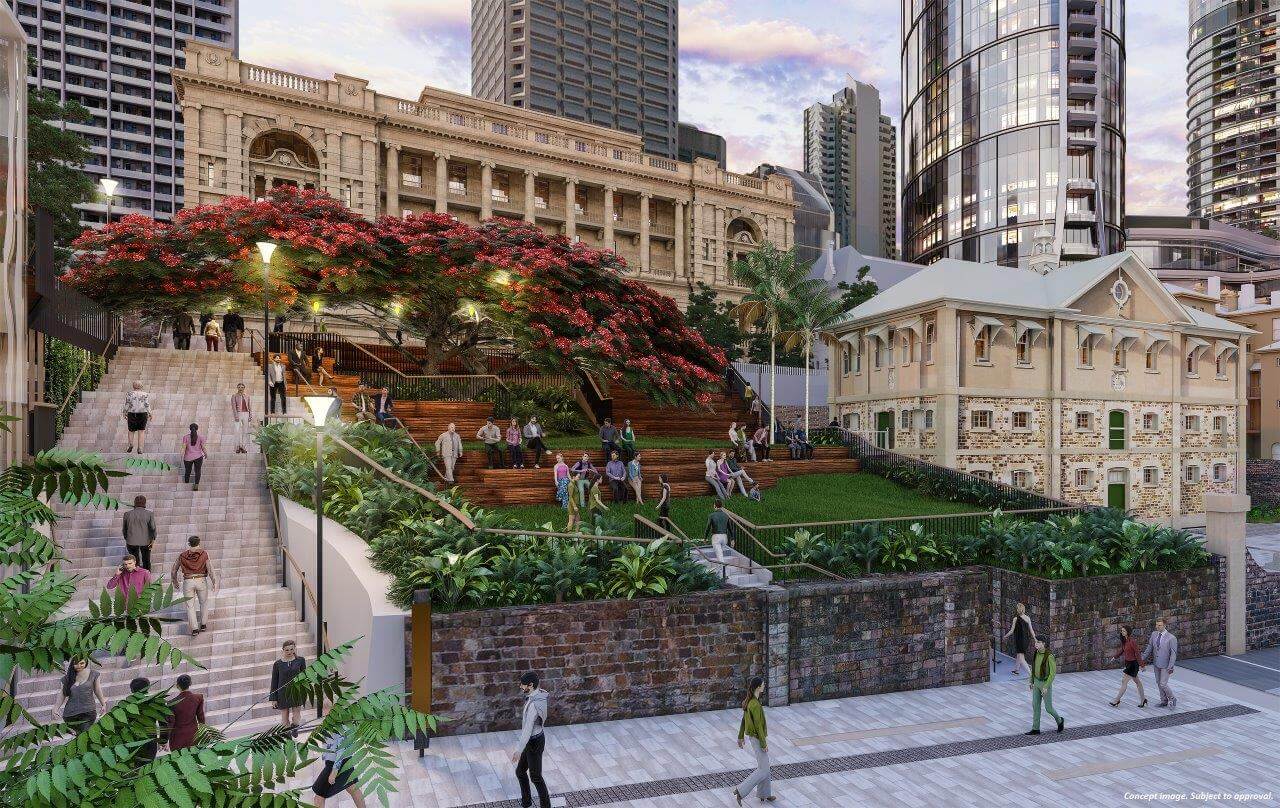 Miller Park is one of the unique heritage-listed sites set to be rejuvenated as part of 7.5 hectares, or 12 football fields, of Queen's Wharf Brisbane public space.
By late-2022, Miller Park will be a place for all visitors to enjoy with improved access, enhanced landscaping, and retained heritage charm.
This culturally significant park was one of the first places settled in the early-1800s when Brisbane was a Penal Settlement established to deal with a crime wave in Sydney.
Located between the former State Library building and The Commissariat Store on William St, Miller Park is named after the first Commandant of the Moreton Bay Penal Settlement, Lieutenant Henry Miller.
In the future, the park will be accessible to pedestrians from both William Street and Queens Wharf Rd.
In the meantime, its historic features – including a wall built by convicts and a Poinciana tree that canopies the park – will be protected during construction and its rejuvenation works.
Multiplex Project Manager Tyson Macdonald said the rejuvenation works started in late March and will continue until the integrated resort development opens.
"For the rejuvenation works to occur, and due to other construction work occurring along Queens Wharf Rd, we closed the park on the 22nd of March," Mr Macdonald said.
"Although through access to the Bicentennial Bikeway will be maintained at all times, the park closure means pedestrians can no longer connect to William Street via Miller Park.
"Instead, they will be required to use the North Quay Ferry Terminal stairs and lift located near the Victoria Bridge."
The completed upgrades to the park will include new timber terraced seating, disability access including a ramp and lift, native landscaping, and viewing platforms.
Landings and grassy terraces will also connect William Street to Queens Wharf Road as it has done in the past – linking pedestrians to the Brisbane CBD, the Bicentennial Bikeway, and the North Quay Ferry Terminal.
Declared parkland in 1980 due to its historical importance as the main point of access to the Moreton Bay Penal Settlement, Miller Park will continue to be the green heritage heart of the city once it re-opens.
Miller Park is also located next to the oldest occupied building in Queensland, The Commissariat Store, which features a museum that specialises in Queensland's history.
This fascinating museum will continue to be open throughout construction for locals and visitors to explore with its contact details and opening hours listed below.
Address: 115 William Street, Brisbane, 4000
Opening house: 10am – 4pm Tuesday to Friday
Telephone: (07) 3221 4198
The $3.6 billion Queen's Wharf Brisbane development is being delivered by Destination Brisbane Consortium – a joint venture led by The Star Entertainment Group alongside its Hong Kong-based partners, Chow Tai Fook Enterprises and Far East Consortium.
To learn more about Queen's Wharf Brisbane, visit www.queenswharfbrisbane.com.au and/or our Facebook page www.facebook.com/queenswharfbrisbane/. For construction related enquiries, contact Multiplex either via phone 1800 931 760 or email queenswharfbrisbane@multiplex.global