An engineering marvel for Brisbane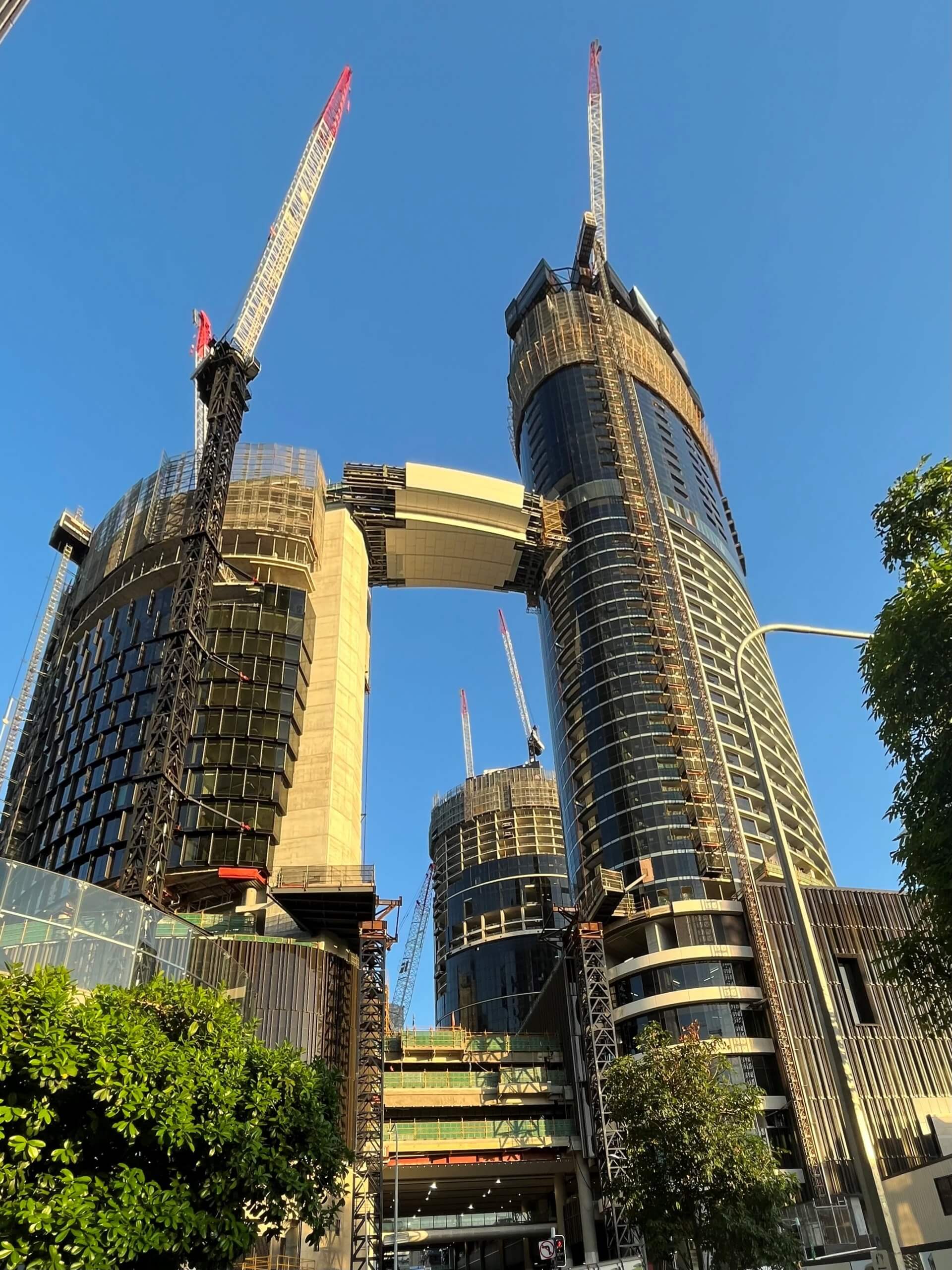 An engineering marvel for Brisbane  
The sky's the limit at Queen's Wharf with the second Sky Deck platform being successfully lifted into place during March.  
The remarkable milestone was achieved with a complex lift of over 220 tonnes of suspended Sky Deck steel, secured 100 metres in the air between The Star Grand hotel and Queen's Wharf Residences tower.
The overnight lift took seven hours and was safely secured into place in the early hours of the morning.
Destination Brisbane Consortium Project Director Simon Crooks said the complex lift was achieved safely and efficiently.
"The Sky Deck link section weighting around 220tonnes was safely lifted more than 60metres into place using four strand jacks," Mr Crooks said.
"Months of preparation have gone into this technologically advanced lift which has now created that iconic arc shape that the Sky Deck will be famous for".
"The third and final section will be lifted into place in the coming months in the lead-up to what will be Brisbane's most sought-after selfie spot."
Multiplex Senior Project Manager Michael Phillips said it's a testament to the team, subcontractors, and consultants for achieving this lift which has already transformed the city skyline.
"The second Sky Deck platform weighed more than the first with added engineering complexities due to the curved structure connection between the two buildings", Mr Phillips said.
"It's a credit to everyone involved in the extensive planning, collaboration and consultation resulting in a seamless lift which we are incredibly proud of".
"For the overall design and installation process, there was a team of over five different structural engineering firms and over 10 subcontractors".
"On-site over 5000 bolts were required to completely lock the platform made out of Australian steel into place in-between the two existing buildings."
The Sky Deck at this location provides sweeping views over South Bank, Kangaroo Point and the Botanic Gardens, giving future visitors to Queen's Wharf unprecedented and uniquely Brisbane views of the city.
The third lift between The Star Grand hotel and Dorsett and Rosewood hotels will take place in the coming months.
The Sky Deck will be a first for Brisbane. It will be open day and night, 365 days a year for up to 1,500 people as somewhere to celebrate a special event, to bring visiting friends and family or even as a meeting place for a drink after work.