Construction Updates
Back
Temporary road closure on George St between Margaret and Mary Streets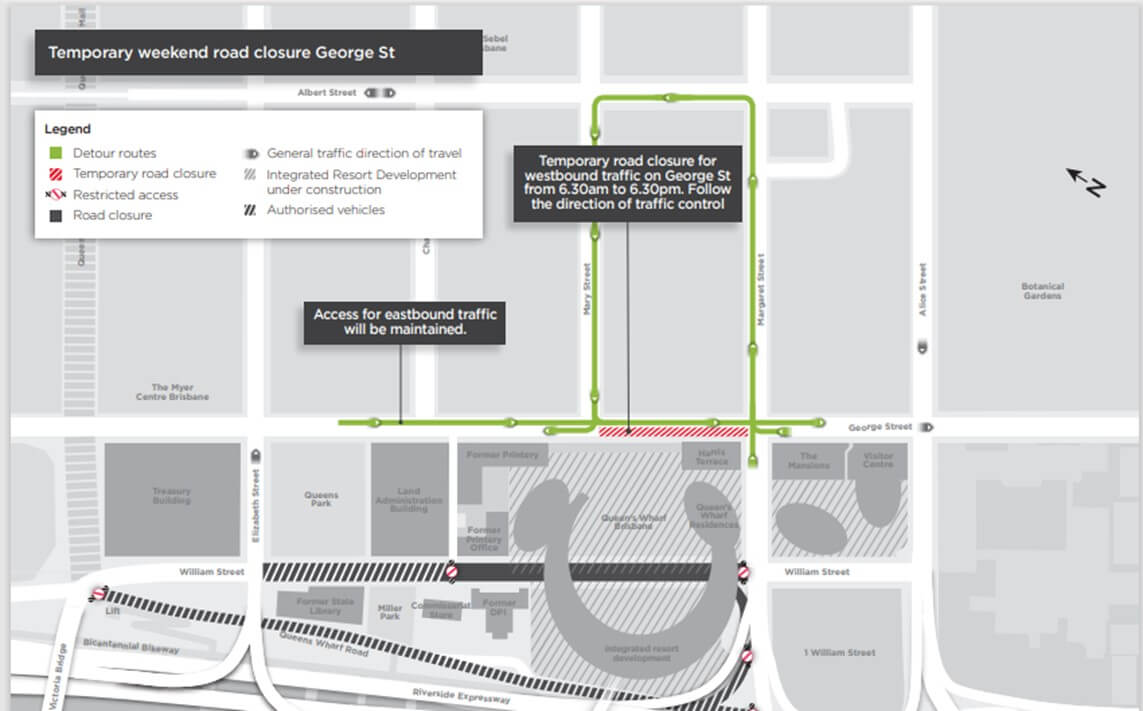 On Saturday 20 August a temporary traffic detour to remove a tower crane from the Queen's Wharf site will be required (rescheduled from 13 August).
When:
Works are scheduled on Saturday 20 August 2022 from 6.30am and 6.30pm requiring an exclusion area on George Street while works to remove a tower crane occur.
A temporary weekend road closure will be in place to minimise impacts to the road network during peak hours. All works are subject to weather and site conditions and will be rescheduled to the next available weekend if required.
Where:
Temporary road closure will be on George Street between Margaret and Mary Streets. (See map). Access will be maintained for local access only.
Temporary diversion:
For inbound city traffic, follow the Margaret St detour for access to the CBD. Access to 1 William Street and Gardens Point Road will be maintained at all times.
What to expect:
The temporary closure on George Street will include the following:
– Reduced speed limits on the approach to the construction site
– Noisy works including, rattle guns and hammering on steel
– Workers entering and existing the site between approved hours.
Detour signage and traffic control will be in place to guide road users during the road closure. We apologise for any inconvenience caused and appreciate your ongoing patience.