Construction Updates
Back
Update: Night works on Margaret Street: In-bound traffic take Elizabeth Street or Turbot Street off-ramps from the Riverside Expressway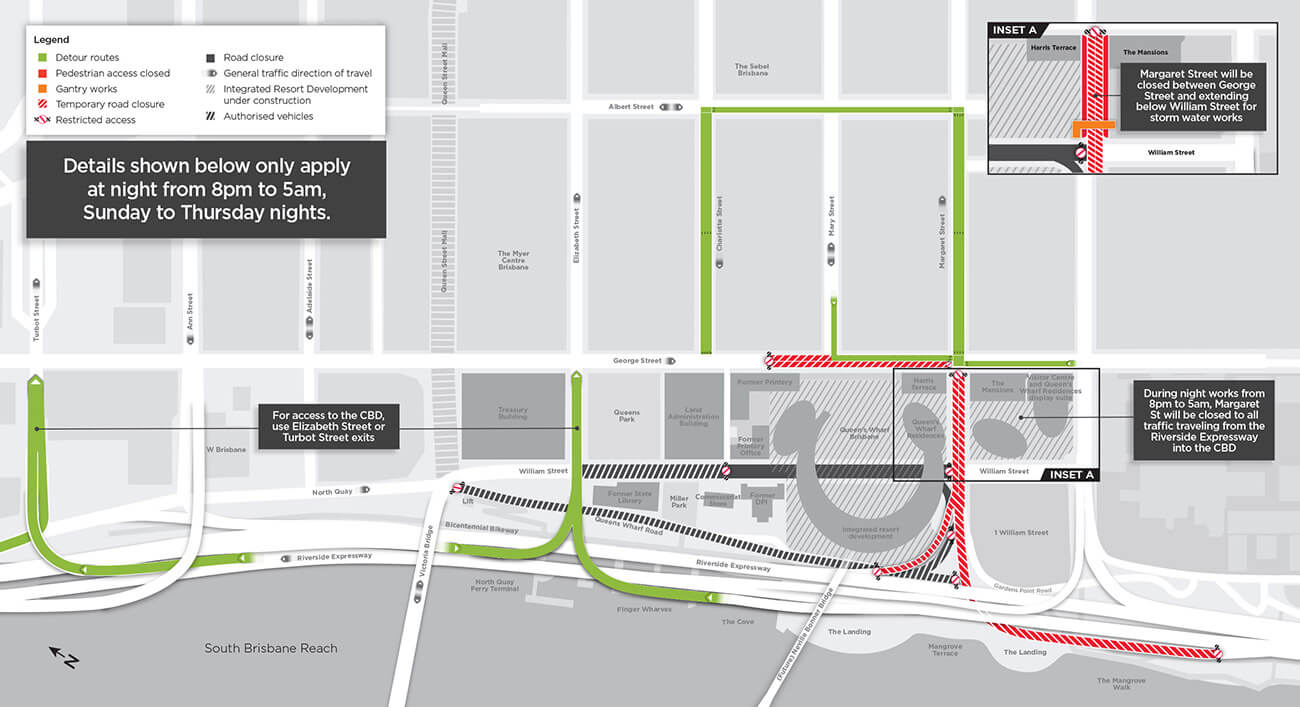 Revised dates: From Sunday 22 August 2021, nights work and temporary traffic detours will be required to upgrade stormwater connections on Margaret Street.  
When:
Night works are scheduled five nights per week – Sunday to Thursday between 8pm and 5am. This is the first stage of stormwater connection works that will continue for approximately two weeks, with additional works and associated traffic impacts to continue until early-October 2021.
Night works are required to minimise impacts to the road network during the day. All night works are subject to weather and site conditions, if required these works will be rescheduled to the next available date.
Where:
Work will occur on Margaret Street, between William and George streets in various locations in the road corridor.
Works to remove the gantry over Margaret Street will also be undertaken at the same time. Additional watermain upgrade works will also be underway on George St (see map) and an earlier Construction Notice was issued detailing these works.
Temporary traffic changes:
Riverside Expressway Margaret Street offramp will be temporarily closed during night works. For in-bound city traffic, use Elizabeth St or Turbot St Riverside Expressway offramps. Access to 1 William Street will be via Gardens Point Road.
What to expect:
Night works will include the following:
Temporary road closures (night only and excluding Friday and Saturday evenings)
Noisy works including saw cutting, vacuum trucks and jack hammering
Movement of heavy vehicles and equipment
Reversing beepers and lighting.
Detour signage and traffic control will be in place to guide road users during the road closure.
We apologise for any inconvenience caused and appreciate your ongoing patience.