Construction Updates
Back
Extended: Temporary road closures on Margaret St off-ramp, access to CBD via Elizabeth Street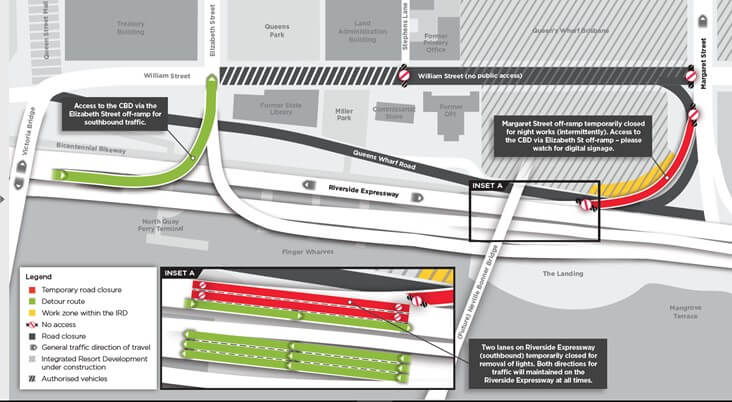 On intermittent nights until 29 January 2021 access to the CBD will be via Elizabeth St for southbound traffic on the Riverside Expressway. Daytime traffic is not affected.      
When:
Night works will occur intermittently between 8pm to 5.30am until Friday 29 January 2021 (exc. Fri & Sat).
Where:
The works within the Queen's Wharf site require the Margaret Street off-ramp and two southbound lanes on the Riverside Expressway to be closed while construction close to the site boundary is underway.  See attached map.
What to expect:
Margaret Street off-ramp will be closed to through traffic for the duration of the night works. Detour signage including visible digital message signs will direct motorists use the Elizabeth Street for access to the CBD.  Through traffic using the Riverside Expressway will not be affected.
What else to expect:
Two temporary lane closures for southbound traffic on the Riverside Expressway (through access on the Riverside Expressway will be maintained at all times)
Construction vehicles with flashing lights and reversing beepers.