Construction Updates
Back
Crane lifts from the Brisbane River to the Neville Bonner Bridge construction site at South Bank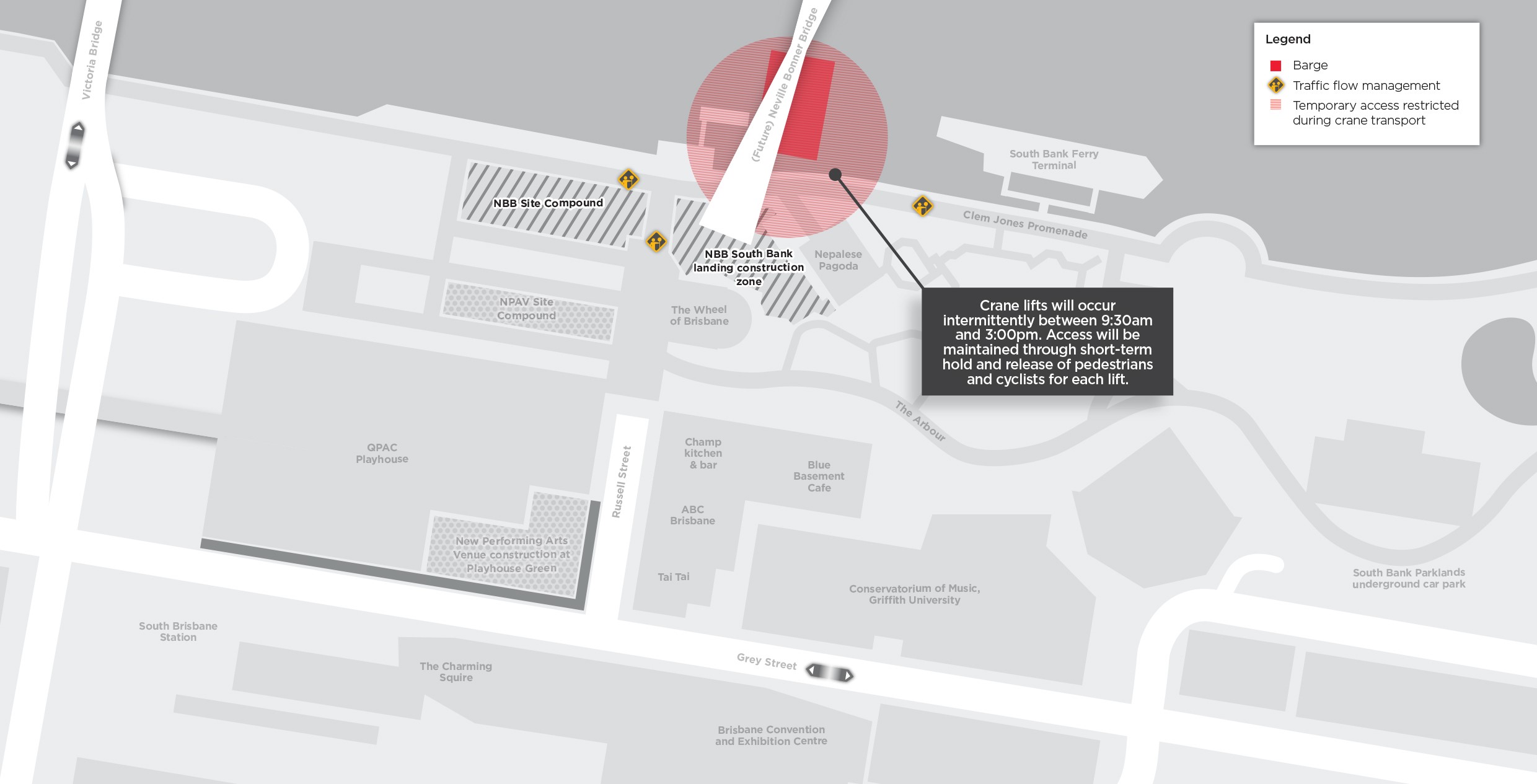 Materials and equipment required for piling will be lifted from the barge on the Brisbane River over the Clem Jones Promenade into the fenced bridge landing site at South Bank.
When:
Intermittent lifts will occur 2 days per week for 4 weeks from the date of approval. Currently this is expected to occur from Monday 28 September, subject to approval. Lifts will occur outside peak commuter times between 9.30am and 3pm.
Where:
The crane on the barge (already in the Brisbane River) will be used to lift materials and equipment from the river into the construction site at South Bank.
All lifts will occur over the Clem Jones Promenade and traffic control will be in position to safely assist with pedestrian, cyclist and vehicular traffic movements.  See attached map.
What to expect:
A total of 4-6 lifts will be undertaken each day to facilitate the transfer of piling equipment and materials. Each lift is anticipated to take no more than 5 minutes.
Pedestrian and cyclist impact:
Traffic controllers will be in position at Russell Street, and on the Clem Jones Promenade between Southbank 1 and 2 Ferry Terminals to assist pedestrians and cyclists at times when lifts are occurring. Temporary holds may be required for short periods of time (up to 5 minutes) while the lifts are occurring. Outside the crane lifts, normal traffic movements will continue through the area.  See map for more details.