Virtual tours continue to push Queen's Wharf apartment sales past 500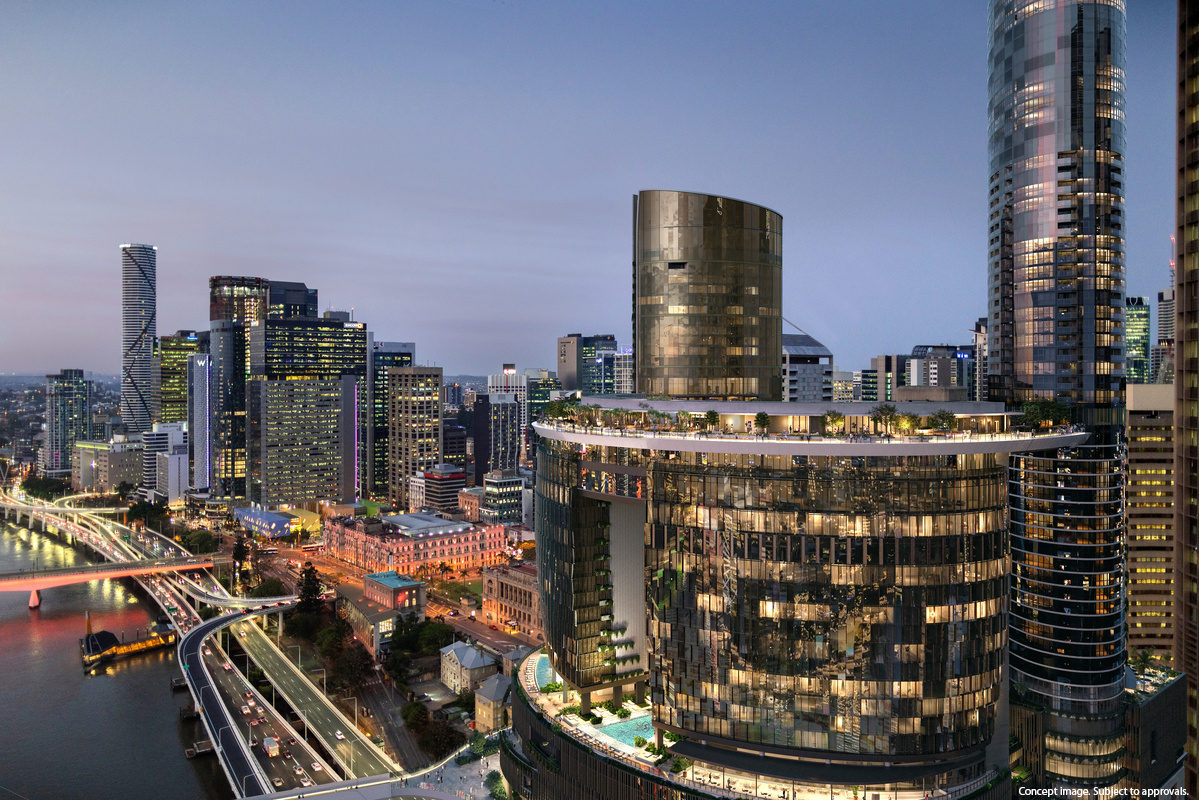 The Queen's Wharf Residences luxurious display suite was officially opened to the public in early March this year – providing beautiful new showcase facilities that attracted strong viewings and inspections.
The suite remains open with inspections subject to COVID-19 requirements and strictly by appointment only.
However, virtual platforms have seen strong take-up in recent weeks, and have helped send sales past the 500-mark in the first residential tower.
Destination Brisbane Consortium Hong Kong partners Chow Tai Fook Enterprises and Far East Consortium are delivering the Queen's Wharf Residences.
Far East Consortium Head of Strategy and Partnerships Australia Jessica Campbell said Far East Consortium and Chow Tai Fook, could not be more thrilled with how the launch of Queen's Wharf Residences has been received in Brisbane.
"It is clear buyers can see the uniqueness of this world class project," she said.
The display suite, located 21 metres in the air on the corner of George and Alice Streets, shows elements of one and three-bedroom residences.
Meanwhile the virtual tour allows prospective buyers to explore the space in its entirety.
"The display suite, whether inspected in person or virtually, has been an amazing tool and wonderful vantage point to experience all that is going to be Queen's Wharf and The Queen's Wharf Residences," Ms Campbell said.
"Buyers can touch and feel and see the beautifully designed residences with a complete 1 bedroom and part of 3 bedroom to explore."
Project marketing specialists, YPM Group and Avanti Project Marketing, are the companies managing the sales campaign for the first residential tower on behalf of Far East Consortium and Chow Tai Fook Enterprises.
YPM Group Managing Director Bryce O'Connor said the display suite, designed by DBI, will offer interested buyers the chance to experience first-hand a future living in one of the development's residences.
This first residential tower is 64 storeys high and contains 667 one, two, and three-bedroom residences.
One-bedroom residences are available from $551,000.
"Residents will receive direct access to an abundant array of diverse and premium dining, shopping, public space, and entertainment amenities at their doorstep – a lifestyle that Brisbane has not seen before and makes it difficult to compare to any other development in Australia or around the world," Mr O'Connor said.
"In addition, each residence's stunning design, beautiful quality finishes, exclusive residential amenities, breath-taking views, and being within walking distance to other nearby attractions – such as the arts and cultural precinct of South Bank – are all part of why it is commanding such strong interest.
"Interested buyers are invited to make an appointment to come and experience this truly premium property in what will be an iconic tourism, leisure, and entertainment destination for our city," he said.
For more information visit www.qwresidences.com.au or to book a virtual tour visit https://qwresidencesbooking.as.me/schedule.php