Revitalising streetscaping commences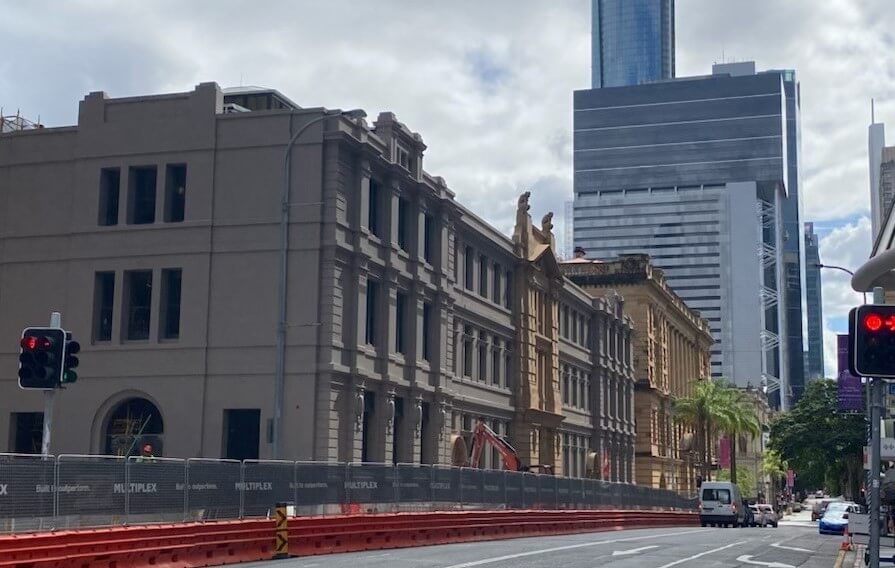 Queens Gardens to Margaret Street will be transformed into a greener corridor as part of the Queen's Wharf development.
Works for the Ridgeline area of Queen's Wharf have commenced which includes Stephens Lane, William Street and George Street.
Once completed, the upgrades will complement the Integrated Resort Development with upgraded footpaths, landscaping, enhanced access, and improved visual amenity.
Destination Brisbane Consortium Project Director Simon Crooks says the development will enhance the riverfront as well as the surrounding streets.
"Thirty-six established trees will be planted along George Street including Crows Ash and Kentia Palms to enhance the area," Mr Crooks said.
"Footpath surfaces will be repaved as the design flows from Queens Garden to Margaret St."
Multiplex Project Manager Tyson Macdonald said civil works on George Street and Stephens Lane have commenced, covering a large footprint in the city.
"The area for upgrade covers over 11,000m2 mostly from William Street and George Street," Mr Macdonald said.
"The first stage has commenced in Stephens Lane and George Street in front of the former Printery Building and The Treasury Hotel.
"There will be five different sections that will be upgraded along George and William Street,
"At times pedestrians will need to detour from the current footpaths along George Street to accommodate the upgrades.
"Multiplex would like to thank everyone for their patience while works are underway."
Construction will occur within general constructions hours (6.30am to 6.30pm – Monday to Saturday) and with some out-of-hours works for specific tasks that can't be undertaken during general hours.
The multi-billion-dollar Queen's Wharf Brisbane development is being delivered by Destination Brisbane Consortium – a joint venture led by The Star Entertainment Group alongside its Hong Kong-based partners, Chow Tai Fook Enterprises and Far East Consortium.