Queen's Wharf's link to world's tallest building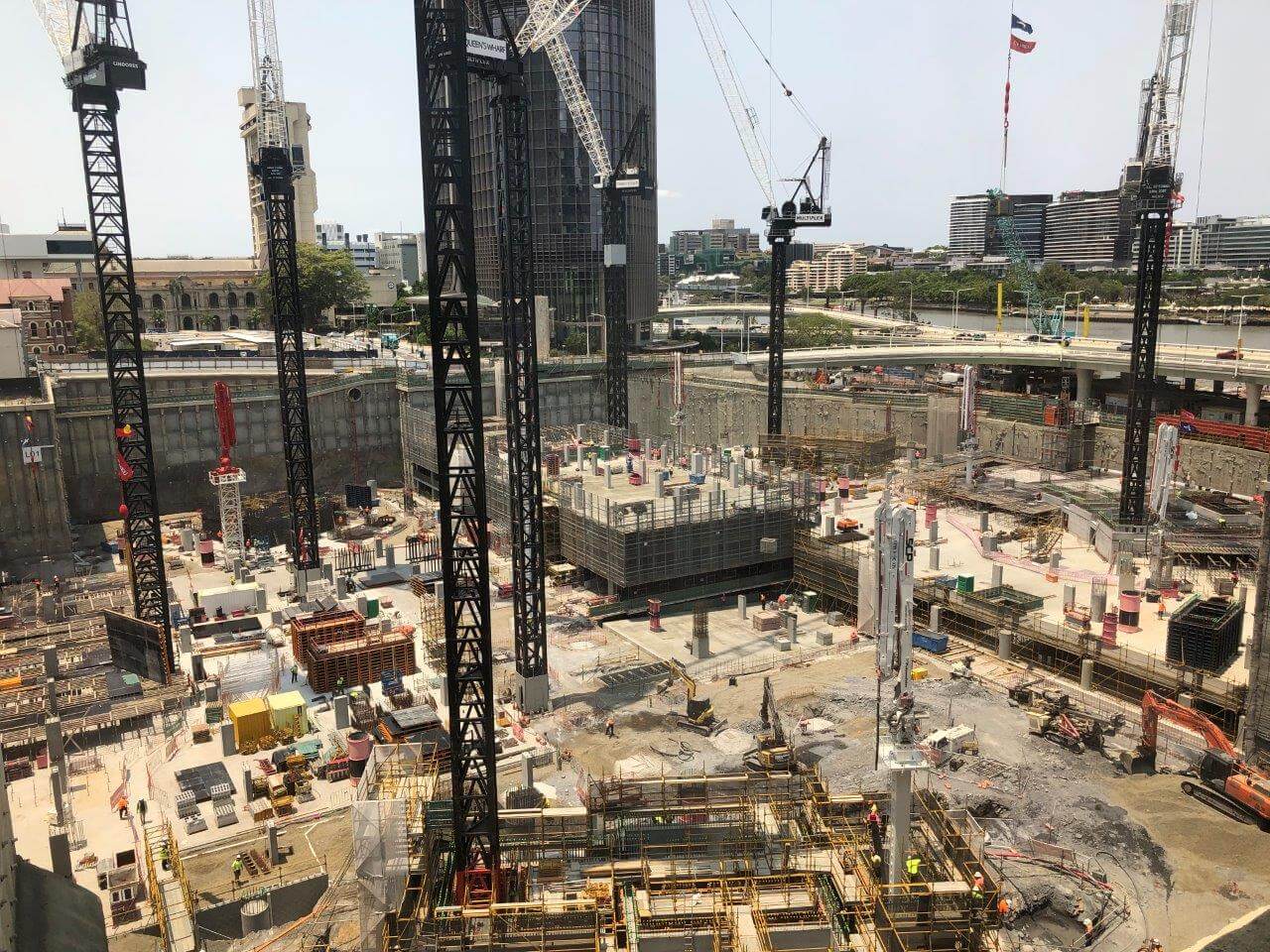 Queen's Wharf is changing from the basement levels up, with nine high speed tower cranes working to transform Brisbane's skyline.    
What does Queen's Wharf Brisbane have in common with the world's tallest tower – the Burj Khalifa in Dubai, United Arab Emirates?
Three of the tower cranes used to build the iconic UAE structure are now on-site at Queen's Wharf and are among nine cranes working in unison to build Brisbane's integrated resort development.
In fact, the Favello Favco high speed diesel hydraulic lifting cranes have been used to build nine of the world's top 10 tallest buildings
The supply of the cranes is being managed by Lindores Construction Logistics, a Gold Coast family-owned and operated business spanning two generations.
Lindores Managing Director Chris Lindores said the Favello Favco tower cranes have a proven track record globally.
"Their brand is recognised globally as high-performance cranes providing quicker lifts and low downtime, which is important for productivity."
"A project of this scale requires reliable tower cranes with the capacity to lift heavy loads – four of the cranes can lift up to 25 tonnes each."
In late-2020, a 10th final crane will be installed on-site, with all having a different working radius and maximum lift load suited to specific areas of the site.
During the project, tower cranes will be relocated to higher levels as the structure is built.
Multiplex is currently constructing a loading zone (for the duration of construction) on George Street adjacent to the site to deliver construction materials that will be craned onto the site.
Multiplex Project Director Dayne May said night works will start during late December/early January along George Street to re-align the traffic lanes between Margaret Street and Charlotte Street.
As part of the re-alignment, night works and temporary detours will be in place for motorists over a one-week period.
For motorists travelling on George Street after the re-alignment, traffic lanes will be reduced from three lanes to two lanes with one lane open in each direction.
Standard construction hours will be in place from Monday to Saturday between 6.30am to 6.30pm for the development. For construction required outside these hours, Destination Brisbane Consortium will provide advance notification.
For more information about Lindores Construction Logistics, contact the team on 07 5593 8440 or via admin@lclogistics.com.au
The $3.6 billion Queen's Wharf Brisbane development is being delivered by Destination Brisbane Consortium – a joint venture led by The Star Entertainment Group alongside its Hong Kong-based partners, Chow Tai Fook Enterprises and Far East Consortium.
To learn more about Queen's Wharf Brisbane, visit www.queenswharfbrisbane.com.au and/or our Facebook page www.facebook.com/queenswharfbrisbane/.
For construction related enquiries, contact Multiplex either via phone 1800 931 760 or email queenswharfbrisbane@multiplex.global