Project update – August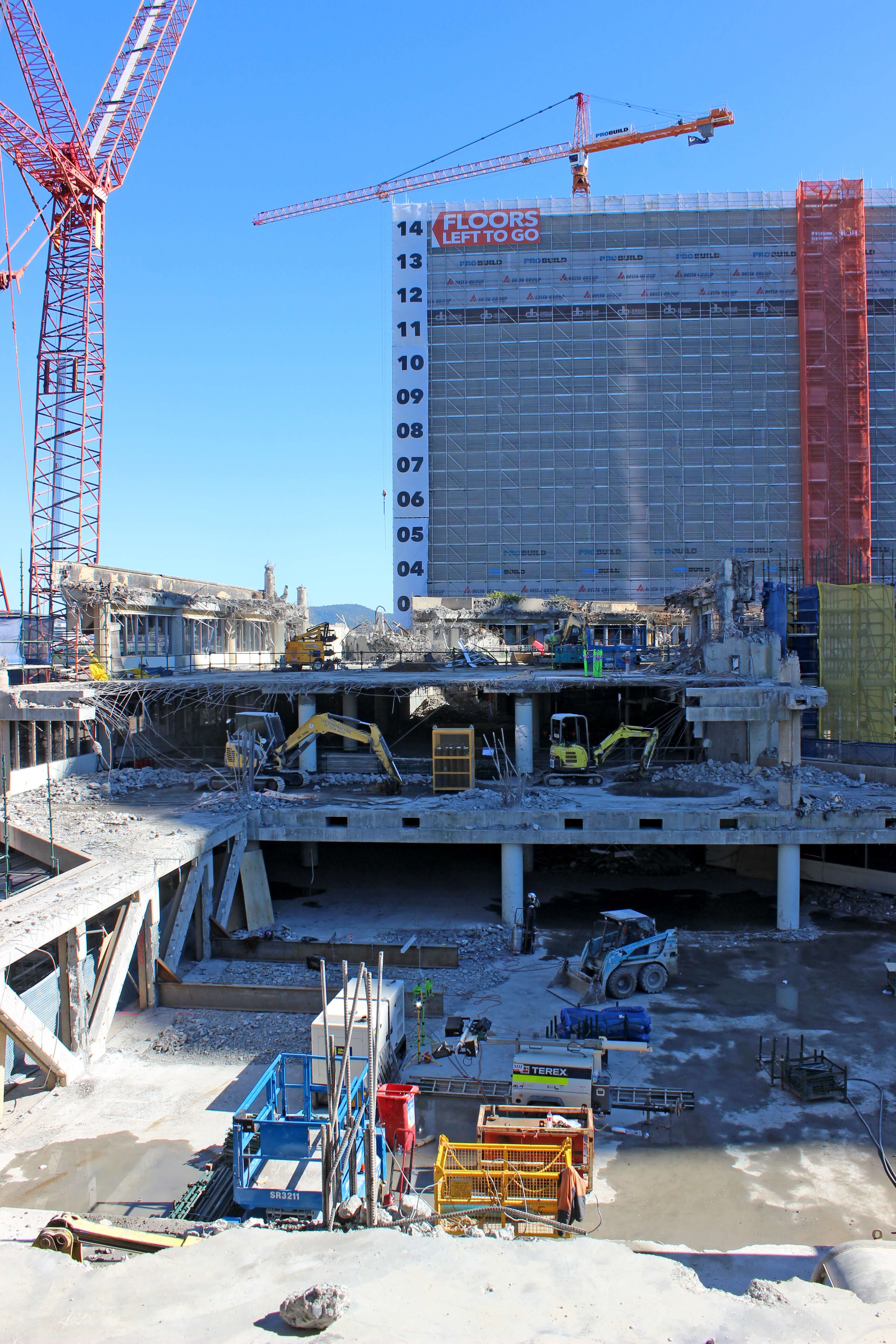 This month, the demolition and enabling works contractor Probuild continues with services relocation and demolition work across the Queen's Wharf Brisbane precinct.
To-date, services relocation work has been a focus for Probuild with isolation, diversion and reconnection required on telecommunication, gas, water and electrical supply.
The bulk of this work is now behind the team, with an expected completion date for telecommunication work in late-September. Electrical pit and cabling work is continuing with the remaining work expected to be undertaken at night. This electrical work is considered to have relatively low-level noise associated with it and a construction notice will be issued when work dates are known.
The demolition work that is taking place at Queen's Wharf Brisbane means in the next few months, the city skyline will have changed significantly.
Destination Brisbane Consortium Project Director Simon Crooks said the demolition that was occurring at Queen's Wharf Brisbane made it the biggest demolition site in Brisbane, if not Queensland.
"Our contractor is progressing well with their schedule and we expect to see some major changes in the visible landscape of the city in the coming weeks and months," he said.
"Work on the Margaret Street overpass – connecting 80A and 80B George Street buildings – is nearing completion with just three weekend closures to go. By the time they get to the last weekend, all the scaffold will be removed and that section of Margaret Street will see sunlight for the first time in a long time.
"Neville Bonner Building is expected to be down to William St level by the end of September, with 80 A & B George Street to follow about a month later."
"At this stage, we are expecting the Executive Building and Annexe will be at ground level around the end of the year."
In the background to this work, Destination Brisbane Consortium is working through the Plan of Development assessment process with Economic Development Queensland (EDQ).
"We submitted our Plan of Development in late May and since then we have been working with EDQ to ensure they have the information they need to make an assessment," Mr Crooks said.
"Very soon we expect our Plan of Development to go to Public Notification. This is a 6 week period where EDQ will accept submissions in relation to our plan. As you can imagine, we are very keen to keep this process moving and receive the assessment outcome from EDQ.
"All going well we expect to be awarding contracts for excavation and the development of Waterline Park and the Mangrove Walk before the end of the year.
"Pending EDQ approval, the work to occur at Waterline Park and the Mangrove Walk will be the first deliverable to the community and our way of saying thanks to the people of Brisbane for their patience during the period of construction."