Multiplex Queen's Wharf wrap up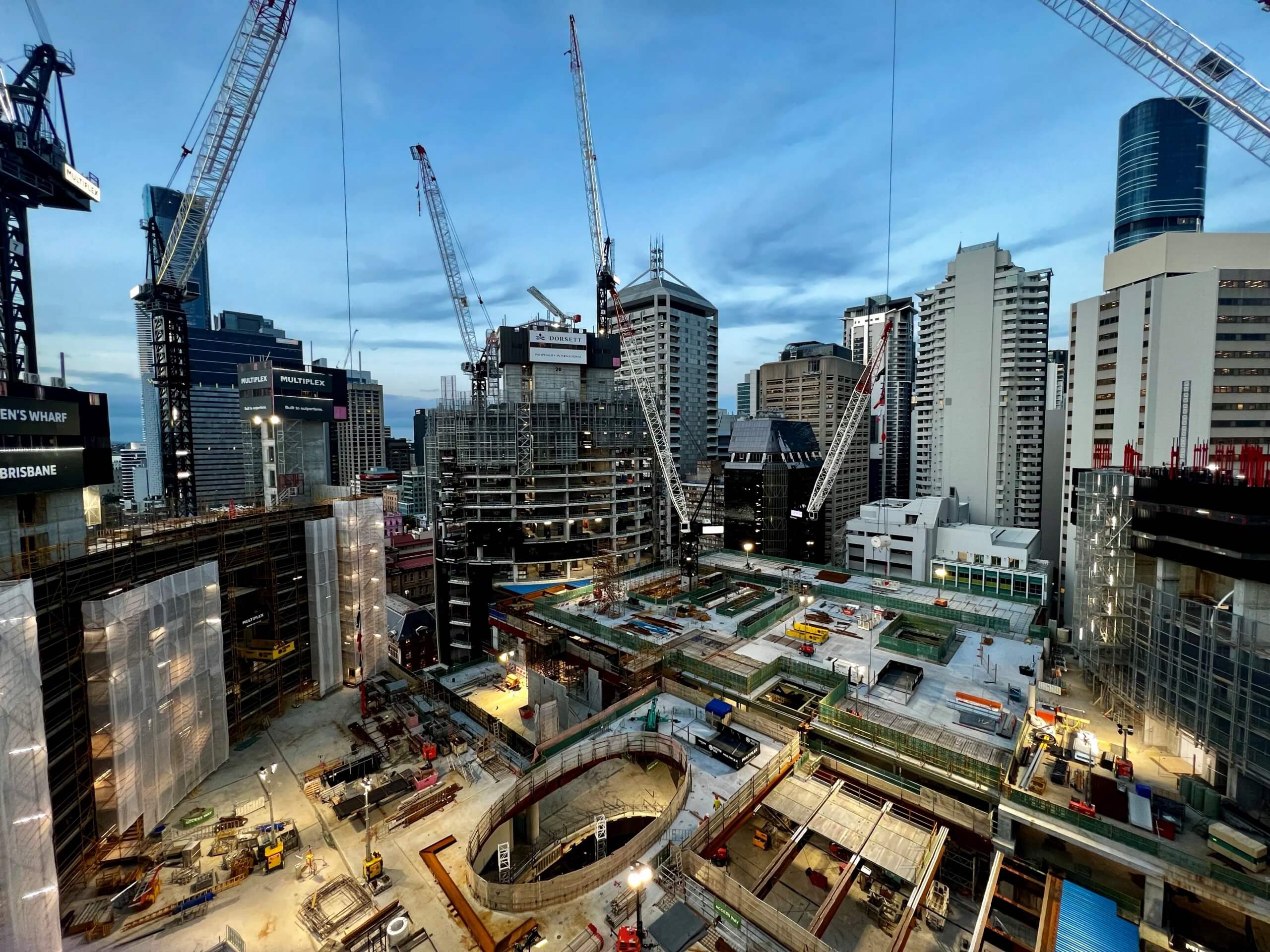 The year is ending on a high with works wrapping up on Queen's Wharf for 2021.
Queen's Wharf is climbing towards a strong finish with close to three million hours worked on-site since July 2019.
Over two thirds of the Integrated Resort Development structure is now complete, making way for the fit-out and finishes to continue into 2022.
The only integrated resort development currently being built in the world – next year four tower structures will fill the skyline, façades will glisten across the river and work will start on the iconic Sky Deck.
Multiplex Senior Project Manager Rick Woodford said looking ahead to 2022 the site's transformation will be significant.
"With the podium and basement structures complete and the four tower structures well underway, 2022 will be an exciting year.
"On average over 1,100 workers are on-site daily with this number only set to increase into the New Year.
"In total, 80% of concrete for the structure has now been poured.
"This month we also removed the first tower crane which is a significant milestone for the project – it means the structure is rounding out while fit-out and finishes trades start ramping up on-site.
"The installation of the Sky Deck will be a significant milestone next year, with the 100 metre high platform set to be installed between Queen's Wharf Residences, The Grand Star Hotel and the Dorset and Rosewood Hotels," Rick Woodford said.
Since construction started on the Integrated Resort Development, 12,000 tonnes of reinforcement and 3,000 tonnes of structural steel has been installed, in addition to 177,800m3 of concrete poured.
Queen's Wharf Brisbane will have over 50 restaurants and bars, luxury retail including Louis Vuitton and 7.5 hectares of space for everyone to enjoy.
To stay up-to-date on future work activities, please subscribe to construction updates at www.queenswharfbrisbane.com.au and click on stay informed at the top right corner.
The $3.6 billion Queen's Wharf Brisbane development is being delivered by Destination Brisbane Consortium – a joint venture led by The Star Entertainment Group alongside its Hong Kong-based partners, Chow Tai Fook Enterprises and Far East Consortium.