Mast up at Neville Bonner Bridge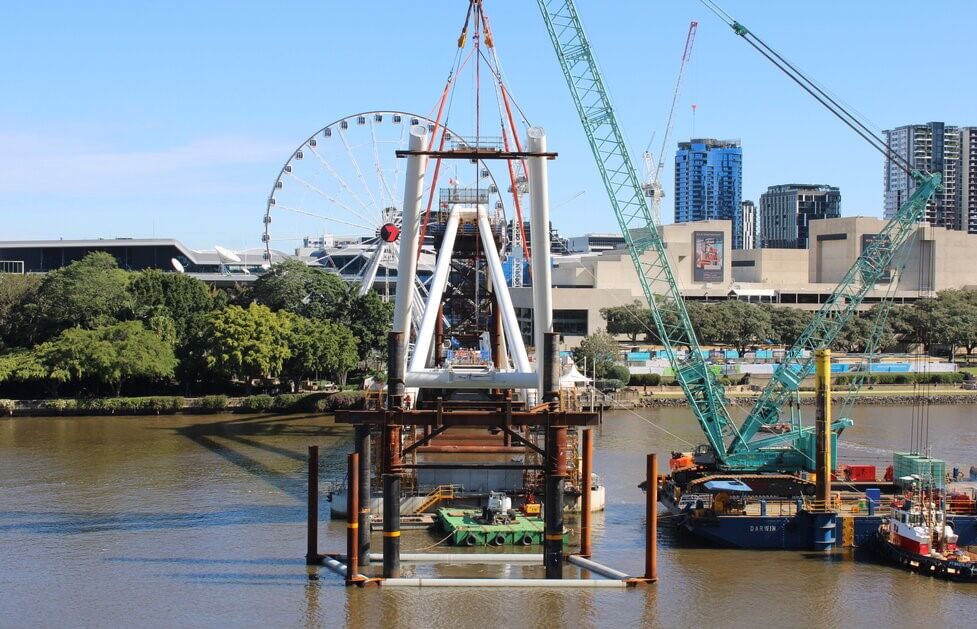 The Neville Bonner Bridge has inched closer towards the Brisbane CBD, with the first section of the mast successfully lifted and installed to the existing bridge section.
The first section of the mast of the Neville Bonner Bridge, was carefully lifted into position on the morning of Thursday 2nd June using two barges and a 600-tonne crawler crane.
The first section of mast and tie beam were delivered by the barge Junette Joy, with the lift undertaken by the crawler crane supported by the barge Darwin.
Destination Brisbane Consortium Project Director Simon Crooks said the newly installed section of the bridge has Brisbane residents and visitors alike turning their eyes towards the newest structure in the river.
"The 110-tonne, 28-metre-long section will help support the decking platforms on the north cable stayed end of the 322-metre pedestrian bridge," Mr Crooks said.
"As every section of the bridge is lifted into place, its iconic shape becomes more apparent across the Brisbane River."
Currently 162 metres of bridge decking has been installed, with the mid river lookout, and remainder of the mast and crown to be fitted in the coming months.
The second and final section of the 75-metre-tall mast will be installed in late-July making the bridge the same height as the Story Bridge when complete.
Around 10,000 crossings river via Neville Bonner Bridge are expected a day when it opens with the Queen's Wharf Brisbane integrated resort from mid-2023.
The $3.6 billion Queen's Wharf Brisbane development is being delivered by Destination Brisbane Consortium – a joint venture led by The Star Entertainment Group alongside its Hong Kong-based partners, Chow Tai Fook Enterprises and Far East Consortium.