Glistening façade paints picture of progress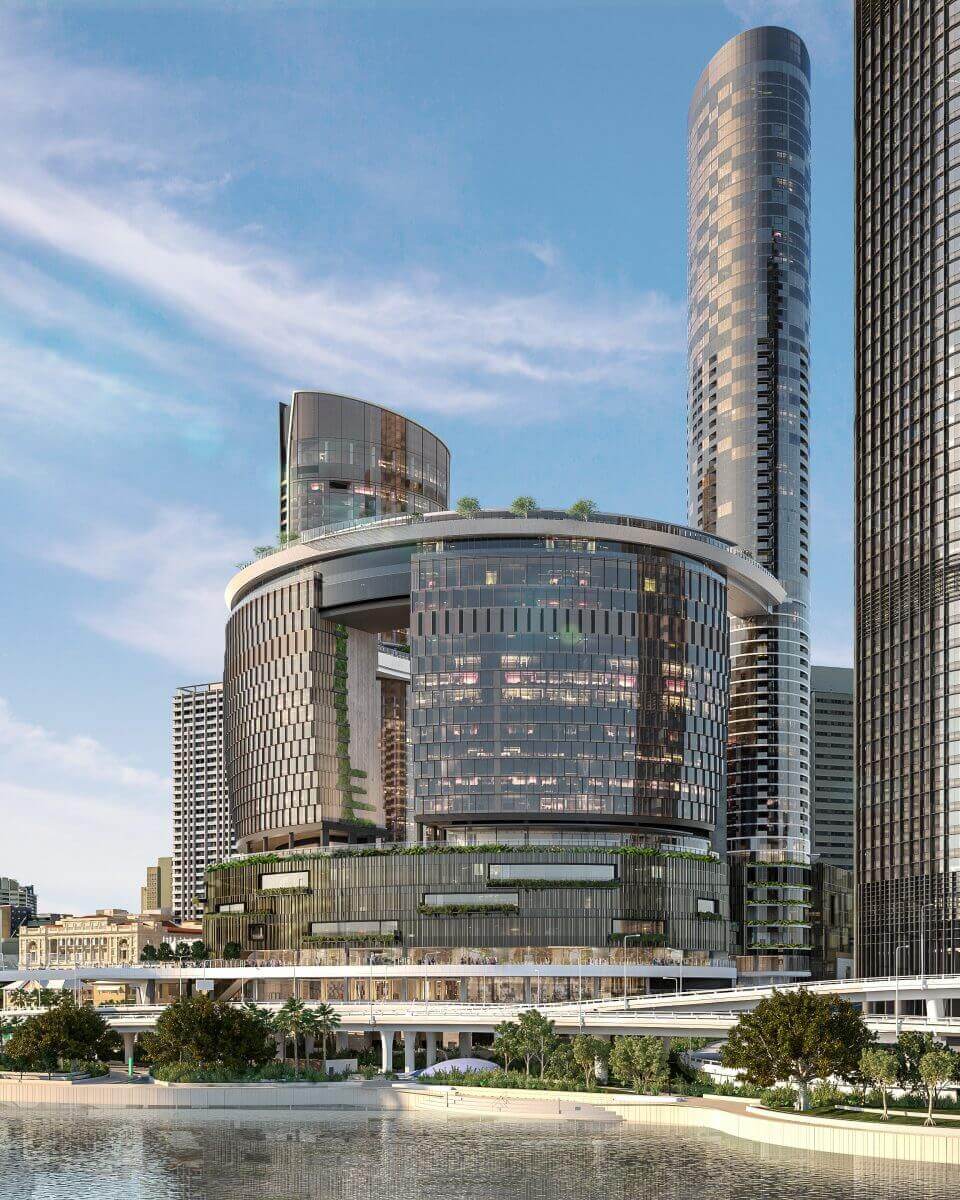 Queen's Wharf will become the jewel in Brisbane's crown with over 16,500 façade panels set to be installed on the integrated resort development over the coming months.  
Façade panels can now be seen from across the Brisbane River, creating a striking effect on the podium levels, which will become home to the exciting $3.6 billion tourism, leisure, and entertainment precinct.
As the most transformative development Queensland has seen in decades, more than 700 workers across 45 trades are currently installing the façade elements, as well as fitting-out the basements and working on the podium structure.
Multiplex Project Director Dayne May said installing the façade is both an exciting and important milestone for the project.
"Having the façade installed triggers the next phase of works with new trades starting on site," Mr May said.
"There are four packages and three major façade contactors on the project, which gives people an idea about the extent of structure to be covered.
"The shapes and sizes of the façade panels will be different on each building structure in the integrated resort development.
"On the podium levels some panels are up to 7.2 metres high – you can now see the façade on the gaming floor from across the river.
"As a stunning natural feature, planter boxes with greenery will cascade down the side of the buildings housing the future Rosewood and Dorsett hotels, and the Queen's Wharf Residences."
Architecture firm, Cottee Parker, has designed the development with a Queensland aesthetic in mind, using subtropical landscaping and timber and stone features to compliment the nine heritage buildings surrounding the project.
Brisbane's newest must-visit destination will become home to 12 football fields of public space including a spectacular Sky Deck sitting 100 metres above ground; around 1,000 premium hotel rooms; a 1,500-person seated ballroom; 50 restaurants, bars, and cafes; exciting entertainment; luxury retail; and up to 2,000 residential apartments.
Luxury brands from the LVMH Group, including Louis Vuitton, will be housed across 16 free-standing stores on the podium levels currently under construction, as well as within the three-level historic Printery Building on George Street.
For construction related enquiries, contact Multiplex either via phone 1800 931 760 or email queenswharfbrisbane@multiplex.global
The $3.6 billion Queen's Wharf Brisbane development is being delivered by Destination Brisbane Consortium – a joint venture led by The Star Entertainment Group alongside its Hong Kong-based partners, Chow Tai Fook Enterprises and Far East Consortium.
To learn more about Queen's Wharf Brisbane, visit www.queenswharfbrisbane.com.au and/or our Facebook page www.facebook.com/queenswharfbrisbane/. For construction related enquiries, contact Multiplex either via phone 1800 931 760 or email queenswharfbrisbane@multiplex.global