Demolition activities and Margaret St closures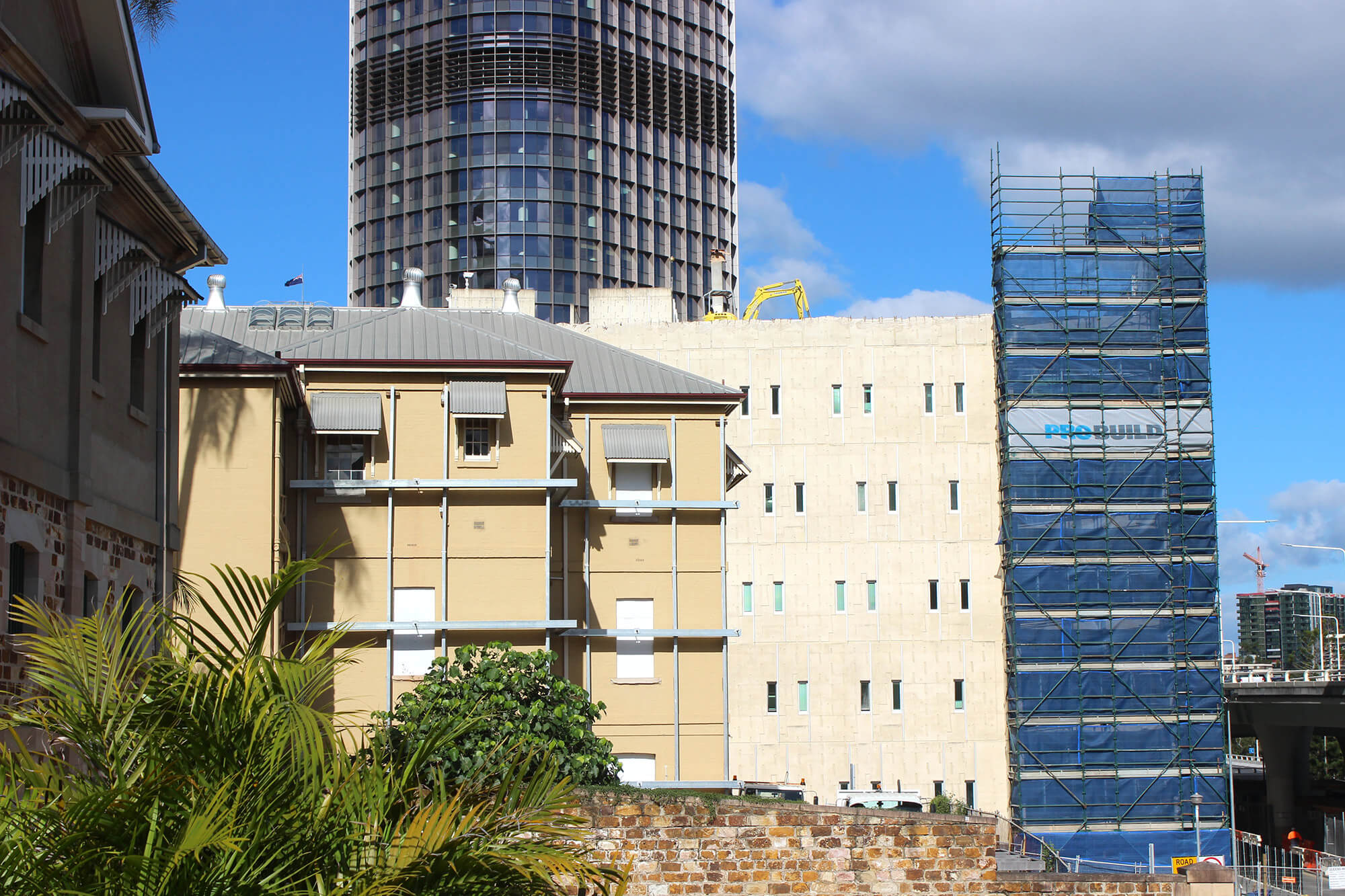 While the planning process has been under review, Probuild, the contractor appointed to undertake the demolition and enabling works has been busy across the site.
Demolition of the Neville Bonner building is now underway. During May we filmed a 9 tonne section of wall from the top of the building being pulled back in towards the building. If you are interested in seeing it, please visit our facebook page facebook/queenswharfbrisbane where you can watch and share the activity.
Scaffolding of the Executive Building is nearing completion; this means that when the outside of the building is fully scaffolded we can continue with the hard demolition.
Demolition of 80A and 80B George Street buildings is also progressing well with the planned demolition of the Margaret Street overpass on schedule for the weekend beginning 8pm on Friday 21 July.
To safely demolish the overpass and remove the 35 tonne concrete support beams it is necessary to close the Riverside Expressway Margaret Street off-ramps while work is undertaken in this area.
Subject to approvals, the Margaret Street off-ramp closures will begin each Friday night at 8pm and conclude each Monday morning at 4am. The work will run for up to seven (7) consecutive weekends.
This means the Margaret Street off ramps will be closed for the following dates:
8pm, Friday 21 July to 4am, Monday 24 July
8pm, Friday 28 July to 4am, Monday 31 July
8pm, Friday 4 August to 4am, Monday 7 August
8pm, Friday 11 August to 4am, Monday 14 August
8pm, Friday 18 August to 4am, Monday 21 August
8pm, Friday 1 September to 4am, Monday 4 September
8pm, Friday 8 September to 4am, Monday 11 September
The weekend 25 – 28 August the road will remain open for the Bridge to Brisbane fun run.
Motorists are encouraged to use the Elizabeth or Turbot street off-ramps while the Margaret Street off-ramps are closed.
Once the temporary weekend closures have been confirmed we will advertise these dates on our Facebook page and through a comprehensive radio advertising campaign. You are also welcome to email us for an update QWBenquiries@destinationbrisbane.com.au.