Cooling down Queensland's hottest development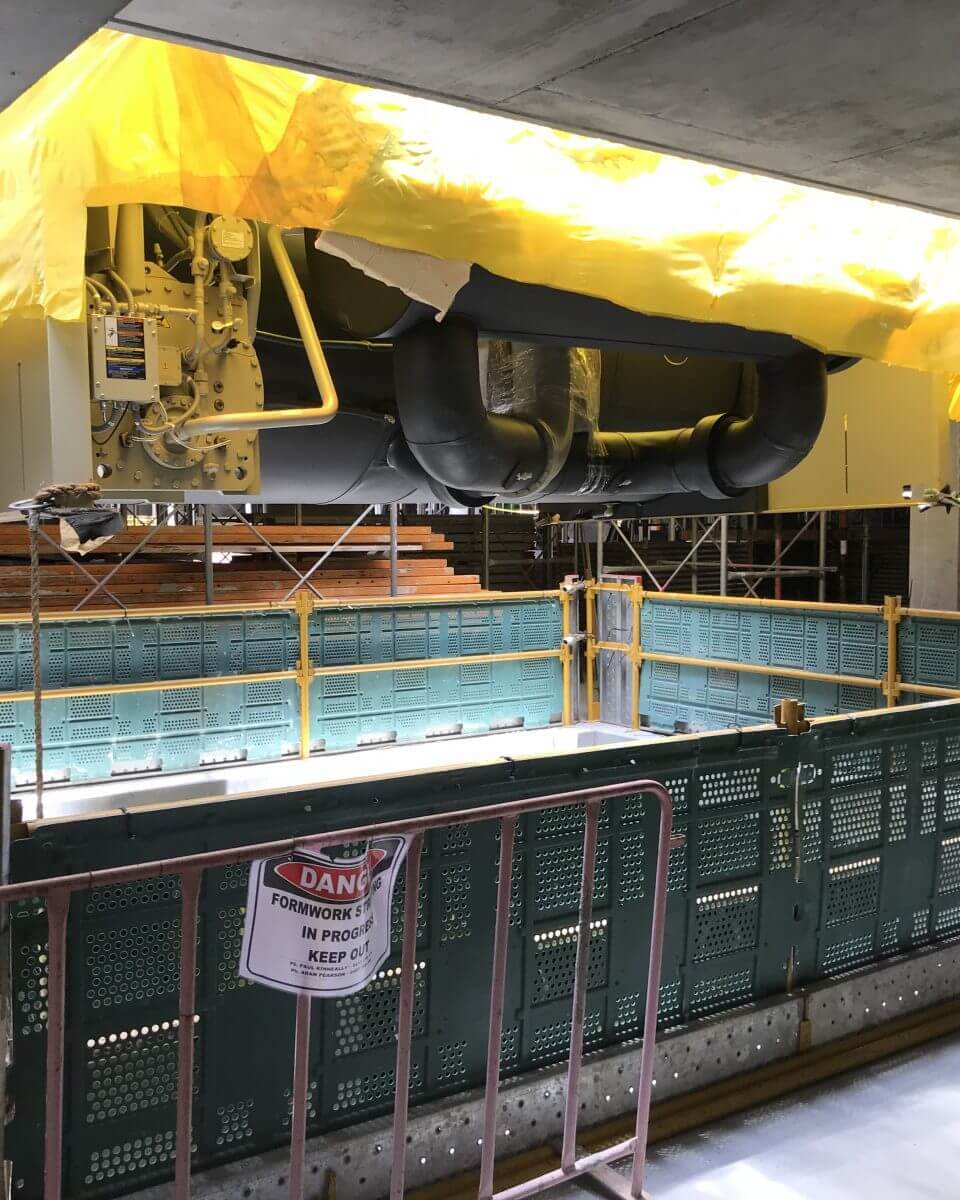 What lies within Queensland's largest basement, is an extraordinary central energy plant set to power the entire integrated resort development.
The chiller system is one of the biggest in the Sunshine State and has a total capacity of 21,752 kW – the equivalent to 5,000 living room air-conditioners.
Each of the four chillers weigh 32,000 kgs each and are housed within the central energy plant which covers an area one third the size of Suncorp Stadium's playing surface within the Queen's Wharf basement.
The central energy plant will ensure Queen's Wharf Brisbane is a welcome retreat from the tropical South East Queensland summers.
Located on level 00 above the five-level carpark, underneath the luxury retail on George Street – it's hard to believe when looking at the development from street level that such a powerhouse exists.
Multiplex Project Director Dayne May said that the sheer size of the chiller system is quite remarkable.
"The chillers will be cooling an area approximately seven times bigger than a large tower building," Mr May said.
"The total amount of chilled water in the pipe work at any given time, will be up to 1 million litres or the equivalent of 28 residential sized swimming pools.
"The chillers here at Queen's Wharf are an environmentally friendly, next generation engineered, meaning that most sustainable systems have been sourced.
"Queen's Wharf is targeting a six-star Green Star rating. which means the project is being built at a world leadership standard for sustainability," he said.
The logistics of installing these units was complex, requiring a temporary weekend closure to traffic in both directions on George street, between Charlotte and Margaret Streets.
Due to their unique size and shape, the four units were separately brought in via over-sized semi-trailer trucks and were craned into their basement position via an opening on street level.
The first stage of the Integrated Resort Development will be opened in late-2022.
For construction related enquiries, contact Multiplex either via phone 1800 931 760 or email queenswharfbrisbane@multiplex.global
The $3.6 billion Queen's Wharf Brisbane development is being delivered by Destination Brisbane Consortium – a joint venture led by The Star Entertainment Group alongside its Hong Kong-based partners, Chow Tai Fook Enterprises and Far East Consortium.
To learn more about Queen's Wharf Brisbane, visit www.queenswharfbrisbane.com.au and/or our Facebook page www.facebook.com/queenswharfbrisbane/.