Capping off the start of bridge construction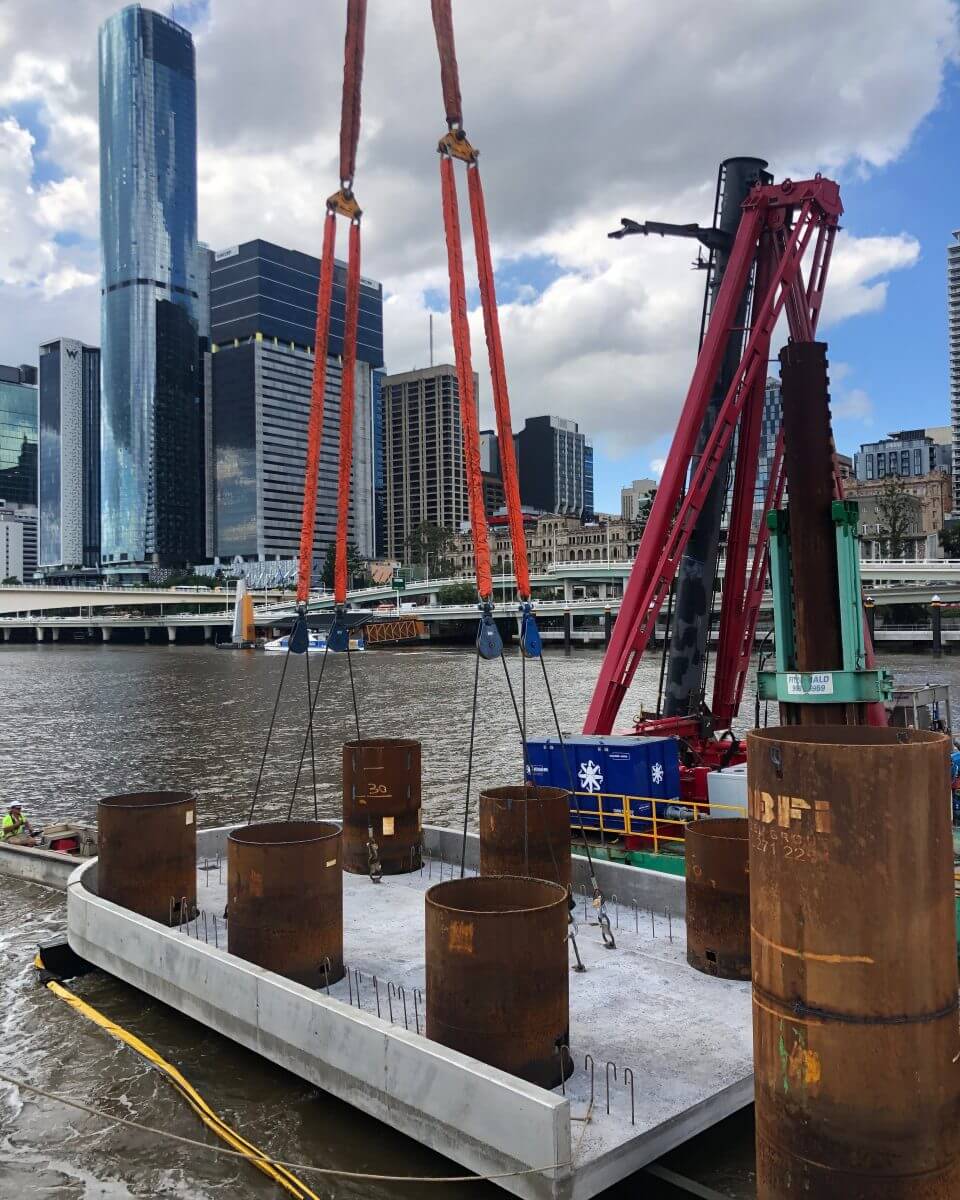 Queen's Wharf Brisbane's 320-metre Neville Bonner Bridge continues to take shape with a milestone this week in the middle of the Brisbane River.
On Monday, a mid-river pile cap arrived from upstream to act as the central river support structure for the future pedestrian bridge, which will connect two of the city's greatest entertainment precincts – Queen's Wharf Brisbane and South Bank.
The pile cap was transported in two halves on a large barge under tugboat control.
The two halves, each weighing more than 60 tonnes, were then carefully lifted from the transport barge to bridge contractor Fitzgerald Constructions' Darwin barge.
The pile cap is now in position and ready to be sealed, dewatered, filled with steel reinforcement, and finished with 250m3 of concrete to lock it into place.
Destination Brisbane Consortium Project Manager Glenn Bourner said he was excited to see the pile cap being constructed as it provided a visible proof point of the bridge's progress.
"The pile cap is a sizeable piece of concrete in the Brisbane River and will allow people to start connecting the dots for where this bridge will connect," Mr Bourner said.
Mr Bourner – who was also the project manager for the Kurilpa Bridge, the last bridge built in Brisbane more than a decade ago –said the elegant design had been refined a number of times through extensive modelling aerodynamic and aeroelastic analysis (wind tunnel testing) to ensure expected movement would be minimised.
"I am an architect at heart and to see the design coming to life is an exciting time for me," Mr Bourner said.
The Neville Bonner Bridge, named in honour of the late Senator who was also the first Aboriginal Australian to become a member of the Parliament of Australia, will open with the integrated resort development from late-2022.