Bicentennial Bikeway upgrades continue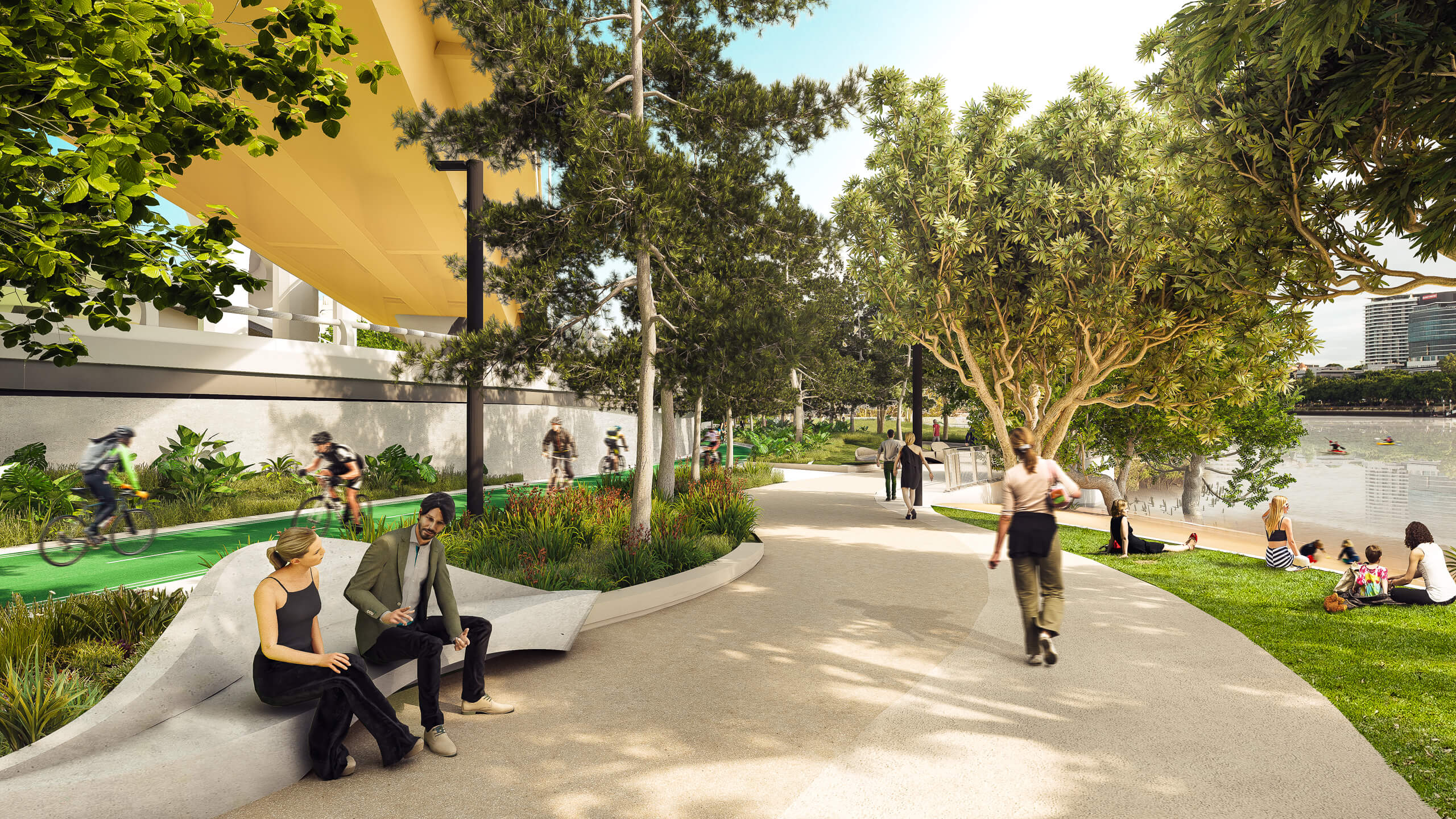 The Bicentennial Bikeway will have an attractive new route along the Brisbane River when Queen's Wharf Brisbane opens from late-2022.  
Already more than 500 metres of the Bicentennial Bikeway has been upgraded and is being enjoyed by cyclists, pedestrians and inner-city commuters. Now a further 270 metre section is being upgraded as part of the Queen's Wharf Brisbane significant public realm improvement.
The bikeway section, from North Quay Ferry Terminal to the above river public space, (still under construction) known as The Landing, is now under construction.
Multiplex Project Director Dayne May said works would recommence in February with equipment coming to site next week.
"Early works have now been completed – this included moving site sheds, realigning Queens Wharf Road, undertaking geotechnical investigation works and painting underneath the Riverside Expressway," he said.
Construction fencing has already been installed along the bikeway to keep the public safe while work occurs.
These fence lines will eventually switch to the opposite side once works are complete so that the other half of the bikeway can also be upgraded.
"Pedestrians and active transport users will notice a reduction in the width of the bikeway during construction (minimum 3 metres) – the good news is however, that when complete this will be widened into a much larger shared space once re-opened next year," he said.
Ongoing public space upgrades will also extend up the ridgeline, across Queens Wharf Road and eventually into Miller Park and the area under the Riverside Expressway.
While construction is underway, cyclists and pedestrians may notice increased construction noise and changed conditions when travelling from Waterline Park to the North Quay Ferry Terminal.
Once completed, the upgraded bikeway and public realm will open to the public the same time as the Integrated Resort Development, making access easy for pedestrians and cyclists visiting the precinct.
The upgraded bikeway will be an extension of the existing foreshore, visually replicating the newly opened Waterline Park with concrete and timber finishes, terrace seating and native landscaping.
When complete, Destination Brisbane Consortium, will have upgraded more than 1km of riverfront in the CBD and provided more than 12 football fields of place making public space as part of the Queen's Wharf Brisbane development.