The Star Brisbane sets the bar sky-high with three Sky Deck venues revealed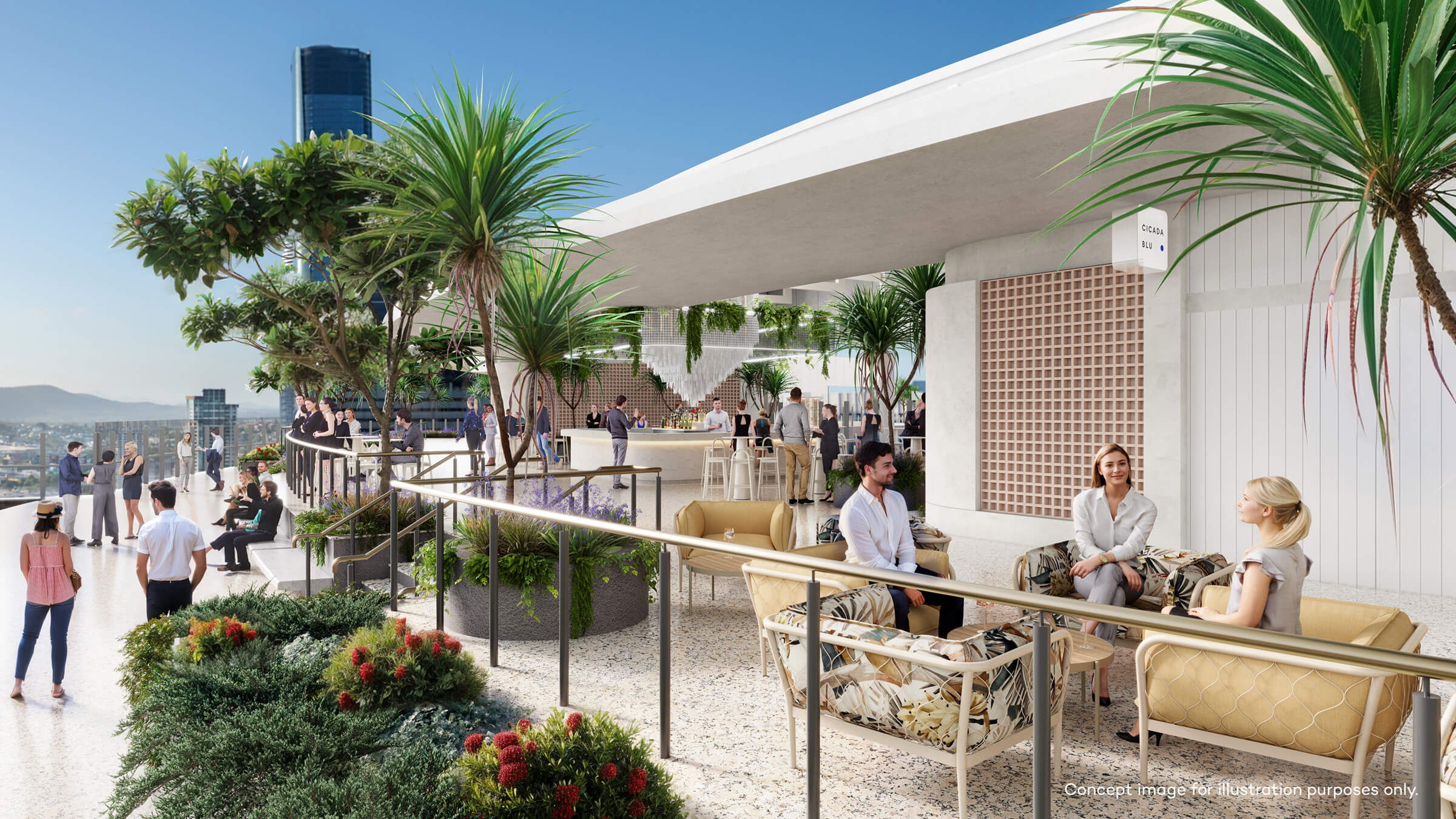 Locals and visitors will have the opportunity to experience Queensland's capital from a brand-new perspective when The Star Brisbane's striking new Sky Deck – one of Australia's most anticipated dining destinations – opens in 2024.
Soaring 100 metres above the $3.6 billion Queen's Wharf precinct, three highly distinct venues will call Australia's newest sky-high playground home, including The Star's latest signature restaurant Aloria, where dry-aged beef and Queensland's world-class seafood are the stars of the show; Babblers, a relaxed dining experience bringing together thoughtful handcrafted food with brave flavours; and Cicada Blu, an open-air bar buzzing with the spirit and energy of the city.
With unparalleled views, Sky Deck's 250-metre seemingly-suspended rooftop runway will showcase the best of Brisbane and Queensland's inimitable outdoor lifestyle, while having the added allure of dining under the open sky.
Sunsets and sunrises stretching from the CBD to Moreton Bay will also be on the menu, with Sky Deck open to the public 24/7 throughout the year.
The Star Brisbane General Manager Food & Beverage, Dustin Osuch, said Sky Deck's three unique venues were destined to become one of Brisbane's top tourist attractions.
"We have gone above and beyond to consider every detail of each venue and how the trio seamlessly integrate to serve up unforgettable moments in the sky. Aloria is destination dining redefined; Babblers brings a sense of familiarity through its warmth and charm; and Cicada Blu is the magnetic centre that brings the three together," Mr Osuch said.
"From a breezy brunch or long relaxed lunch swapping stories with friends, to sunset soirees, intimate dinner dates or celebrations that continue late into the evening, Sky Deck will deliver endless opportunities for locals and visitors to choose their own adventure."
Sky Deck's exquisite Aloria is where European elegance and ease meets Australian charm in an elegant yet relaxed dining experience that revels in Queensland's spectacular sunsets. An open kitchen brings depth of flavour to the table with a seasonal menu focused around time-honoured woodfire and grill techniques, coupled with the freshest produce sourced from the nation's top growers.
Aloria's beverage offering will set a new standard for Brisbane as the official 'cellar in the sky', showcasing the city's best and brightest cellar of wine, and a dedicated Martini menu that celebrates the cocktail in its simplest and truest form to the Marguerite, Martine, Martigny, Martina, Martineau and the Bradford à la Martini.
Flying high on the eastern end of Sky Deck, all-day dining venue Babblers is set to become a bustling institution for its warm and welcoming vibe. Created especially for those in search of a more relaxed, social experience, Babblers will plate up shareable crowd pleasers, perfectly imperfect handcrafted flatbreads topped with seasonal produce, and Australian craft beer and wines. Affectionately named after the gregarious Babbler bird family, Babblers has its own unique charisma, designed for flowing conversation as friends and family enjoy dining delights.
Taking centre stage on Sky Deck, Cicada Blu is a captivating day-to-night destination that moves to the rhythm of the city. Boasting breathtaking sights and electrifying entertainment, Cicada Blu is sure to beckon both locals and travellers with its exotic elixirs and bold botanical infusions – perfect for pre-dinner aperitifs, post-dinner rendezvous or to simply toast the high life.
As the sun sets, the beats will rise and Cicada Blu's enigmatic lighting installation will pulse and glow – inspired by everchanging cloud formations and electrifying summer storms.
Designed by QUT Alumni and specialist hospitality design director Paul Kelly, to celebrate Queensland's fresh beauty, The Star Brisbane Sky Deck venues present Brisbane at its best.
"Guests will no doubt visit for the views, stay for the experience, and come back for the memories," Osuch said.
For more information, visit thestarbrisbane.com.au
Download