Construction Updates
Back
Temporary Riverside Expressway night closures for southbound traffic only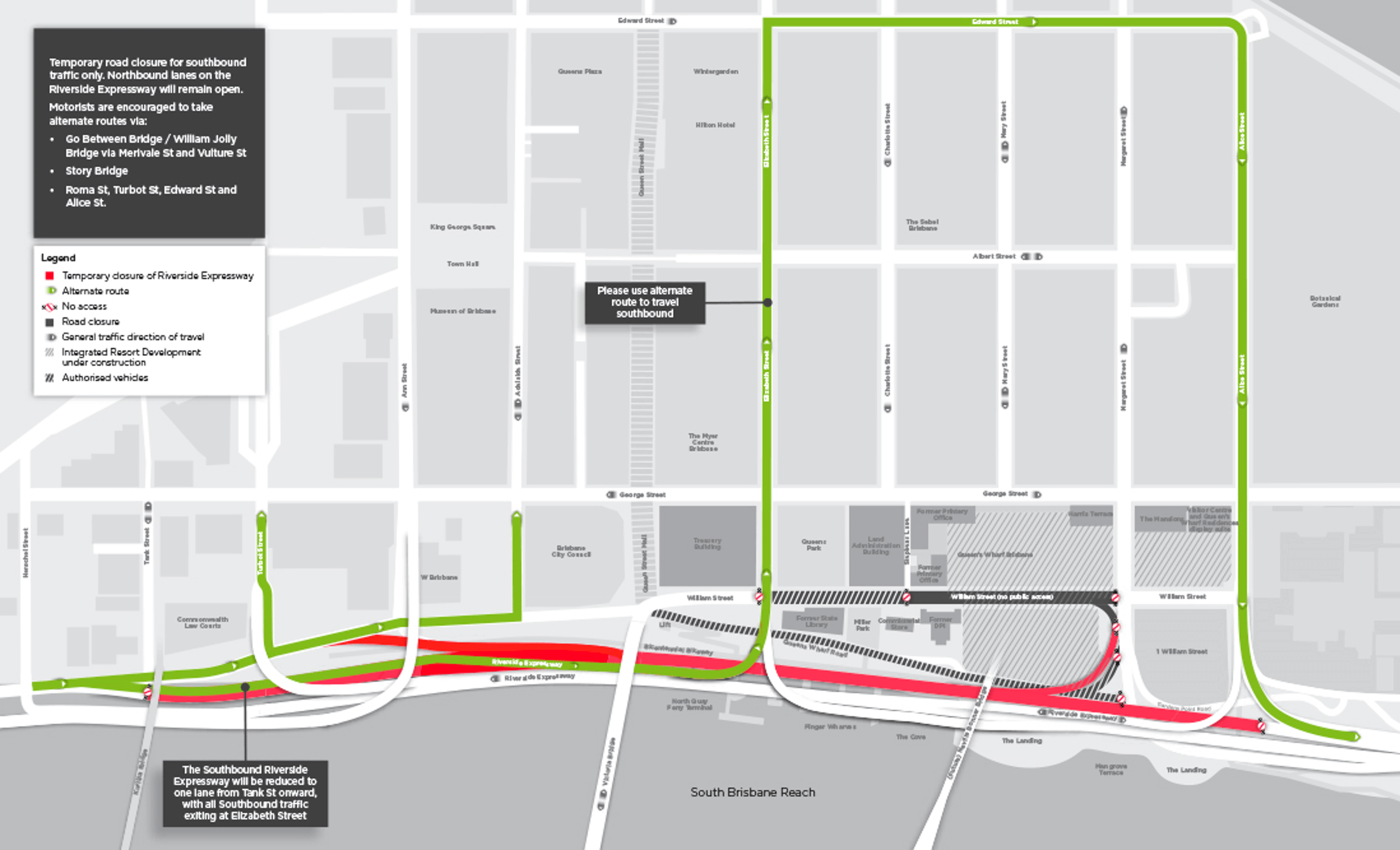 Temporary Riverside Expressway night closures for southbound traffic only
Across three weeks, on selected nights, the southbound lanes of the Riverside Expressway between Elizabeth Street and Alice Street will be closed to motorists. Please use alternative routes.
When:
The temporary road closure will occur on selected nights (below) with southbound lanes closed from 9.00pm to 5.00am the next morning. Daytime traffic will not be affected, with all lanes reopening after 5am. Works are scheduled for the following dates:
Monday 5 June to Thursday 8 June
Tuesday 13 June to Thursday 15 June
Monday 19 June, Tuesday 20 June and Thursday 22 June (excl. Wednesday 21 June).
Works are required to install the final cladding and canopy on the Neville Bonner Bridge connection into the resort development.
The temporary closure is required for safety reasons while material is being lifted above the Riverside Expressway southbound lanes.
Where:
Southbound lanes on the Riverside Expressway between Elizabeth St and Alice St will be closed while construction work occurs overhead.  Motorists are encouraged to use alternative routes prior to the road closure at Elizabeth St, however a detour will be in place via the city (see map).
Access from the Alice St on-ramp to the Riverside Expressway will remain open for southbound traffic.
Alternative routes:
Motorists can bypass the closure via:
Go Between Bridge* or William Jolly Bridge via Merivale Street and Vulture Street
Story Bridge
Roma Street then Turbot Street, Edward Street and Alice Street.
*Toll waived when using the Go Between Bridge for southbound travel – only valid between 9pm and 5am on works nights when the Riverside Expressway is closed due to construction works (construction timing is dependent on weather and site conditions).
CBD detour:
For southbound motorists who have not opted for an alternative route, a CBD detour will be in place to direct traffic around the closure and back onto the Riverside Expressway via the Alice St on-ramp.  Please follow traffic control directions and detour signage (see map).
What to expect:
In addition to advance notice for motorists to use alternative routes, the following is also expected:
Southbound lane closures and reduced speed limits on the approach to the road closure
Detour signage and traffic control to direct motorists through the city and to the Alice Street on-ramp
Engine noise from cranes lifting material within the site
Bright portable lighting towers within the construction site
Intermittent noisy works, including hammering and rattle guns used on steel