Construction Updates
Back
Temporary overnight road closure on Margaret St between William and George St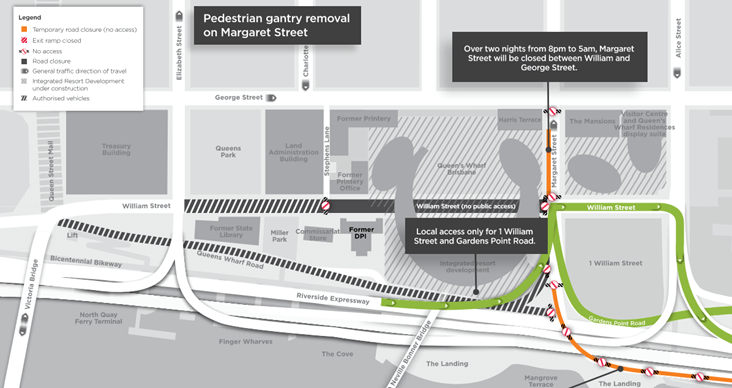 On Tuesday 15 February and Wednesday 16 February 2022 a road closure will be required on Margaret St between William and George Streets to remove a pedestrian gantry overhead.  
When:
Over two nights on Tuesday 15 February to Wednesday 16 February from 8pm to 5am a road closure on Margaret St will be required as a pedestrian gantry is being removed over the road. The gantry removal may need to be extended to additional nights during the week pending weather and site conditions. The road closure is scheduled at night when traffic volumes are at their lowest.
Where:
The temporary road closure will occur on Margaret St between William St and George St adjacent to the Queen's Wharf construction site. Refer to map.
Temporary traffic changes:
The Riverside Expressway northbound exit ramp onto Margaret St will be closed. All northbound traffic for the CBD will need to use the Elizabeth St exit. Access will be maintained to 1 William St and Gardens Point Road. Refer to map.
What to expect:
The road closure will include the following:
Task lighting, semi-trailer trucks and a mobile crane to complete the gantry dismantle
Reversing beepers for vehicles
VMS signage indicating a road closure and detours for motorists
Traffic control to guide motorists
Reduced speed limits on Margaret St on the approach to the road closure.
Signage and traffic control will be in place to guide road users during the road closure. We apologise for any inconvenience caused and appreciate your ongoing patience.
For construction related enquiries contact Multiplex on:
P: 1800 931 760 (toll free 24/7)
E: queenswharfbrisbane@multiplex.global