Construction Updates
Back
Temporary detour at South Bank while overhead works restrict access to Clem Jones Promenade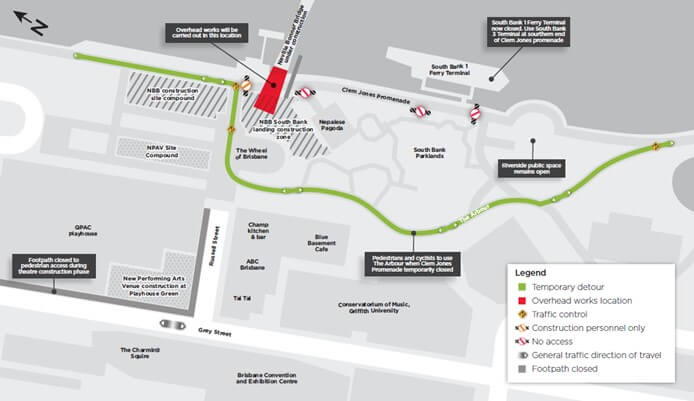 Between Tuesday 14th and Wednesday 15th September 2021 underslung service works will be installed on the Neville Bonner Bridge deck section that spans the Clem Jones Promenade.
When:
Between Tuesday 14th and Wednesday 15th September 2021 between 9:30am and 3:30pm, bridge contractor Fitzgerald Constructions will require a temporary closure of the Clem Jones Promenade to carry out electrical and communications service installation works to the underside of the bridge section.
Where:
For safety reasons the Clem Jones Promenade in front of the site area will be closed while the overhead works are carried out. See attached map for details of the closed area and temporary detour.
What to expect:
Elevated work platforms will occupy the footpath below the bridge as conduits are fixed to the underside of the structure.
Pedestrian and cyclist access:
The Clem Jones Promenade will be closed between the Clem Jones Russell Street Ramp and Riverside Green. Traffic controllers will be on-site to guide pedestrians and cyclists along the temporary detour. Cyclists will need to dismount and follow the detour route.
Ferry terminal access:
South Bank 1 and 2 ferry terminals are currently closed due to upgrading works, ferry passengers will need to make their way to South Bank ferry terminal 3 at the eastern end of the South Bank Parklands via the arbor walk.