Construction Updates
Back
Night works: Structural steel and precast concrete installation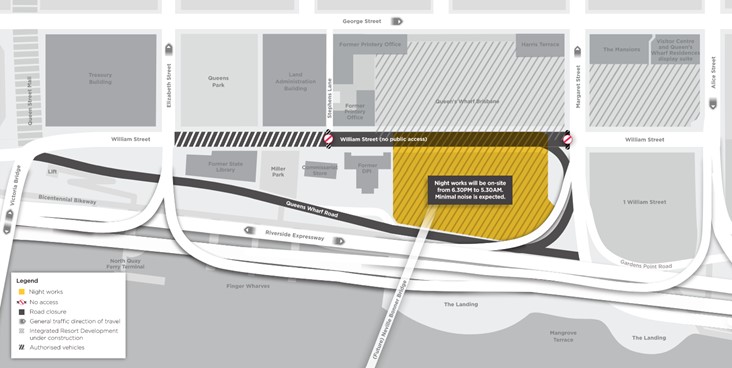 Starting Monday 12 October 2020 through to Thursday 12 November 2020, for five nights a week, night works will be required to install structural steel and precast concrete planks on the southern side of the Queen's Wharf construction site.
When:
Night works will start from from 6:30pm on Monday 12 October 2020 to 5:30am on Friday 13 November 2020. These works will only take place from Monday to Saturday, 6:30pm to 5.30am. The works will occur out-of-hours when traffic levels are reduced, as crane lifts will be high and in close proximity to the site boundary.
These works are in addition to the standard site hours from 6.30am to 6.30pm Monday to Saturday.
Where:
Night works will be within the IRD site, in a section south of William Street and adjacent to the Margaret St off-ramp and Riverside Expressway. William St will be used as a loading zone in the site (see map over page).
What to expect:
All structural steel and precast plank deliveries will arrive to site within standard working hours before 6.30pm. The installation works on-site are not expected to be noisy, however at times the following may be noticed:
– Engine noise from diesel cranes when operating
– Intermittent hammering on steel
– Portable lighting directed at work areas
– Workers entering and existing site at various times in the evening and early morning.