Construction Updates
Back
Construction zone to include Queens Wharf Road – no motorcycle parking permitted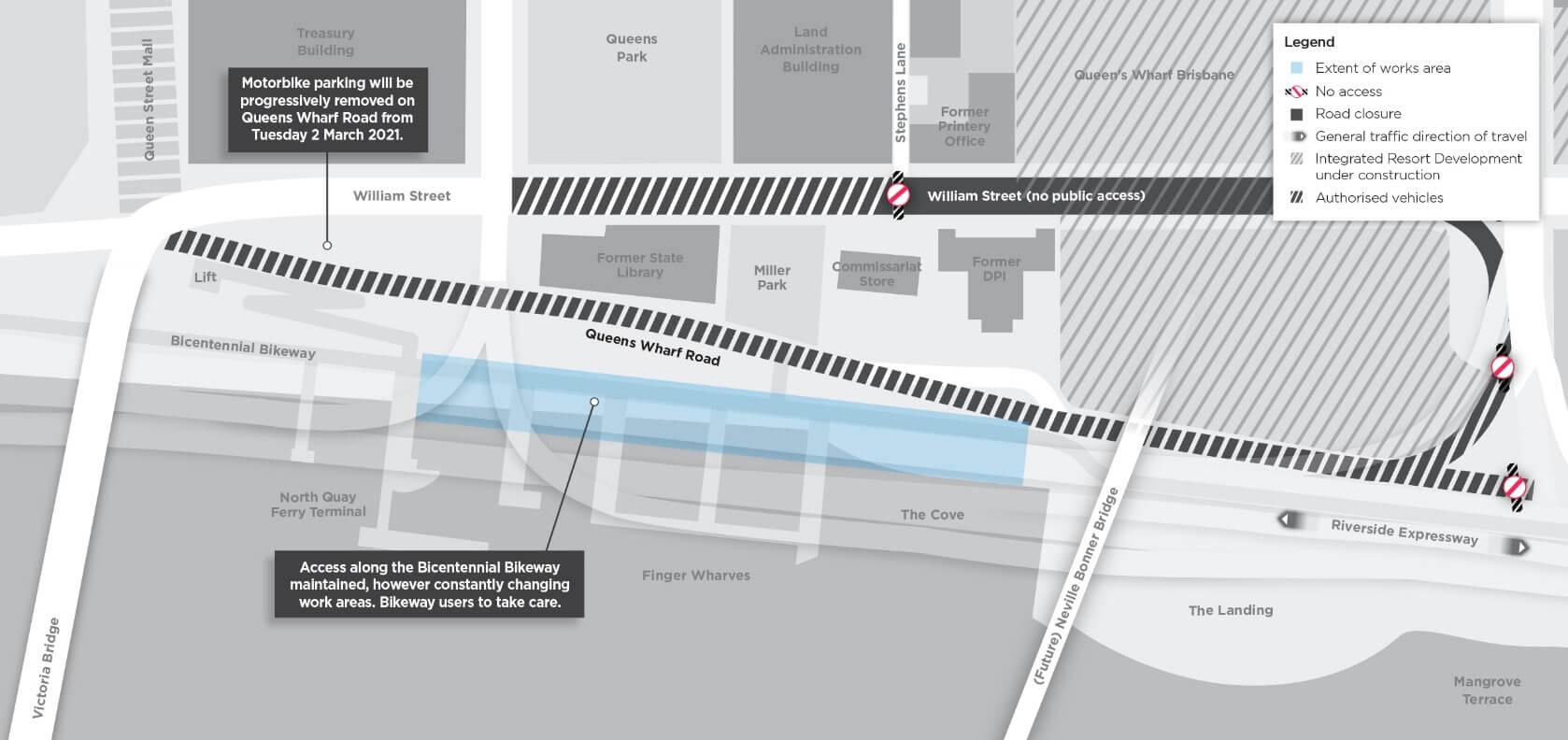 From Tuesday 2 March 2021 construction will begin along Queens Wharf Rd. Motorcycle parking will be removed progressively from this date. Access maintained for authorised vehicles only.
When:
From Tuesday 2 March 2021 until late-2022 construction will occur along Queens Wharf Road and the Bicentennial Bikeway. Work hours will be Monday to Friday 6.30am to 6.30pm.
Where:
Work will occur from the top of Queens Wharf Road (near the Victoria Bridge) and continue on to the integrated resort development. This requires the progressive removal of current temporary motorcycle parking on Queens Wharf Rd. Work will also continue along the Bicentennial Bikeway from the North Quay Ferry Terminal to the area behind the integrated resort (refer to map for details of all changes in this area).
What to expect:
Construction will be undertaken on Queens Wharf Road in stages, with access for delivery vehicles maintained at all times (refer to map).
– Motorbike parking on Queens Wharf Road will be removed progressively (refer https://www.brisbane.qld.gov.au/traffic-and-transport/parking-in-brisbane/parking-in-the-brisbane-cbd/inner-city-motorcycle-parking for alternative motorcycle parking locations. Please note this was temporary parking while works were done on North Quay and that work is now complete.)
– Access will be maintained along the Bicentennial Bikeway, however the bikeway will be reduced to 3 metres in width in areas during construction
– Movement of construction vehicles and plant equipment will occur during construction hours
– Intermittent noisy works are expected, including excavation, saw cutting, jackhammering, and drilling.