Neville Bonner Bridge makes a double landing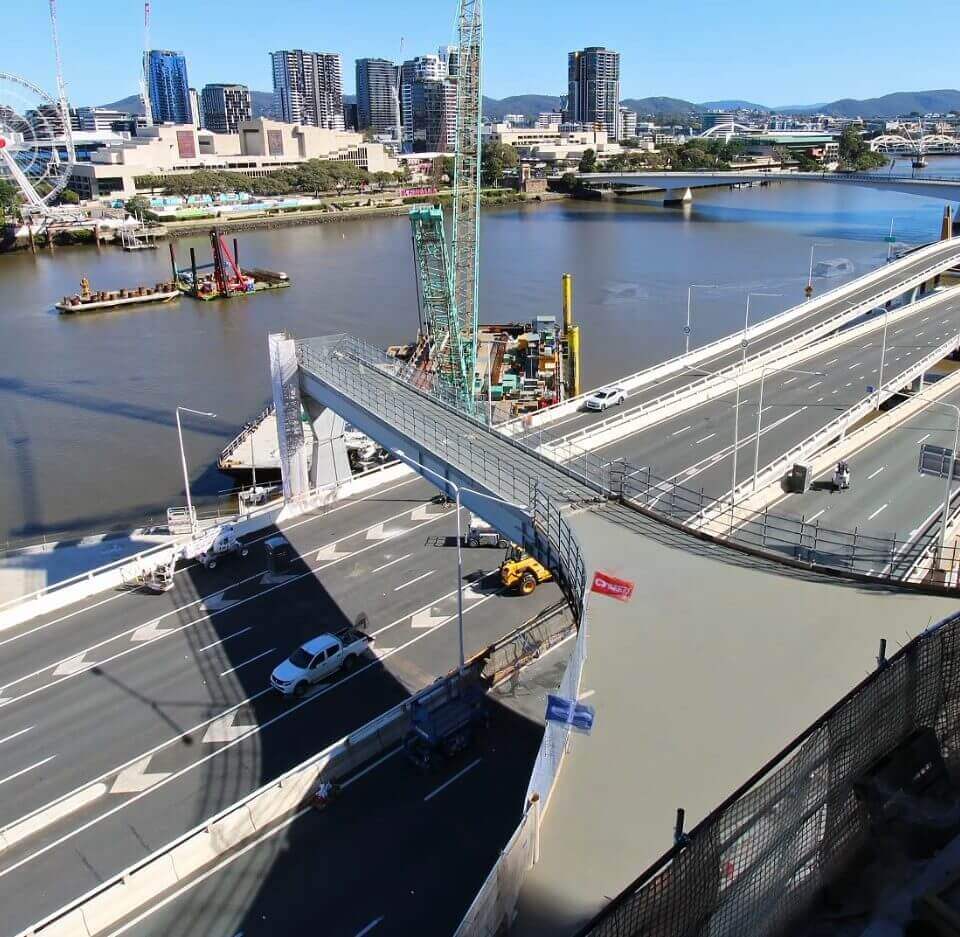 Brisbane's first bridge to be built in more than a decade made a spectacular landing this month after works began on assembling the 13 sections of decking for the 320-metre long, pedestrian-only Neville Bonner Bridge, stretching from Queen's Wharf Brisbane to South Bank.
The first section was installed from the South Bank abutment and over the Clem Jones Promenade, projecting above the Brisbane River and sitting on a temporary steel structure.
It was then followed by the second section being installed over the Riverside Expressway, connecting from the restaurant and retail level of the integrated resort.
The impressive lift over the Riverside Expressway required the temporary closure of the major arterial road in both directions, a feat only achieved during the 2011 Brisbane floods when roads were closed for public safety.
The two deck sections were installed following piling work for the bridge beginning at South Bank in March last year, and the mid-river pier and pile cap starting earlier this year.
Destination Brisbane Consortium Project Director Simon Crooks said the work undertaken by bridge contractor, Fitzgerald Constructions, to successfully lift the vital bridge section over the Riverside Expressway and connect with the resort should not be underestimated.
"This precisive work is part of a set of major critical works that will build a new lasting asset for future residents and visitors to Brisbane and Queensland," Mr Crooks said.
"More than 18 months of planning had gone into the weekend's work, with the lift over the Riverside Expressway taking significant preparation and coordination with many authorities.
"We are excited to be making good progress and look forward to opening the bridge from late 2022, along with the first stage of the integrated resort."
Fitzgerald Constructions Project Manager Peter Ward said a lot of pre-planning had gone into the lifts to make sure they occurred seamlessly and successfully.
"We knew we needed to put the time and effort in at the front end with the construction methodology," Mr Ward said.
"The deck section above the Riverside Expressway was designed differently and is the longest single section of bridge at 40 metres, but that was necessary to span the width of the Riverside Expressway."
For more information about Queen's Wharf Brisbane, visit www.queenswharfbrisbane.com.au