George Street is streets ahead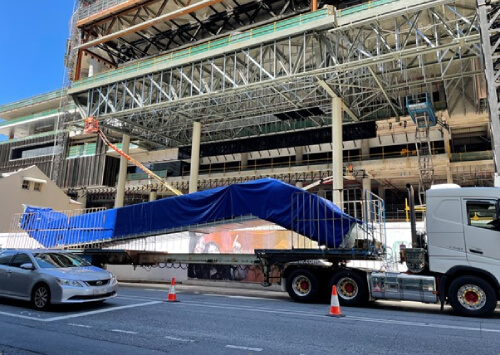 The CBD is changing with a show-stopping atrium, luxury retail shopfronts, and a ballroom that will welcome guests from George Street.  
Nestled between Queen's Wharf Residences and the Dorset and Rosewood Hotels, the entry will be home to a striking atrium spilt over five levels.
Multiplex Senior Project Manager Rick Woodford said now the structure is formed, the biggest transformation will be in the luxury finishes that will round out the podium structure over the next year.
"Above the luxury retail on George Street there will be mirrored soffit, surrounded by a mix of timber and stone finishes," Mr Woodford said.
"Fourteen escalators are currently being installed in the atrium which will draw people from George Street and into the restaurants, bars and luxury retail once completed.
"The largest escalator that has been installed was 16 metres long and weighed 12 tonnes.
"Over the next few months the scaffold surrounding the atrium will be removed, revealing a rectangular light-filled space with soft edges complete with a glass ceiling."
With the ninth tower crane being dismantled in the coming weeks, the George Street entrance is now coming to life.
The tower crane set to be removed from the podium levels will be making way for services and fit-out works to continue in the basement and podium levels.
The façade is also being installed along the Grand Ballroom that will have capacity for up to 2,000 guests.
The George Street arrival plaza will also provide access to the new Neville Bonner pedestrian bridge across Brisbane River and landing at South Bank.
To stay up-to-date on future work activities, please subscribe to construction updates at www.queenswharfbrisbane.com.au and click on stay informed at the top right corner.
The $3.6 billion Queen's Wharf Brisbane development is being delivered by Destination Brisbane Consortium – a joint venture led by The Star Entertainment Group alongside its Hong Kong-based partners, Chow Tai Fook Enterprises and Far East Consortium.