Works on next section of Bicentennial Bikeway to be upgraded underway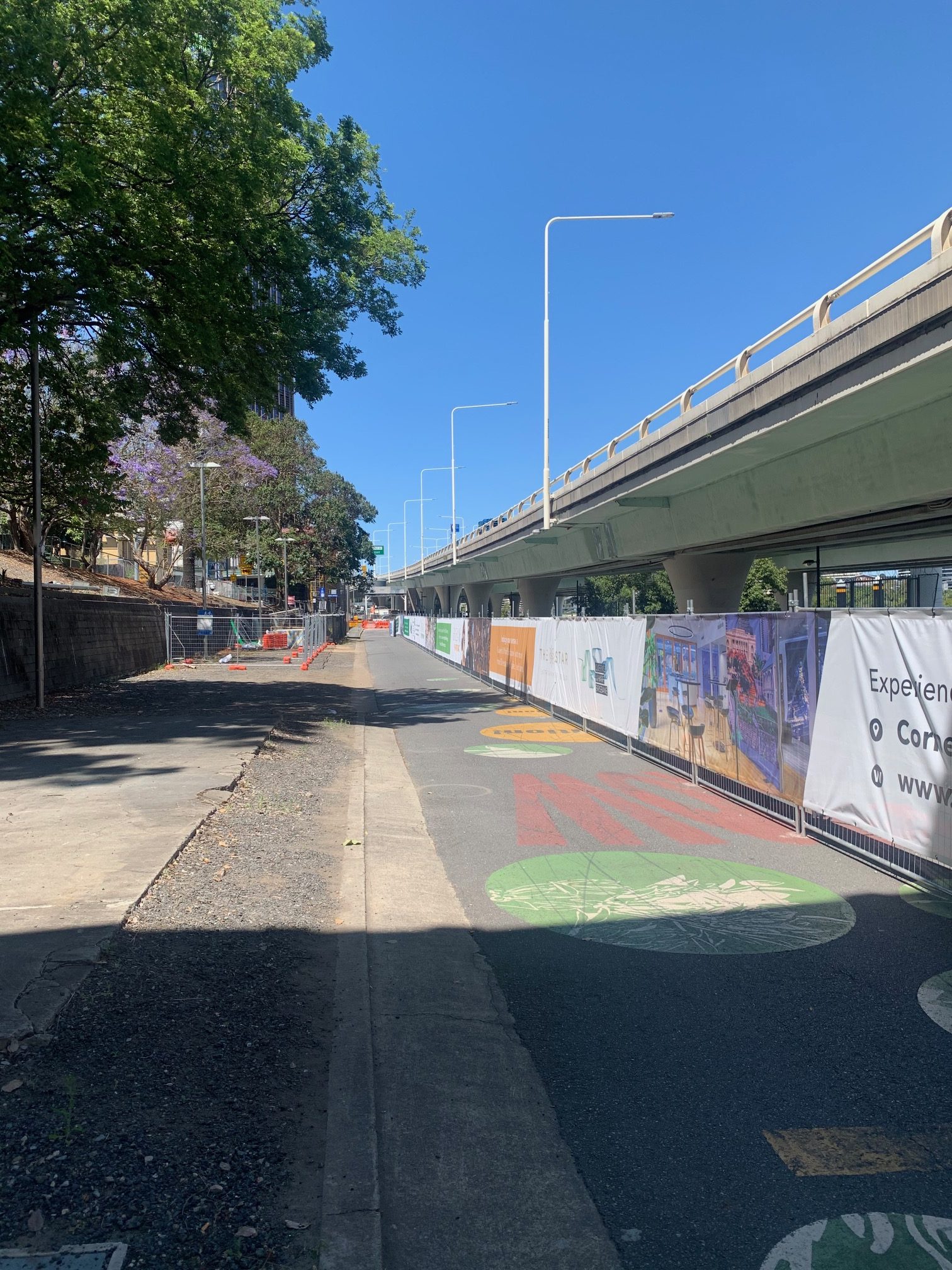 The upgrade of the next 500 metre section of the Bicentennial Bikeway is underway and will be complete when Queen's Wharf Brisbane opens in late 2022.
Last October, Destination Brisbane Consortium was pleased to open the first 500 metres of upgraded bikeway from the Goodwill Bridge to the back of 1 William Street.
The next 500 metre section to be upgraded will start from Waterline Park to near Victoria Bridge, and will complete a one kilometre stretch of upgraded bikeway in total.
Destination Brisbane Consortium Project Director Simon Crooks said the section of bikeway that runs underneath and adjacent to the Riverside Expressway had not been touched since it was first constructed in the late 1970s.
"The upgrade to the first section presented many challenges for our team as around more than 5,000 people use the bikeway every day," Mr Crooks said.
"However, with some careful planning and management, we were able to ensure minimal impacts on these users by implementing effective, temporary changes during construction.
"As we embark on upgrading the next 500 metre section, we're aiming to adopt a similar approach and ask bikeway users to slow down, be patient, and take care when moving through the changing area, which includes reduced pathway widths.
"As part of the upgrade, we're also building a Velo café for users to stop and enjoy light refreshments on their journey, and we're currently looking at a proposed bicycle workshop and storage area.
"Further, in addition to thousands of car parking spaces, hundreds of bicycle parks and end of trip facilities will be available in our integrated resort development.
"We're proud of the work we're doing and we look forward to ensuring that our revitalised riverfront will leave a safe and enjoyable legacy for decades to come."
From 22 September 2020, appointed contractor Multiplex began installing temporary construction fencing to start on the next section of the bikeway to be upgraded.
Multiplex Project Director Dayne May said works had also begun on the public realm area adjacent to the integrated resort development.
"Early works for geotechnical investigations took place in July and have now been completed," Mr May said.
"The bikeway path has been reduced to three metres in width to accommodate works on the next section to be upgraded.
"While we are working to ensure minimal impacts, active transport users and pedestrians will notice some construction noise and changed conditions when travelling from Waterline Park to the North Quay Ferry Terminal so we ask users to take extra caution during this period."
To learn more about Queen's Wharf Brisbane, visit www.queenswharfbrisbane.com.au and/or our Facebook page www.facebook.com/queenswharfbrisbane/. For construction related enquiries, contact Multiplex either via phone 1800 931 760 or email queenswharfbrisbane@multiplex.global.