What lies beneath William Street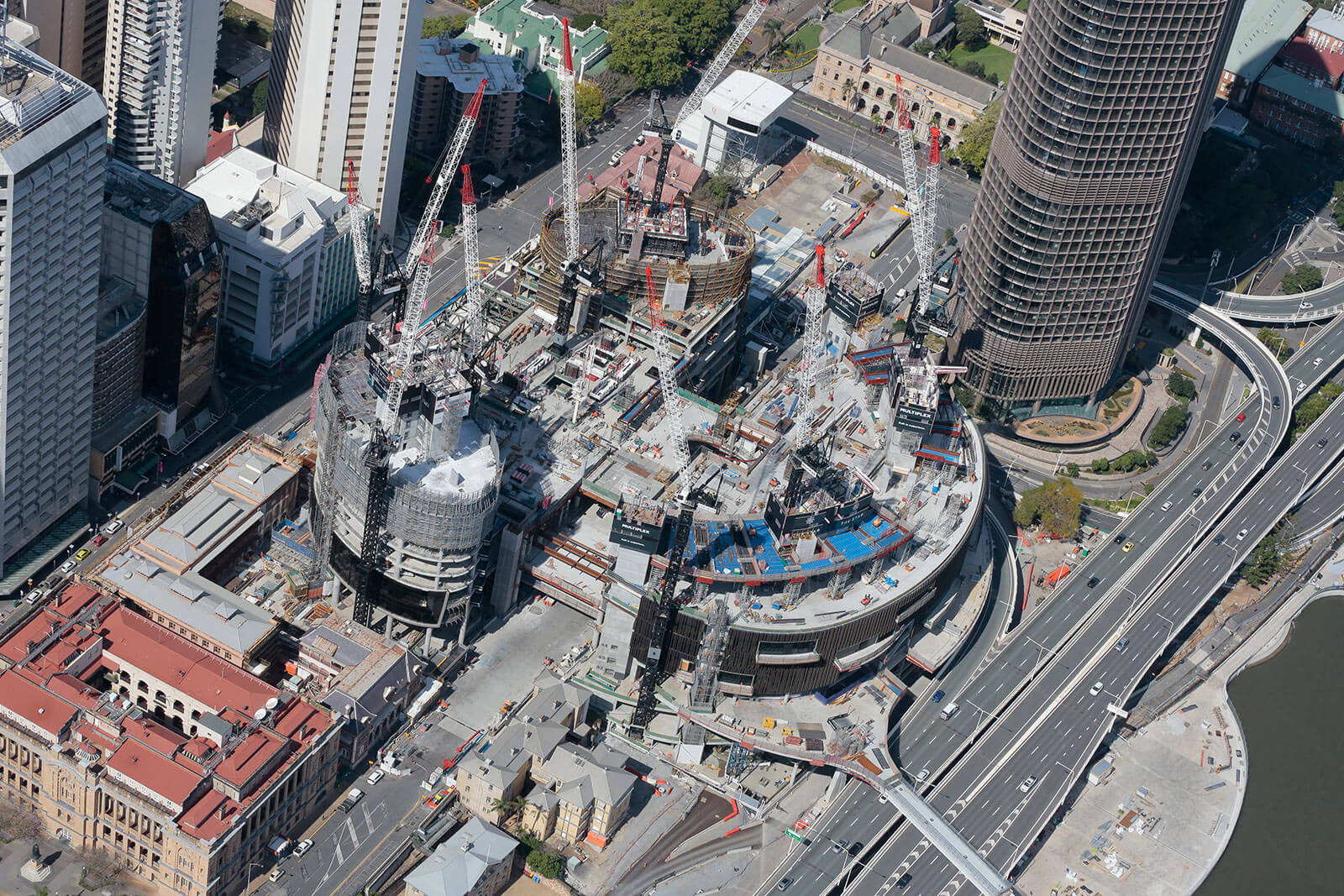 Under the impressive podium sitting over the Brisbane River the operations heart of Queen's Wharf is a hive of activity.
Queensland's largest basement will house more than just 2,000 car parks – it will be the location for the back-of-house facilities that will keep Queen's Wharf running around the clock.
Destination Brisbane Consortium Project Director Simon Crooks said the basement will contain more than 35,000m² of space that will include staff uniform areas, amenities, staff cafeteria with capacity to serve 680 meals in one sitting, laundries, maintenance workshop facilities, a central energy plant, bicycle storage and IT services.
Queen's Wharf will require around 8,000 roles once it is fully operational, with many of those working back of house, or as The Star likes to call it – "Heart of House".
Multiplex Senior Project Manager Rick Woodford said while the structure is accelerating above ground, there are numerous services and fit-out trades including ceiling, petitions, electrical and plumbing, working in the basement levels underneath the expansive podium levels.
"Over two million hours have gone into building Queen's Wharf, with 900 workers currently on-site," he said.
"While the structure is progressing upwards, the basement levels are bustling with activity under William Street.
"The basement is the backbone of the Queen's Wharf precinct housing a power substation for each tower and a massive central energy system with 21,752kW capacity – the equivalent to 5,000 living room air conditions.
"In the coming month diesel generators with capacity to power the entire site will be installed, meaning the site will be self-sufficient in the event of a power outage," he said.
Three automated vehicle lifts connecting The Grand Hotel porte cochére, off William Street, to the valet car parking levels will also be housed in the basement providing a 5-star car parking service for hotel guests.
As part of the integrated resort development, contractor Multiplex is building the basement levels, four tower structures, facades, podium levels and Sky Deck that will be 100 metres above the ground.
By the end of 2021, the structure will be reaching level 19 on tower 1 where Dorsett hotel and Rosewood will be housed, level 13 on towers 2 and 3 where The Grand Hotel will be located and level 11 of the Queen's Wharf Residences.
Queen's Wharf Brisbane will be a transformational project for our future Olympic city and will open from the first half of 2023.
The $3.6 billion Queen's Wharf Brisbane development is being delivered by Destination Brisbane Consortium – a joint venture led by The Star Entertainment Group alongside its Hong Kong-based partners, Chow Tai Fook Enterprises and Far East Consortium.