Springtime marks the start of building a subtropical haven at Queen's Wharf Brisbane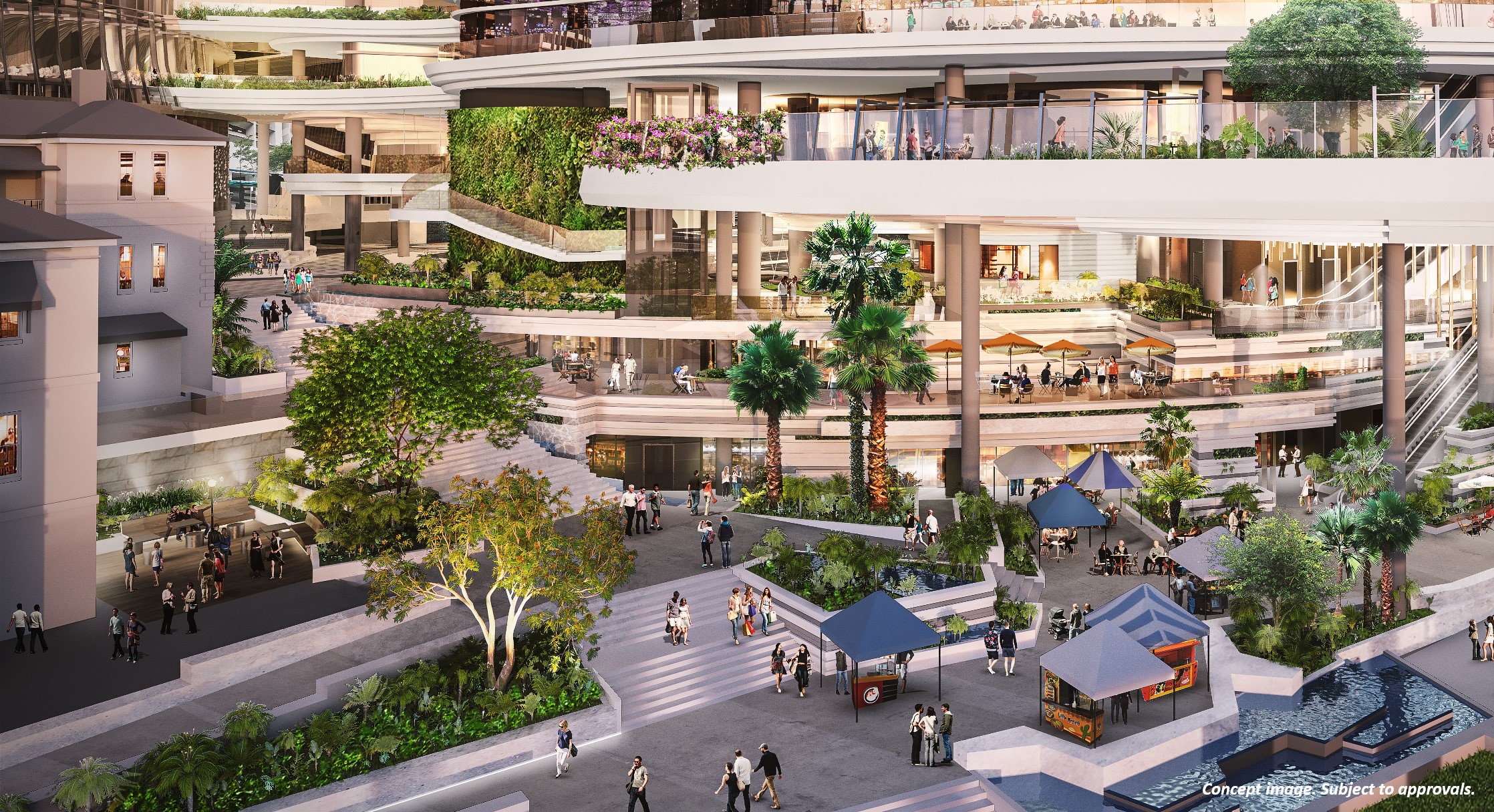 Springtime is fast approaching, marking no better time to start building eight hectares of stunning new riverfront public space to be known as the Riverline area, that will result in more than 300 trees and close to 20,000 plants at the transformational Queen's Wharf Brisbane development.
Starting construction in September, the eight new hectares of green public space will sit along the Brisbane River foreshore, between Margaret Street and the Victoria Bridge, and will open when the Queen's Wharf Brisbane development officially launches in late-2022.
The works will include upgrading the second 500 metre section of the Bicentennial Bikeway, improving Queens Wharf Road, rejuvenating the existing heritage-listed Miller Park, Finger Wharves, and constructing a new playground and public amenities.
Destination Brisbane Consortium Project Director Simon Crooks said the eight hectares of prime riverfront public space, in addition to The Landing public space already underway adjacent to it, will have a distinctly South East Queensland subtropical character.
"Last year, we were proud to deliver a range of award-winning public spaces including Waterline Park and Mangrove Walk, and the first 500 metre section upgrade to the Bicentennial Bikeway, stretching from the Goodwill Bridge to behind 1 William Street," Mr Crooks said.
"We have been delighted with how locals and visitors have responded and embraced these public spaces – using them to exercise, relax, or simply enjoy the breathtaking views of the Brisbane River and South Bank.
"We are now thrilled to announce works starting on another eight hectares of stunning new riverfront public space.
"This includes the second 500 metre section of the Bicentennial Bikeway, stretching from Waterline Park to near Victoria Bridge, which will complete a total of one kilometre stretch of upgraded bikeway.
"Although the bikeway will remain open at all times during the works, cyclists and pedestrians may notice construction noise and changed conditions when travelling between Waterline Park and the North Quay Ferry Terminal.
"Users are encouraged to slow down and watch out for changed conditions such as reduced widths in some parts, or other works occurring adjacent to the bikeway.
"Meanwhile, as part of the works, we will also deliver new public amenities including a Velo café, proposed bicycle workshop and end-of-ride facilities, cascading water features, and the rejuvenation of Miller Park.
Mr Crooks said, "In addition, Queens Wharf Road will be upgraded with stone finishes; and we will undertake a significant makeover of the Finger Wharves, which currently sit under the Riverside Expressway".
"The latter will include building a lateral wharf to join its three existing wharves for temporary berthing," he said.
Along with the significant landscaping project, Multiplex has been awarded the contract for developing these public spaces, as well as the fit-out of levels two to seven of the integrated resort's podium.
The podium – which sits in the centre of the four integrated resort towers will feature exciting retail options, event space, and recreational green space on top.
Although works will start in September, geotechnical investigations are already underway as part of the early works, which began in late-July.
These investigations are taking place during non-peak commuter times from 9am to 4pm, adjacent to the Bicentennial Bikeway.
Multiplex apologises for any inconvenience caused during construction of these new public spaces and thanks the community for their ongoing cooperation during this time.
For construction related enquiries, contact Multiplex either via phone 1800 931 760 or email queenswharfbrisbane@multiplex.global