Skyline to change over next 12 months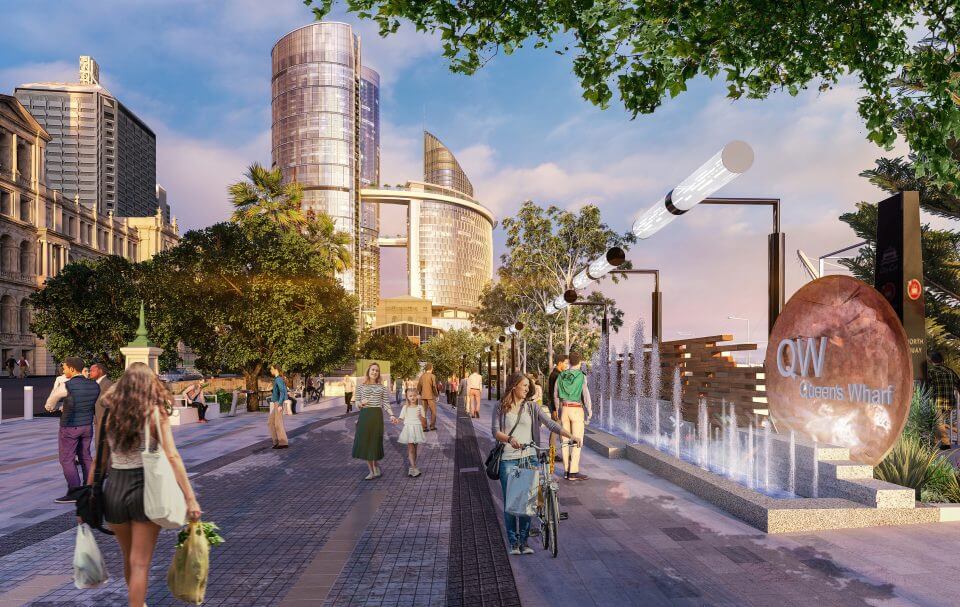 Significant change to Brisbane's southern facing skyline will take place over the next 12 months as the four integrated resort towers climb beyond the 100-metre point.
The four towers will house the Dorsett, the luxury Rosewood and The Star Grand hotels while 667 residential apartments are home to the tallest tower on the corner of Margaret and George Streets.
Destination Brisbane Consortium Project Director Simon Crooks says that it is exciting seeing the skyline changing and the design become a reality.
"We are at level 5 of the podium now, which means we are sitting around 20-metres above the Riverside Expressway," Mr Crooks said.
"This time next year towers 2 and 3, the dual tower for The Star Grand hotel, will be topping out at around 100-metres; meaning Queen's Wharf they will be sitting prominently alongside and above the Riverside expressway.
"It will be an instantly recognisable feature of Queen's Wharf for those using the expressway.
"When complete, the Dorsett and Rosewood tower, which sits behind the Printery Building between George and William Streets will be around 200-metres in height and is expected to peak around mid-2022.
"And finally, topping out at 240-metres, Queen's Wharf Residents is expected to reach full height in around 2 years' time, well after the hotel towers top-out.
"Interesting elements from my point of view as an engineer are when the Sky Deck link bridges between the towers are installed. The 'jacking' of the bridge plates will take place in early 2022 and when in place create that iconic arc structure that links the towers together and creates the Sky Deck that we have all come to know from the renders," said Mr Crooks.
Queen's Wharf Brisbane is expected to open from late-2022.