Site set on 2021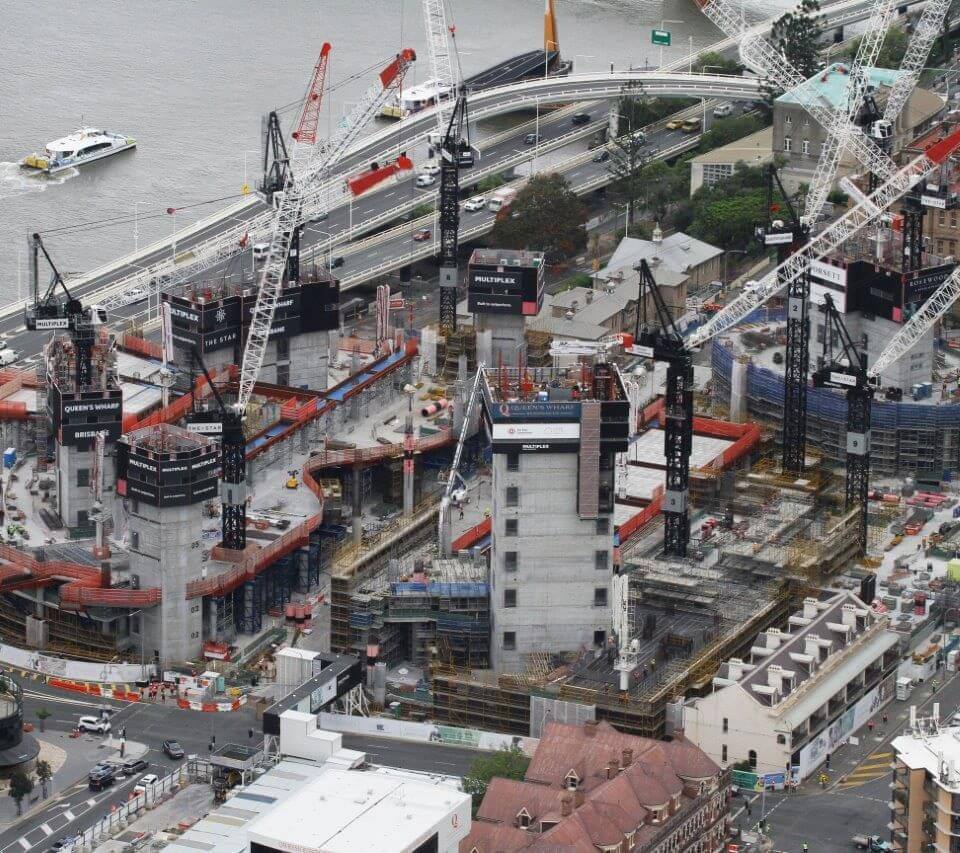 It's time for reflection, as construction on Queen's Wharf Brisbane prepares for its biggest year yet.  
Queen's Wharf is climbing upwards towards a strong finish in 2020 with over one million hours worked on-site, numerous construction innovations implemented, and key milestones reached on the only integrated resort development currently being built in the world.
Queensland's largest five level basement structure has been completed, while podium level construction including the Porte Cochere and The Star Grand Hotel entrance and lobby are taking shape.
In an engineering feat, the Riverline Terrace structure is also taking shape, with components of structural steel cantilevering close to the Riverside Expressway.
Destination Brisbane Consortium Project Director Simon Crooks said when the podium levels are complete more than two-thirds the entire amount of concrete required for the development, will have been installed.
"We are extremely happy with how works have continued onsite this year and that has given us the confidence that in a little under 100 weeks, we will be opening the main part of the integrated resort development," he said.
"Interest in the development has greatly increased this year due to the visual impact is it now having with the lift cores and podium changing the city scape. We only expect this interest to grow in 2021 as the front two towers, The Star Grand hotel, top out and significantly change Brisbane's skyline.
"I encourage you to drop-in to our Visitor Centre at the corner of George and Alice streets and learn more about our construction time-line and what Queen's Wharf will offer to Brisbane when it opens from late- 2022."
Multiplex Project Director for the integrated resort Dayne May reflects on the past year while looking forward to what's in store for 2021.
"We have had a positive year here – reaching key milestones including completing the basement structure, rebuilding William Street, establishing the core for all four towers and installing the podiums levels," Mr May said.
"Looking ahead to 2021 – it will be the busiest year yet with the amount of activity and trades increasing over two-fold on-site.
"It's an exciting time as construction will start on the 1,000 hotel rooms across the resort.
"By the end of next year tower structures will fill the skyline, façades will be installed, and work will start on the iconic Sky Deck.
"From a workforce point of view, Multiplex currently has around 500 workers on-site – by the end of 2021 this is set to more than double."
"Multiplex is incredibly proud of the way the workforce members have conducted themselves during COVID-19, social distancing and following the new processes while keeping the site running safely," Mr May said.
Since the project started in July 2019 over 7,700 tonnes of steel and 59,000 m3 of concrete has been installed.
The $3.6 billion Queen's Wharf Brisbane development is being delivered by Destination Brisbane Consortium – a joint venture led by The Star Entertainment Group alongside its Hong Kong-based partners, Chow Tai Fook Enterprises and Far East Consortium.
To learn more about Queen's Wharf Brisbane, visit www.queenswharfbrisbane.com.au and/or our Facebook page www.facebook.com/queenswharfbrisbane/. For construction related enquiries, contact Multiplex either via phone 1800 931 760 or email queenswharfbrisbane@multiplex.global