North Quay sewer works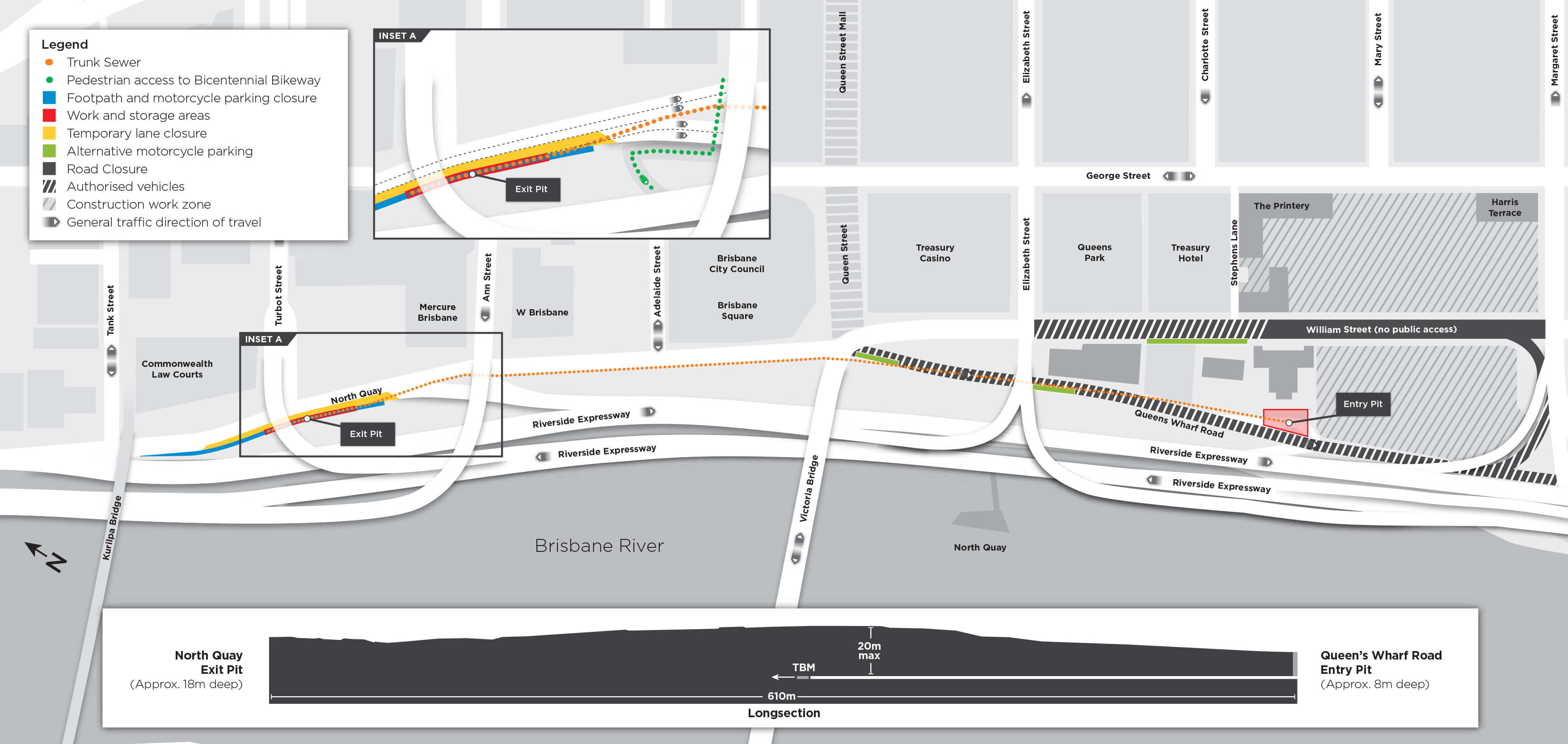 Probuild started work on the 21st of January to install a new trunk sewer main that will service the future Queen's Wharf Brisbane development and surrounding areas.
Probuild Project Manager Mark Jones said it was an essential sewer service that they were expanding from around 150mm to 1.2m in diameter.
"The new trunk sewer main will provide for the additional facilities that Queen's Wharf and other developments are bringing to the CBD," he said.
When complete, the entire integrated resort development will include more than 2,000 residential apartments, 1,000 hotel rooms, along with significant public space through restaurants and retail; all of which will be supported by this essential sewer main.
To complete the work with minimal impact to the existing built-up environment, a tunnel boring machine will traverse the varying ground conditions to travel up to 18 metres below ground and some 600 metres in length from Queens Wharf Rd to near the Turbot St intersection of North Quay.
There will be some light impacts to commuters and the nearby community while these works are undertaken.
One lane of North Quay (on the closest to the river and a partial merge lane) between Turbot and Ann Streets will be closed, however two lanes will remain open to facilitate normal traffic movements.
The 100 motorcycle parking bays along North Quay will not be accessible during the works and alternative parking (like for like number) has been made available on William Street (outside the Royal Historical Society of Queensland Museum) and along Queens Wharf Road.
Queens Wharf Rd is a one-way road so motorcyclist must enter via William St and exist via Margaret St by 6pm each day.
For more information about motorcycle parking in Brisbane visit www.brisbane.qld.gov.au/traffic-transport/parking-brisbane/parking-brisbane-cbd/inner-city-motorcycle-parking.
The sewer work is expected to be complete in late-September 2019 and will see the motorcycle parking on North Quay and right-hand lane (in direction of travel) re-open.