Riverside public space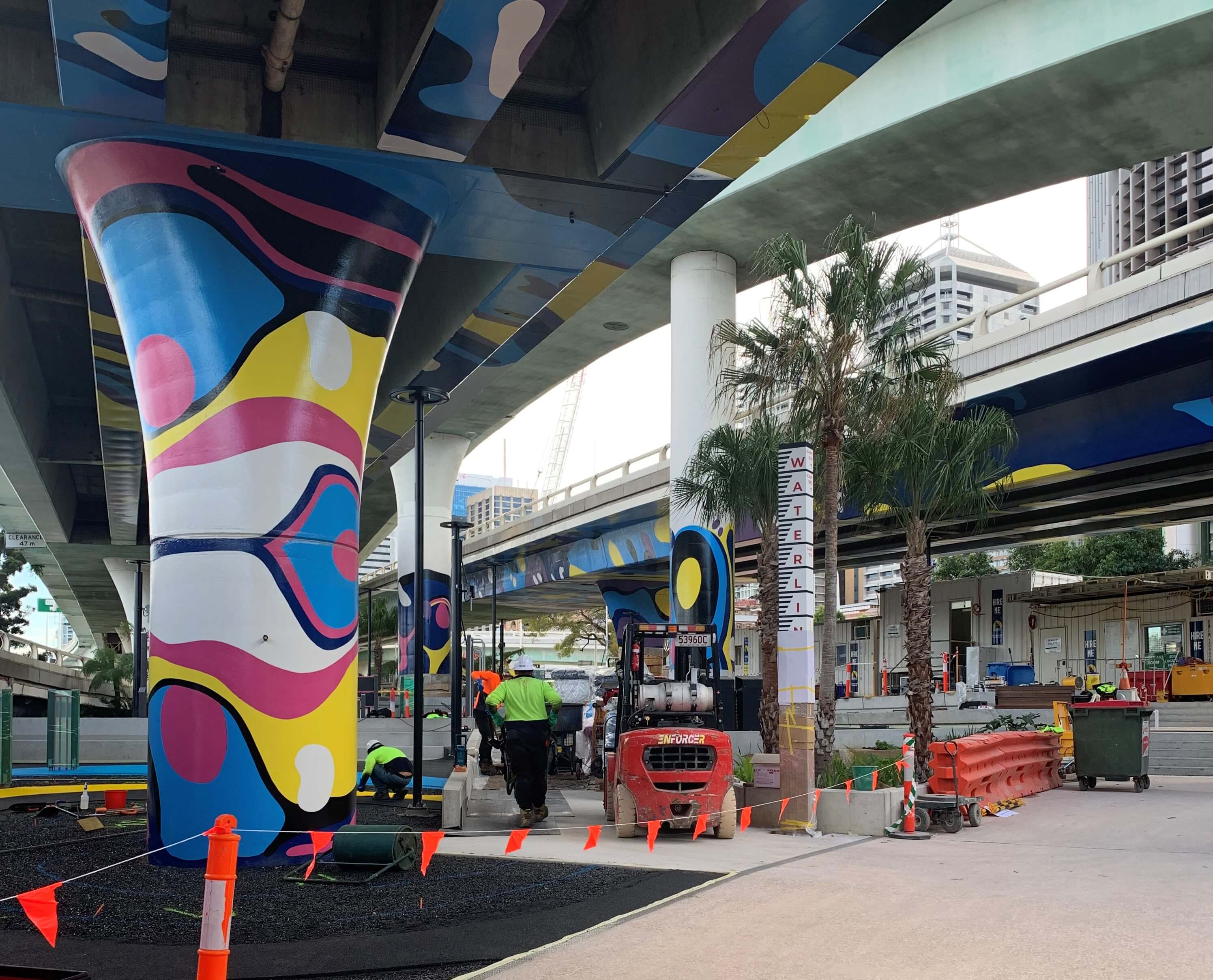 Behind the government office tower of 1 William Street and tucked in under the Riverside Expressway, Brisbane's newest recreational space is in the final stages of completion.
The civil and landscaping work on Waterline Park is being finalised, with park equipment and a rubber soft-fall soon to be installed to the area which used to be a temporary carpark area.
The soft-fall colour scheme is an extension of the marble-effect artwork by Australian artist Alice Lang which is painted underneath the Riverside Expressway and on some of its supporting piers.
The vibrant colours were specifically chosen by Alice because of their connection with the subtropical blooms of Queensland.  They brighten and complement the landscaping- which saw the addition of a four-metre-high Jacaranda tree in July, alongside a variety of trees  shrubs, and groundcovers already in place.
Final touches are also being made to the first section of the upgraded Bicentennial Bikeway, with surface preparation, painting and line marking to indicate the wider dedicated cycle route and separated pedestrian path.
Mangrove Walk, Brisbane's new 450 metre river walk is also nearing completion, with final works being made to sheltered resting points and the Boathouse Pavilion.
The new public realm space is due to open before the end of the year – and when it does, will also include some public art installations and Indigenous interpretative designs.
"The work Multiplex has undertaken along the riverside is transformative and we expect people will be thrilled with the outcome, however there is some commissioning work to be done before that can happen," said Destination Brisbane Consortium Project Director Simon Crooks.
"All going well, we remain on track to open this exciting new public riverfront area before the end of the year."
To stay informed about construction activities, subscribe for our construction notices via the stay informed button on our website www.queenswharfbrisbane.com.au or follow us on Facebook www.Facebook.com/queenswharfbrisbane.