Riverfront revamp underway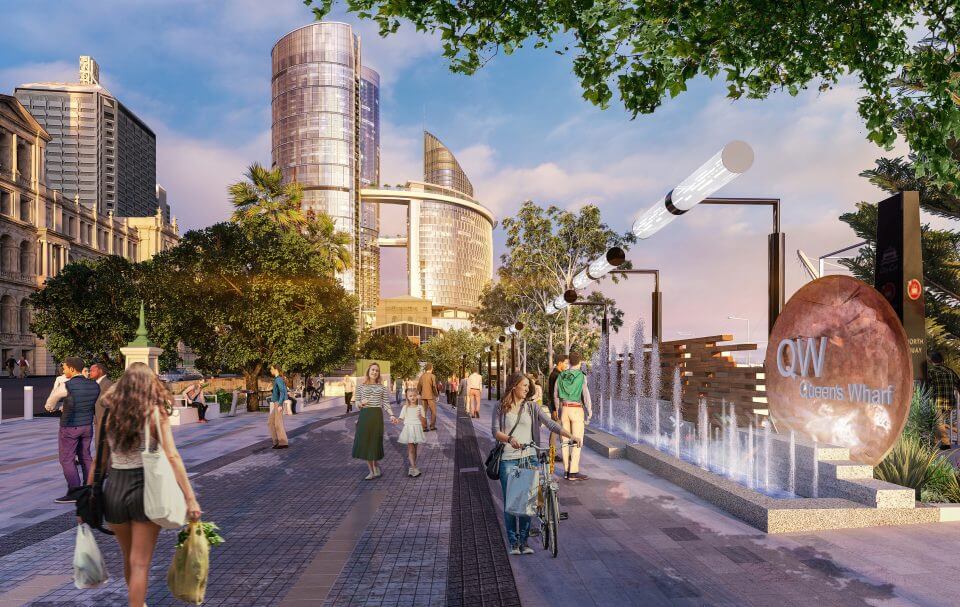 Queen's Wharf Brisbane is on track to transform 1km of Brisbane's CBD riverfront.
The first 500 metres was completed in October 2019 and now work is progressing on the second section, stretching from Waterline Park (behind 1 William Street) towards the Victoria Bridge.
CBD Bicentennial Bikeway users would have noticed the construction fencing along this section currently being upgraded, but soon work will commence across more work fronts.
Bikeway users will be diverted across The Landing, the suspended concrete structure built out into the river, when bikeway works continue upstream (from North Quay CityCat Terminal towards Waterline Park). They will see the current construction fencing switch from one side of the bikeway to the other as works are completed.
Queens Wharf Rd, which is currently used for deliveries and construction vehicles, will soon be under construction with underground services to be relocated and new pavements laid.
Multiplex Project Manager Tyson Macdonald, who managed the construction of the Waterline Park and first 500 metre section of bikeway to be upgraded, said it was exciting to see further works commencing.
These will include a public amenity block constructed along the ridgeline.
Families will also enjoy the public space with the inclusion of water features and park equipment suited to older children.
For more information about this exciting $3.6 billion development, visit www.queenshwarfbrisbane.com.au or for construction related enquiries please contact Multiplex on 1800 931 760 or email queenswharfbrisbane@multiplex.global.