Rejuvenation set for waterfront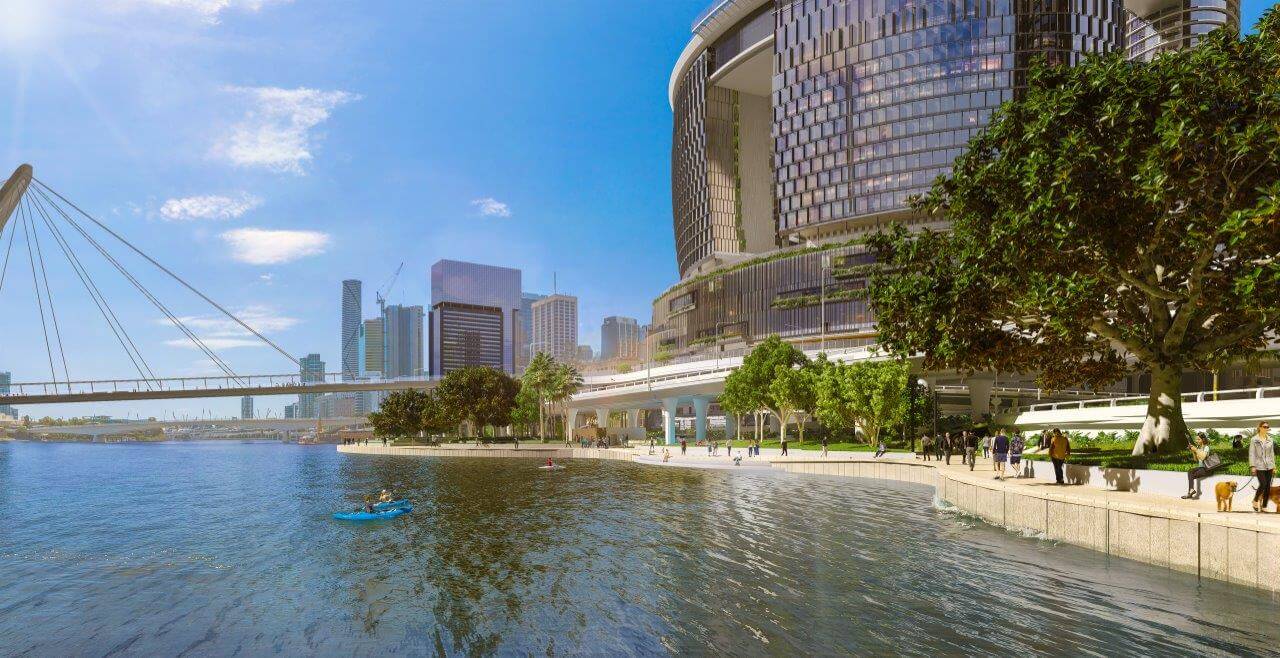 The Bicentennial Bikeway is being transformed ready for opening with the Integrated Resort Development in 2023.  
Construction is continuing from Victoria Bridge towards Waterline Park to redevelop public space along the Brisbane River.
As part of this future upgrade, works are now underway to construct a temporary bikeway diversion that will be in place for over 12 months for pedestrians and active transport users on the Bicentennial Bikeway.
Multiplex Project Manager Tyson Macdonald said that the bikeway diversion will allow for rejuvenation works to continue under the Riverside Expressway where the current bikeway is located.
"There are extensive civil and landscaping works currently underway that are about to progress in the area where the current bikeway is," Tyson said.
"Pedestrians and active transport users will be diverted along The Landing structure while works to the existing Bicentennial Bikeway are completed.
"The diversion will be in place early-January 2022, with advance notice provided about the changes."
Ongoing public space upgrades will also extend up the ridgeline, across Queens Wharf Road and into Miller Park.
While construction is underway, bikeway users may notice increased construction noise and changed conditions when travelling from Waterline Park to the North Quay Ferry Terminal.
Once completed, the upgraded bikeway and public realm space will open the same time as the integrated resort development.
The public space, including The Landing will see 340 native water gum, lilly-pilly and palm trees with around 4,000 plantings across the entire 7.5 hectares of the project.
To stay up-to-date on future work activities, please subscribe to construction updates at www.queenswharfbrisbane.com.au and click on stay informed at the top right corner.
The $3.6 billion Queen's Wharf Brisbane development is being delivered by Destination Brisbane Consortium – a joint venture led by The Star Entertainment Group alongside its Hong Kong-based partners, Chow Tai Fook Enterprises and Far East Consortium.