Rebuilding William Street for construction traffic and Queen's Wharf Brisbane's future front door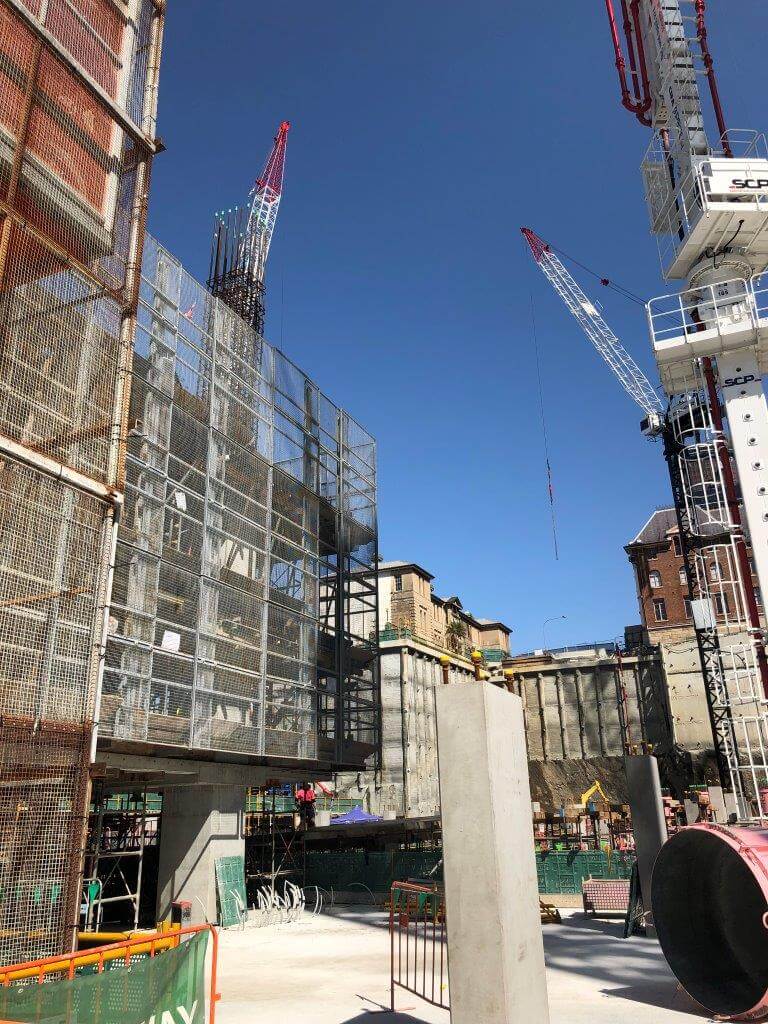 As work on Queen's Wharf Brisbane enters its fourth year, a former major CBD road – initially closed to the public to make way for construction activities on our game-changing development – will re-emerge mid-2020.
Three years ago, a section of William Street – between Elizabeth Street and Margaret Street – was closed to public access as the road became a part of the Queen's Wharf Brisbane construction site.
This year it will be reinstated for construction traffic only, it will eventually re-open to the public in 2022 as the permanent front door entrance to The Star Grand hotel, as well as the Rosewood and Dorsett hotels' port cocheres.
Multiplex has been appointed as the principal contractor to build the integrated resort's core shell, including its basement, which will sit underneath William Street.
The basement will comprise of five levels of car parking and two back-of-house levels.
More than 7000m² of concrete will go into rebuilding the road with three levels of basement already constructed.
Following William Street's initial closure in 2017, the work undertaken to reach its current state involved the removal of three non-heritage buildings, and the excavation of around 400,000m3 of material, creating a pit 26 metres deep where William Street once lay.
Halfway through 2019, foundations for the development began to emerge as the last remaining materials were removed from site.
Multiplex Project Director Dayne May said rebuilding William Street was key to supporting the nine tower cranes that are currently constructing the development's four towers.
"Rebuilding William Street is a priority as eight loading zones and three concrete pumping stations will be installed once the road reaches street level," Mr May said.
"William Street will be the main thoroughfare for construction vehicles accessing the site, with public access restricted until construction is completed."
To accommodate the growing workforce expected this year, site sheds and a site canteen will be established on the former 80B Margaret Street site, opposite 1 William Street.
In the coming weeks, Multiplex will be installing a covered gantry walkway five metres high over Margaret Street, connecting both sides of the Queen's Wharf Brisbane site.
The walkway over Margaret Street will be used by workers to access both sites, reducing worker movements around the site boundary during working hours.
Installing the walkway will take two nights in February 2020 and will require a temporary road closure and detour on Margaret Street during the nightworks.
Standard construction hours will be in place from Monday to Saturday between 6.30am to 6.30pm for the development. For construction required outside these hours, construction notices will be issued.
To subscribe for construction notices, go to www.queenswharfbrisbane.com.au and click on the stay informed button on the top right corner.
To learn more about Queen's Wharf Brisbane, visit www.queenswharfbrisbane.com.au and/or our Facebook page www.facebook.com/queenswharfbrisbane/.