Ready, set, pour …. and set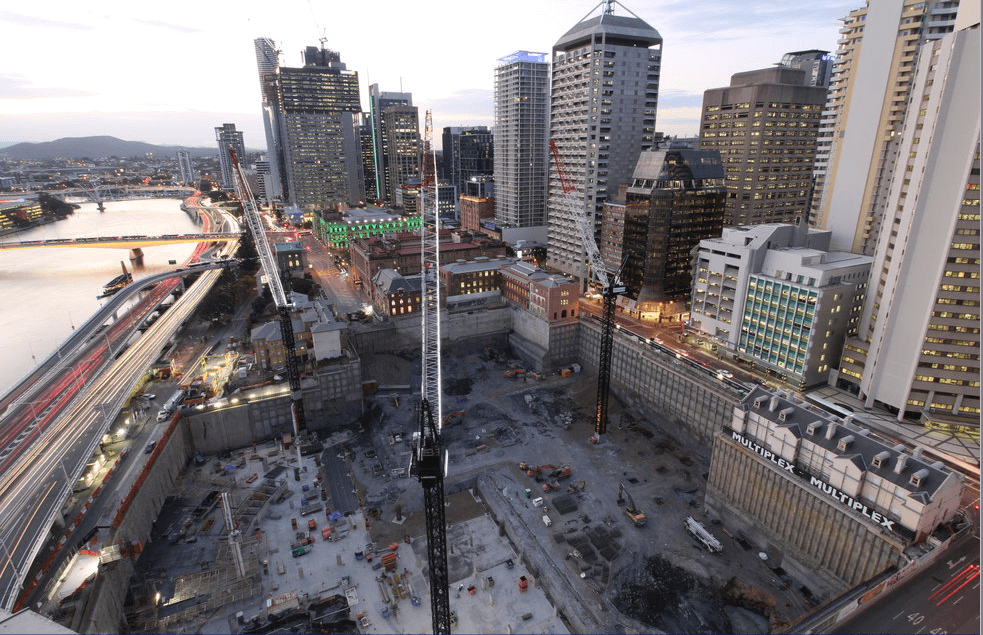 Years of preparation and planning for this moment have finally been realised with the start of construction on the Queen's Wharf Brisbane integrated resort development.
What will be the carpark level 5 basement floor for the integrated resort development is now well under construction with approximately 90 per cent of the work complete, including 1,000m3 of concrete poured.
Further to this, reinforced steel is now in place, ready for the start of suspended floor concrete pours in early September.
Principal contractor Multiplex has already assembled and installed three tower cranes on site with another seven expected before the end of the year.
Multiplex Project Director Dayne May said the tower crane locations had been strategically chosen to support the construction methodology for the site.
"We have divided the site up into five working zones, to reflect the different towers and public realm," he said.
"Our priority for this year is to bring the site up to B3 (level 3 of the carpark)."
Mr May said the basement was tiered with some sections deeper than others, but the B3 target for the end of the year would put construction about 21 metres below George Street.
"Then by the end of 2020 we would expect to see the site well and truly above ground level, at about 20 metres above George Street," he said.
Mr May said the vertical movement of workers and material through the site will become a major focus as the project advances.
"To accommodate the large workforce and movement of materials, we will have 23 lifts in various locations across the development when we are at peak construction in 2021," he said.
The integrated resort is the core part of Queen's Wharf Brisbane and is expected to open late-2022. When complete it will offer more than 50 restaurants, bars and cafes, significant public space, along with luxury hotels and apartments.
To stay informed about construction activities please subscribe for construction updates via the Queen's Wharf website www.queenswharfbrisbane.com.au and click on stay informed at the top right corner.
For construction enquiries, please call Multiplex direct on 1800 931 760 or email queenswharfbrisbane@multiplex.global.