Queen's Wharf Residences on the rise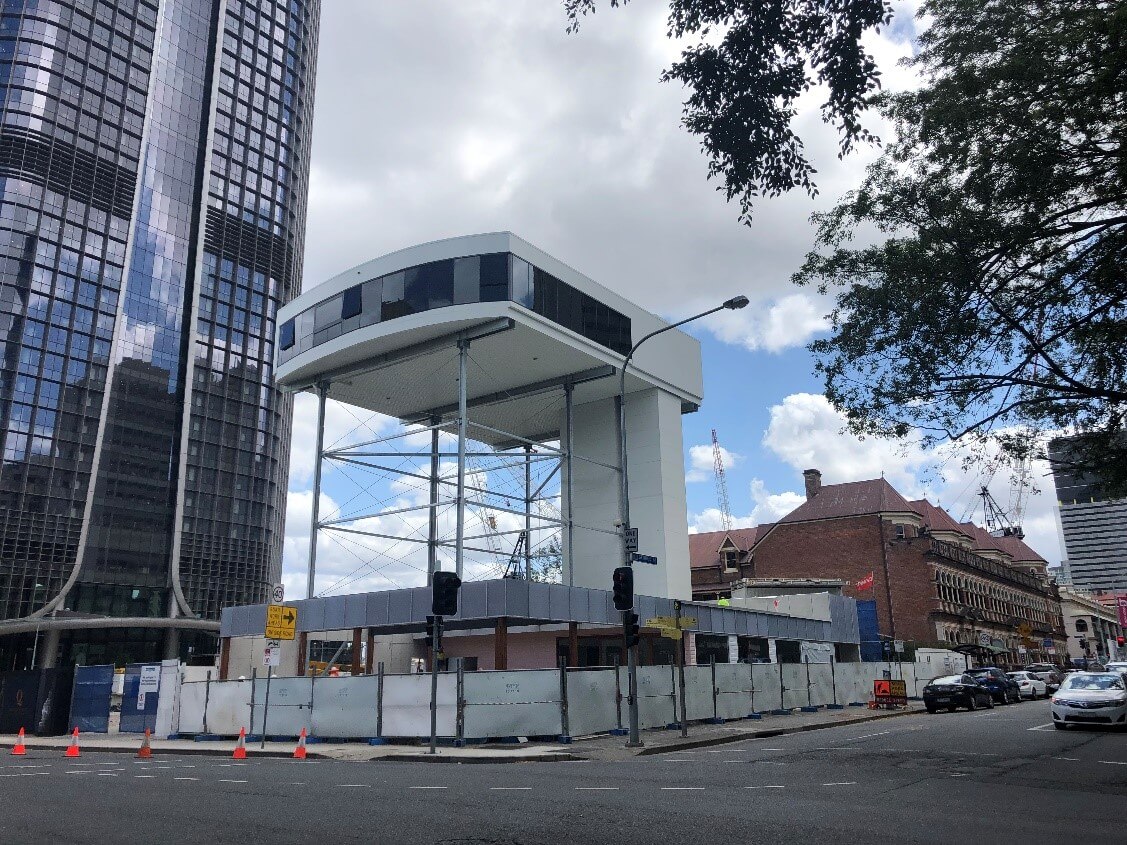 Apartment buyers interested in a piece of Queen's Wharf lifestyle will now be able to experience real apartment views and walk-through the luxury residences before buying off the plan.
The Queen's Wharf Residences display suite was lifted and locked into place at 5 stories above George Street and will provide views south across the river and to the Botanical Gardens from actual mock-ups residential apartments.
Destination Brisbane Consortium Project Director Simon Crooks says the unique residential display suite offers those with discerning tastes for a riverside CBD lifestyle an opportunity to experience a piece of history in the making at Queen's Wharf Brisbane.
"Sitting prominently above the corner of George and Alice sts is the purpose-built Queen's Wharf Residences display suite were guests can experience apartment living like nowhere else Brisbane has to offer," Mr Crooks said.
"Residents of Queen's Wharf will be uniquely positioned to enjoy the best of Brisbane's CBD being close to South Bank as well as having all the benefits that Queen's Wharf provides at your doorstep.
"The luxury 1, 2 and 3 bedroom residences will have sweeping views of the river and CBD, while enjoying the all the modern luxuries and amenities you would expect of the city's best residential offering.
"The luxury residences on the corner of Margaret and George sts within the integrated resort development, will go to market early in 2020 when the display suite opens, with the first residents expected to move-in in 2023.
"Those attracted to a unique and exciting life at Queen's Wharf Residences should go to www.qwresidences.com.au and register their interest."
The purpose build display suite in the sky is complimented by a walk-in Queen's Wharf visitors centre on George St.
"Our $3.6 billion development set to transform Brisbane and we want people to be able to learn about what we are creating for this city's future," Mr Crooks said.
"The visitors centre on the corner of George and Alice sts is a great way for people to learn about the largest development in Queensland.
"The visitors centre will have an amazing scale model, virtual reality, animated videos and interactive display for people to experience.
"A coffee cart and café will operate from the Queensland inspired deck allowing people to enjoy the views of Parliament House and the Botanical Gardens.
"The visitors centre and residential display suite will open together early in 2020."