Queen's Wharf Brisbane towers to reach street level this year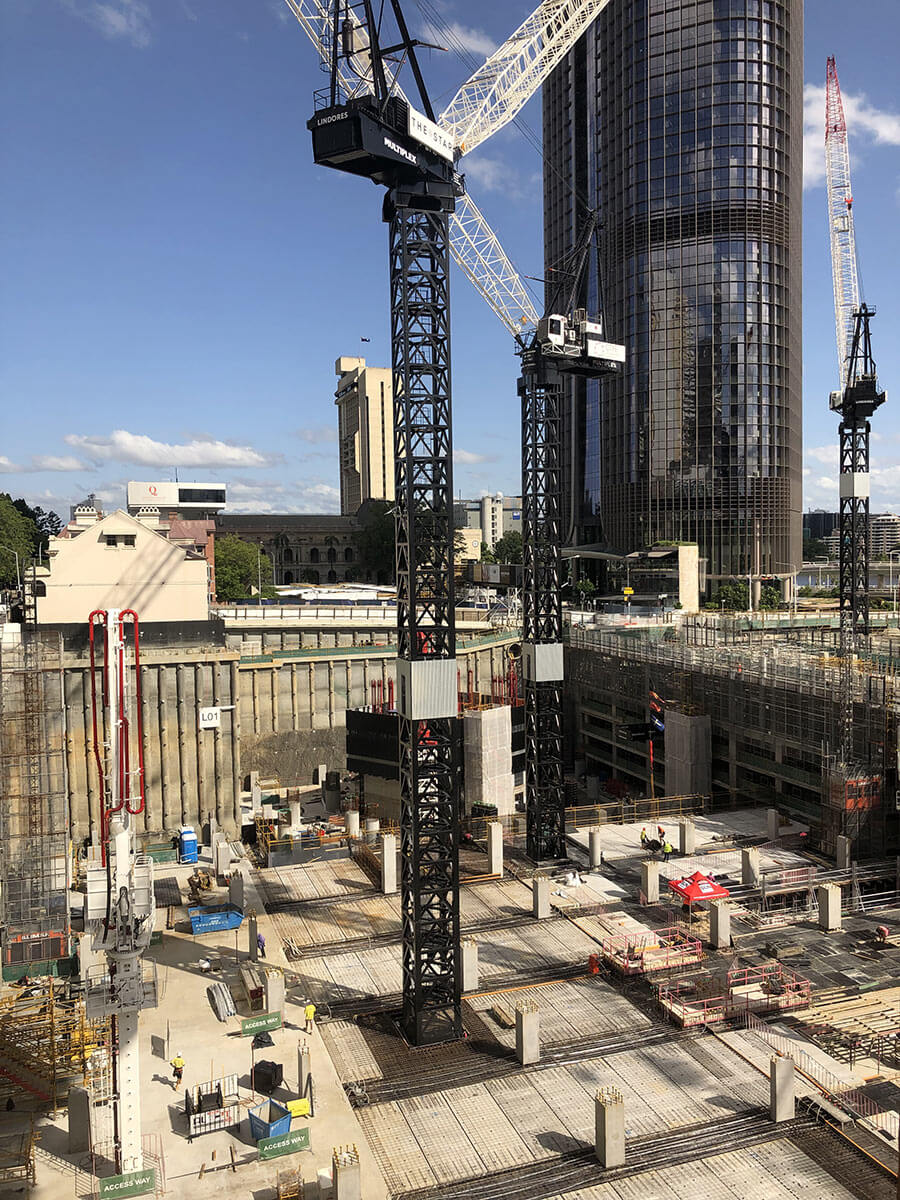 The four towers that make up the core of our game-changing Queen's Wharf Brisbane integrated resort will become visible from street level this year, as construction on the $3.6 billion development continues to rise.
Expected to occur in April 2020, the Queen's Wharf (QW) Residences – the tallest tower and  located on the right-hand side of the arc-shaped building facing the Brisbane River – will become the first tower to become visible at street level.
This will be followed simultaneously by The Star Grand hotel – housed in the arc-shaped building – and then globally-recognised Rosewood and Dorsett hotels in the tower closest to the Old Printery and Printery Offices (heritage buildings) in July.
Multiplex Project Director Dayne May said since the company took site possession in July last year, the work had been contained to the basement and car parking levels, with only nine tower cranes visible from street level.
"In the next six months, structural elements of the project will start to be seen from street level as the tower cores start moving upwards," Mr May said.
"The basement and car parking levels are taking shape, with over 60 per cent of the basement level concrete slabs now poured, covering an area of 47,000m2.
"More than 1,300 precast columns and planks have already been installed in the basement, with another 900 to be installed over the next 12 months."
The QW Residences' tower's jump form system, which encompasses the tower's stairwell and lift cores, will soon peak over William Street.
"Jump forms are the self-moving platforms that house formwork and concrete for each floor plate," Mr May said.
"Importantly they also provide a safety barrier for high-rise workers and the people below. 
"Across the integrated resort development, there will be four main jump form systems and two smaller systems installed.
"By the middle of next year, after the podium levels are constructed, jump form cycles on all four tower structures will take approximately seven days, which is nearly a floor a week on each of the four towers."
Destination Brisbane Consortium Project Director Simon Crooks said the project was tracking towards a construction peak in late 2021 when structure, services, and finishing trades will be required for external façades and internal fit-outs.
"It will be at this point when we expect our workforce to peak at 2,000 people, which will create an exciting hub of activity on site and support the local jobs economy," Mr Crooks said.
Work packages open for tender are available on the ICN gateway page https://gateway.icn.org.au/project/4499/queens-wharf-ird-part-a
Standard construction hours will be in place from Monday to Saturday between 6.30am to 6.30pm for the development.
For construction required outside these hours, Destination Brisbane Consortium will provide advanced notification.
To learn more about Queen's Wharf Brisbane, visit www.queenswharfbrisbane.com.au and/or our Facebook page www.facebook.com/queenswharfbrisbane/.
For construction-related enquiries, contact Multiplex either via phone 1800 931 760 or email queenswharfbrisbane@multiplex.global