Queen's Wharf Brisbane skyline continues to rise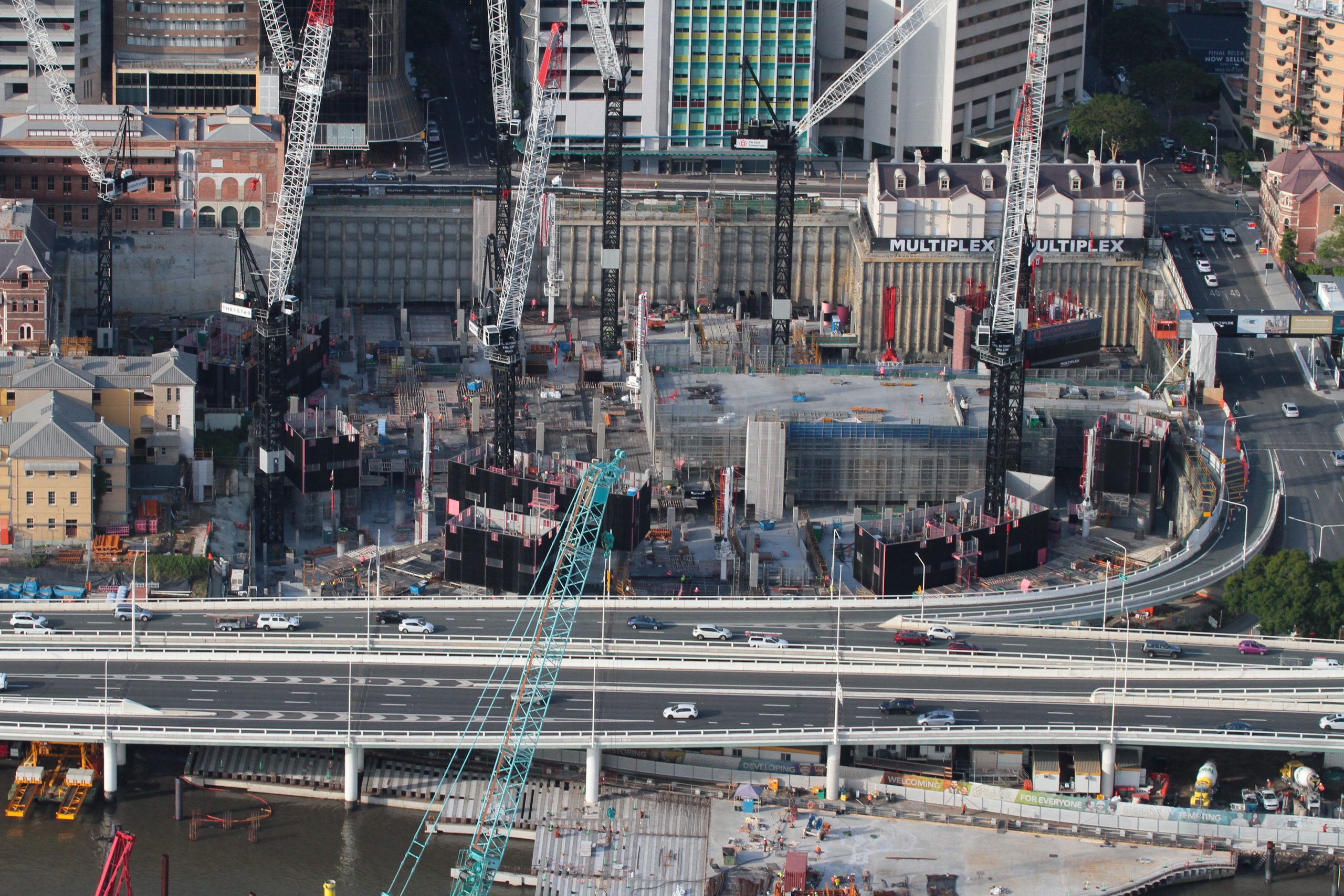 The Queen's Wharf Brisbane skyline is continuing to take shape as the development's new towers surge upwards creating an iconic landmark that will become one of Brisbane's favourite postcard images.
Multiplex Project Director Dayne May said since the company commenced 16 months ago the skyline had changed significantly.
"The basement was up to 26 metres deep when we took site possession, and now we're nearing 35 metres above George Street," Mr May said.
"Earlier this year, the lift and stairwell core structures started to emerge from the basement and now we have the podium levels taking shape around them.
"The car park basement is five levels deep in some sections and takes up the entire site footprint.
"Above the basement sit the podium levels – which rise from level two to level seven – and finish with the recreation deck, which is a large public green space that will sit at the same height as the rooves of the neighbouring heritage buildings.
"The four tower lift cores are progressing well and are clearly visible to the eye when driving along the Riverside Expressway or George Street."
Mr May said a significant amount of work underway on site is related to an engineering innovation created early in the planning.
"With a job of this size and scale, we had to look at the construction methodology and continually ask ourselves if this what was the best and smartest way to build the integrated resort development," Mr May said.
"We knew we'd need tonnes of structural steel to build a development of this size.
"This formed the reason why we designed a pre-cast structural product that could then be lifted into position on site and filled with concrete.
"This innovation has enabled us to install large quantities of steel in a single crane lift and importantly has allowed us to use a local South East Queensland supplier.
"Another benefit is that we now have safer install sequencing, faster installation, and a stronger product – it really is an engineering feat.
"By the time the podium levels are complete, a massive 4,000 tonnes of structural steel will have been delivered and installed.
"Currently, in an average week, more than 200 tonnes of structural steel is being delivered – the equivalent weight of two medium-sized aircrafts worth of material."
Construction of the podium levels will continue through to mid-2021, with the façade elements being installed towards the middle of next year.
In the next six months, construction of cantilevered sections close to the Riverside Expressway will be undertaken at night, when traffic volumes are at their lowest.
Advance notice of any road or lane closures will be provided.
For construction related enquiries, contact Multiplex either via phone 1800 931 760 or email queenswharfbrisbane@multiplex.global