Public realm construction making solid progress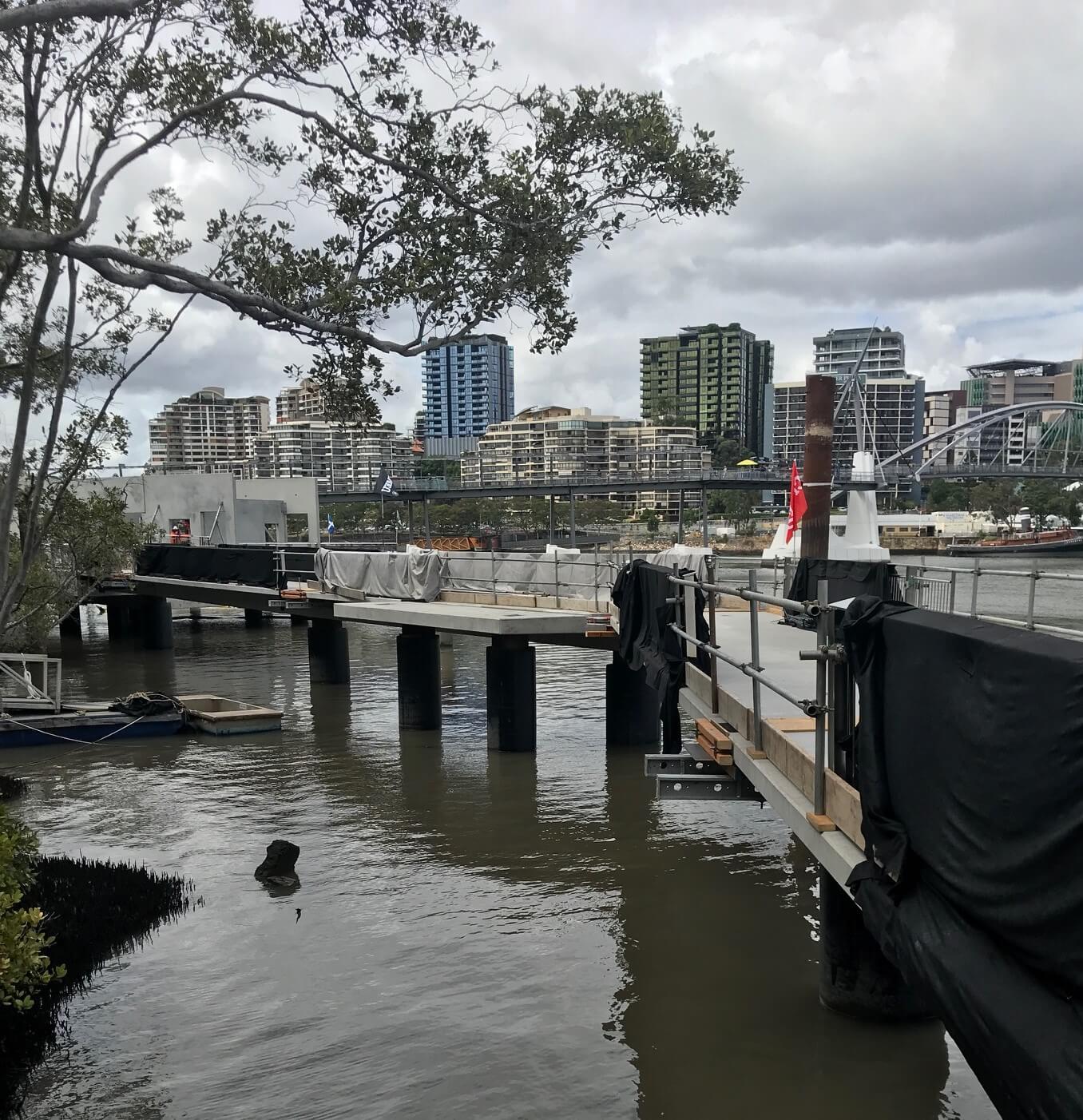 The transformation of the first 500 metre section of the Queen's Wharf Brisbane riverfront is well underway with evidence of the newest public space already taking shape among the mangroves.
More than 135 of the 400 metres of the precast concrete sections, that will make the Mangrove Walk, have now been installed along the river's edge.
The Mangrove Walk will start just after the Goodwill Bridge, as an offshoot from the Bicentennial Bikeway, and continue along a zigzag pattern before intersecting with the QUT Ferry Terminal and finishing upstream near the newly constructed Waterline Park (behind 1 William St).
Each concrete walkway section is formed off-site at a precast yard then assembled at the Waterway's yard at Murarrie complete with a stainless-steel balustrade and lighting provisions before being ferried upstream to the South Brisbane Reach of the river for installation.
When open in late-2019 the Mangrove Walk will give pedestrians a 3-metre-wide dedicated walkway with uninterrupted views of the river and city surrounds.
At the southern end of the project, the water's edge structure known as the 'Boathouse Pavilion' is moving ahead with the precast concrete walls and seating now in place.
The structural steel frame, roof and awnings will be installed from March and when opened later this year, will make-up one of the many sheltered resting points along the Mangrove Walk.
On land, the first stage of the Bicentennial Bikeway upgrade is evolving with the widening of the existing pathway to remove several pinch points and low spots previously affected by tide fluctuations.
Towards 1 William Street, Brisbane's newest inner-city park 'Waterline Park' is transitioning from in-ground services to above ground works with the construction of garden beds and pathways.
To stay informed about construction activities, subscribe for our construction notices via the stay informed button on our website www.queenswharfbrisbane.com.au or follow us on Facebook www.Facebook.com/queenswharfbrisbane.